Car Comparison
2014 Ford Escape vs. 2014 Toyota RAV4: Which Is Better?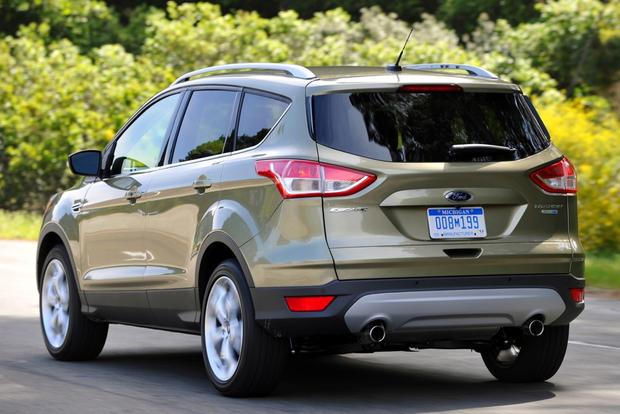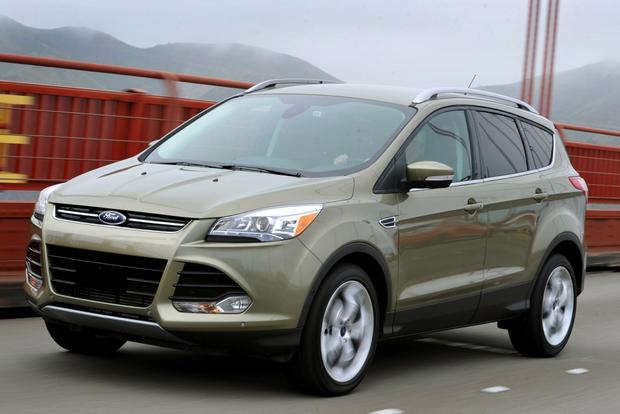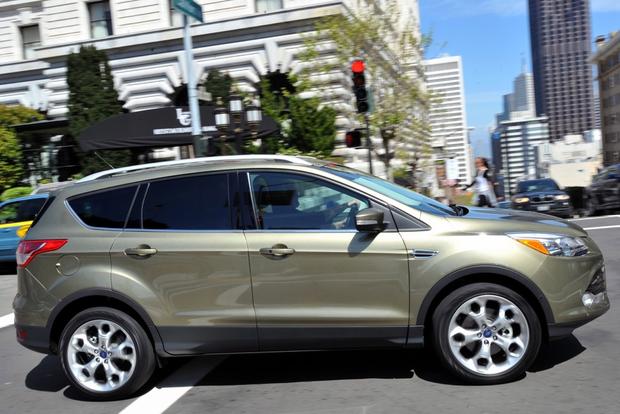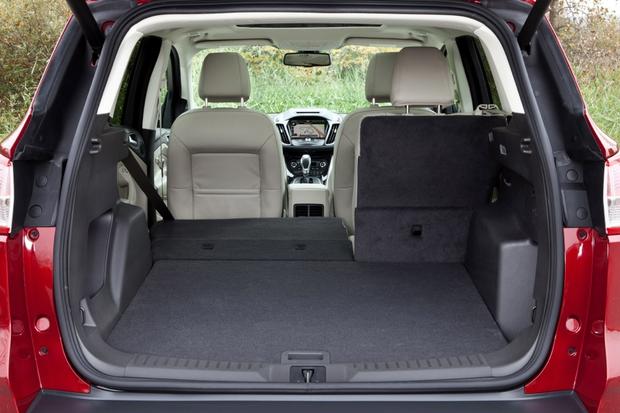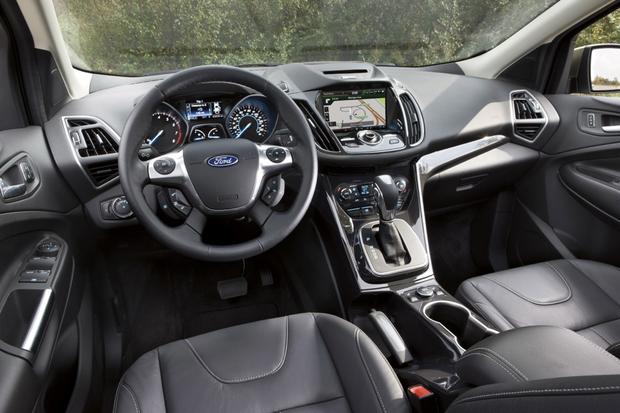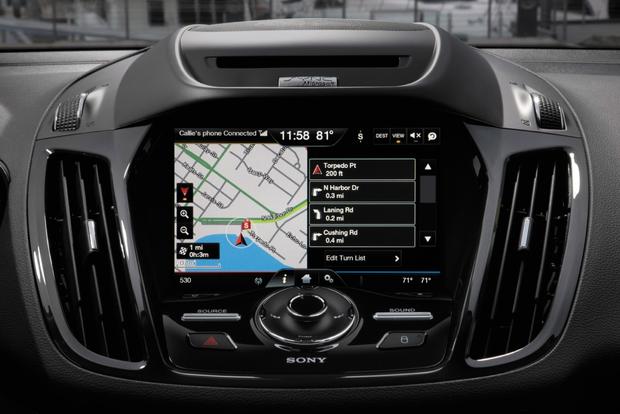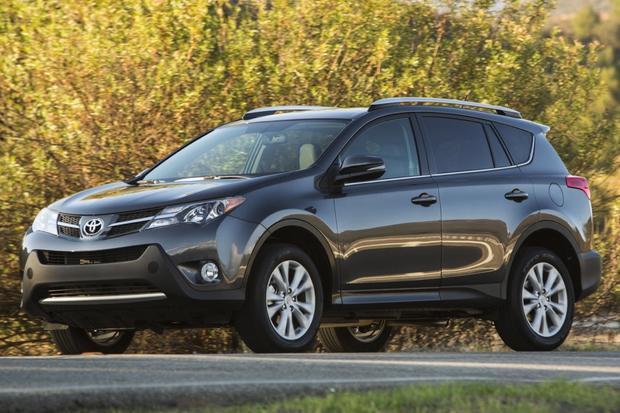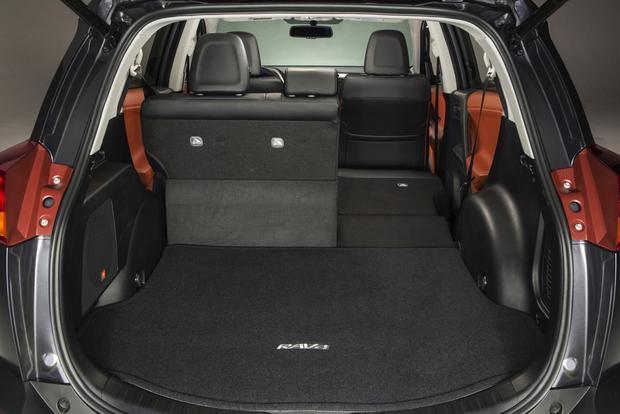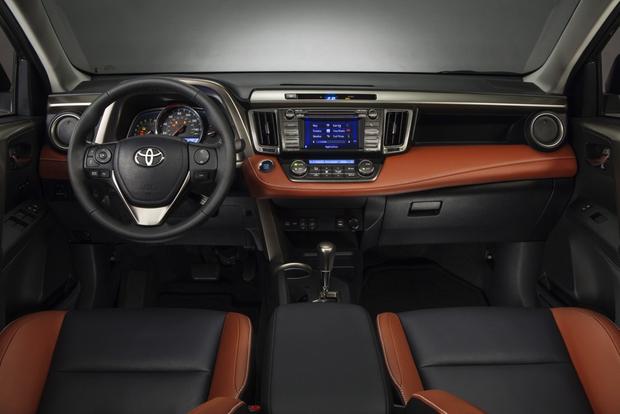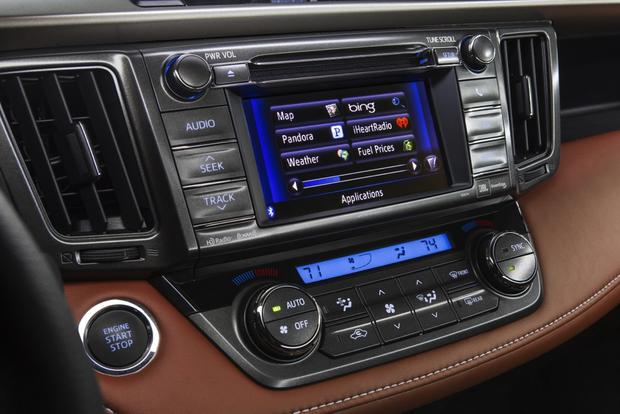 Small crossover SUVs, such as the 2014 Ford Escape and 2014 Toyota RAV4, are among the most popular vehicles in America, and it's easy to understand why. They blend room for up to five passengers with a roomy cargo area, decent fuel economy, and optional all-wheel drive for regions that regularly experience inclement weather.
Among the most popular models in the segment, the Escape and the RAV4 are also entering their sophomore years following complete redesigns in 2013. We're going to help you decide which of these small SUVs is better. First let's take a look at what changed for 2014.
2014 Ford Escape
For 2014, the Escape's SEL trim level disappears, the hands-free lift-gate option is newly available in conjunction with trailer-towing equipment, and an intriguing paint color (Sunset) debuts.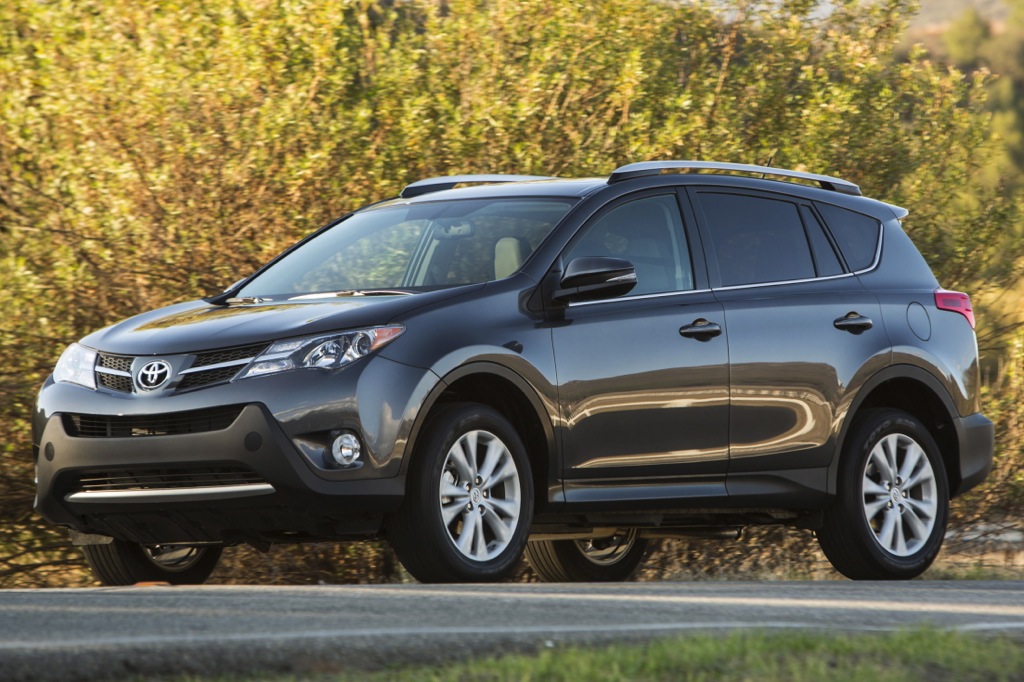 2014 Toyota RAV4
Toyota installs next-generation versions of the company's Entune infotainment systems in the 2014 RAV4, and a new Technology package for the Limited trim level bundles a blind spot monitoring system and rear cross-traffic alert with two new features: a lane-departure warning system and automatic high-beam headlights.
Reliability
Ford had a tough time launching the redesigned Escape. Multiple recalls and consumer dissatisfaction with the optional MyFord Touch infotainment system have resulted in the worst possible predicted reliability rating from Consumer Reports.
Data from J.D. Power appears to confirm this, with the market research firm assigning its lowest predicted reliability rating to the Escape. The 2014 model, however, shows a significant improvement in terms of quality and overall vehicle appeal -- the Escape rates equal to or better than the 2014 RAV4 in these categories -- so perhaps the Ford's rocky launch year will prove to be an anomaly.
Meanwhile, the 2014 Toyota RAV4 is expected to be a reliability standout. Both Consumer Reports and J.D. Power give the RAV4 favorable reliability predictions. Though J.D. Power data indicates slips in both quality and overall appeal for 2014, the Toyota takes the win when it comes to reliability.
Fuel Economy
Ford offers three different engines for the 2014 Escape, and the one you get depends on the trim level you select.
The base engine is a 168-horsepower, 2.5-liter 4-cylinder, offered only in the Escape S model and only with front-wheel drive. The Escape SE is equipped with a turbocharged 1.6-liter 4-cylinder engine generating 178 hp and nearly 10 percent more torque to make the engine feel stronger than the numbers might suggest. Top-of-the-line Escape Titanium models get a robust turbocharged 2.0-liter 4-cylinder engine whipping up 240 hp and an impressive 270 lb-ft of torque. This more powerful engine is an option for the Escape SE.
Comparatively speaking, Toyota keeps things simple for the 2014 RAV4, equipping the crossover SUV with a 176-hp, 2.5-liter 4-cylinder engine and front-wheel or all-wheel drive.
In combined driving, Ford's engine lineup is rated by the Environmental Protection Agency to return between 24 and 26 miles per gallon, depending on the engine and whether it is paired with front-wheel or all-wheel drive. Combined fuel economy ratings for the RAV4 amount to 26 mpg with front-wheel drive and 25 mpg with all-wheel drive.
Considering that Ford supplies Escape buyers with a greater amount of choice in the form of more powerful turbocharged engines and that those engines are rated to deliver essentially equal gas mileage to the Toyota, the Escape takes the checkered flag when it comes to fuel economy.
Safety
Both of these compact crossover SUVs earn an overall 4-star crash-test rating from the National Highway Traffic Safety Administration (NHTSA) and both get Good ratings from the Insurance Institute for Highway Safety (IIHS), combined with a Poor rating in small-overlap frontal-impact IIHS testing.
In NHTSA testing, the 2014 Toyota RAV4 gets a 3-star rating for front-passenger protection in a frontal-impact collision compared to the Escape's 4-star rating in that same test. Additionally, the RAV4 receives a 4-star side-impact rating (the test simulates a lateral collision with a telephone pole), while the Escape gets a 5-star rating in that regard.
In all other individual crash-test assessments, the two vehicles perform equally. Therefore, we're going with the Escape as the safer SUV.
Technology
Beyond its superior crash protection, the 2014 Ford Escape comes with MyKey technology, which allows parents of teenage drivers to program speed warnings and limits as well as stereo volume limits. The tech even allows for muting the stereo speakers until everyone aboard is securely buckled into their seats. Additionally, in the event of an accident, a free 911 Assist system automatically dials emergency services as long as a smartphone is paired to the Escape's SYNC Bluetooth connection and is aboard the vehicle at the time of the collision.
Toyota offers neither of these technologies, though the company does offer Safety Connect technology that is similar to Ford's 911 Assist feature in other Toyota models. The RAV4 is available with a lane-departure warning system and automatic high-beam headlights, both features that are unavailable for the Escape.
Ford counters with available front and rear parking-assist sensors and an Active Park Assist system that steers the Escape into a parallel parking space while the driver operates the pedals and transmission. Additionally, the Escape includes a standard torque-vectoring control system and hands-free text-messaging support. It is also available with SecuriCode keyless entry, a hands-free foot-activated power rear lift gate, rain-sensing wipers, bi-xenon headlights and a 110-volt rear-seat power outlet.
Clearly, the Ford Escape is the more technologically sophisticated small crossover SUV.
Value
Based on 5-year cost-of-ownership ratings from Kelley Blue Book (KBB), both the Ford Escape and the Toyota RAV4 should prove average over time. The RAV4 is estimated to cost slightly less thanks to its free scheduled maintenance program, which lasts for the first 2 years or 25,000 miles of ownership. The RAV4 also ranks higher than the Escape for resale value, according to KBB.
This could be why Ford makes the Escape so appealing as a new vehicle, offering better financing terms and bigger rebates, even if the lease deals aren't quite as appealing as what Toyota provides for the RAV4.
When it comes to value, you can choose to save money now with the Ford Escape or to pocket more money over time, including when you sell, by choosing the Toyota RAV4. Therefore, we're calling this one a tie.
AutoTrader's Advice
Toyota may have been a small-crossover-SUV pioneer when it introduced the original RAV4 to America way back in 1996, but Ford has clearly done its homework with the latest version of the Escape. While the Escape's reliability predictions appear less than stellar, it is the equal or better compact crossover SUV when compared to the RAV4 in other key aspects.