Editor's note: You may want to read more of Autotrader's model vs. model comparison car reviews as well as the 2015 Cadillac Escalade review and the 2015 Lincoln Navigator review.
If you're interested in a full-size luxury SUV, there are only a few choices on the market — and two of the most notable are the 2015 Cadillac Escalade and the 2015 Lincoln Navigator. Both recently redesigned, the Escalade and Navigator are well-known for their bold styling, their impressive list of equipment and their enormous interiors. But which one is better? In order to find out, we took a closer look at both SUVs in several key categories. But first, let's see what's new with the Escalade and Navigator for the 2015 model year.
2015 Cadillac Escalade
The Escalade is fully redesigned for the 2015 model year. Updates include thoroughly revised styling, a totally new interior and many more standard and optional features — along with a fairly hefty price bump.
2015 Lincoln Navigator
The Navigator is substantially face-lifted for 2015. While Lincoln stopped short of giving the SUV a full redesign, the Navigator touts a slightly new look, a few new features, an improved interior and — most importantly — a new turbocharged V6 engine, which replaces last year's bulky V8.
Reliability
The latest Navigator and the all-new Escalade are too new for reliability ratings by the experts at J.D. Power. It's worth noting, however, that last year's version of both SUVs earned four out of five circles in the brand's Power Circle Ratings, indicating better than average reliability. That doesn't mean the new models will earn the same ratings, given that they include new features and, in the Navigator's case, an entirely new engine.
As for warranty length, both SUVs are identical, offering four years or 50,000 miles of bumper-to-bumper coverage and six years or 70,000 miles of powertrain protection. As a result, there's no clear winner between the Escalade and Navigator when it comes to reliability.
Fuel Economy
Both the Escalade and the Navigator only offer one engine choice. In the Navigator, it's a new 3.5-liter turbocharged V6 that replaces last year's V8. The powerplant boasts 380 horsepower and 460 lb-ft of torque, and it's mated to a 6-speed automatic transmission. Fuel economy stands at 16 miles per gallon in the city and 22 mpg on the highway with 2-wheel drive or 15 mpg city/20 mpg hwy with 4-wheel drive.
The Escalade carries over its engine from last year: a 6.2-liter V8 that makes 420 hp and 480 lb-ft of torque. Most 2015 Escalade models come standard with an 8-speed automatic, though some early versions used a 6-speed. With the 8-speed, fuel economy is 15 mpg city/22 mpg hwy with 2-wheel drive, or 15 mpg city/21 mpg hwy with 4-wheel drive.
To us, fuel economy is a toss-up. While the Navigator gets one more mpg with 2-wheel drive, and the Escalade boasts one extra mpg with 4-wheel drive, you're unlikely to ever see those gains in real-life driving. This category is too close to call.
Safety
Both the Escalade and the Navigator are too new to have undergone crash tests carried out by the federal government's National Highway Traffic Safety Administration (NHTSA). Likewise, the SUVs have also not been tested by the nonprofit Insurance Institute for Highway Safety (IIHS). Last year, both the Navigator and the Escalade earned four out of five stars in NHTSA crash tests, but we wouldn't put too much stock in those ratings, as the two models have been significantly updated since then.
When it comes to safety features, however, the all-new Escalade is light-years ahead of the face-lifted Navigator. Yes, both models have everything you need: anti-lock brakes, side-curtain airbags, a backup camera and more. The Escalade also offers a truly impressive list of options, including automatic high-beam control, forward-collision alert, a blind spot monitoring system, lane departure warning, rear cross-traffic alert, a safety alert seat system and even a rear-collision alert system with automatic braking. From that list, the Navigator only offers a blind spot monitoring system and rear cross-traffic alert, making the Escalade a better choice for drivers interested in safety features.
Technology
Given the vast difference between the Escalade and Navigator in terms of safety equipment, you probably won't be surprised to learn that the Escalade also offers a major advantage when it comes to technology.
Indeed, the full-size Cadillac boasts some seriously futuristic equipment, such as a heads-up display, massaging front seats, a cooled front center console and a Blu-ray player. It also offers more safety features, as we've covered, in addition to some truly upscale luxury touches such as a suede headliner, a 16-speaker Bose stereo and very plush, upgraded leather upholstery. The Navigator also impresses with excellent available luxury items, including adaptive cruise control and dual rear DVD screens — but the Escalade has those, too.
As a result, we strongly suggest the Escalade if technology is your thing. The Navigator is hardly behind when it comes to overall technology, but few cars can match the Escalade when it comes to the latest features and gadgets.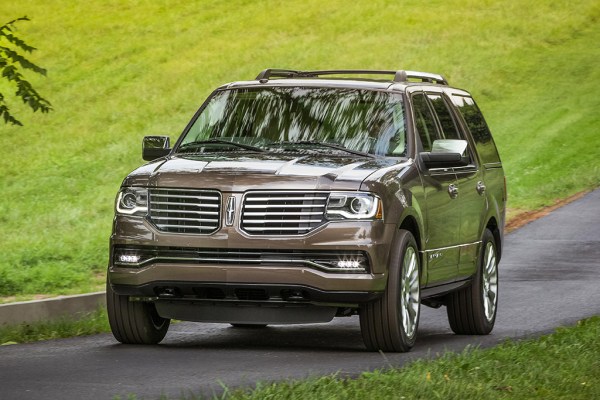 Value
Value is a tricky thing when it comes to full-size luxury SUVs because — unlike in most automotive segments — many shoppers aren't especially interested in the best bang for their buck. Instead, they want the most equipment, the most power, the most options, the most style and the most features — and in those areas, the Escalade wins, hands down.
But here's the problem: The Escalade starts at nearly $74,000, compared to the Navigator's base price of around $63,000. That difference is a huge figure: more than 15 percent of each SUV's price, or a total of around $11,000. Even at this price point, that's not a small number.
As a result, we think that the Navigator is the better value. Yes, we know the Escalade offers more of just about everything, but we just don't think it's worth $11,000 more. Still, we also know our verdict here won't mean much to shoppers who are concerned about having as much as possible rather than getting the most out of their money.
Autotrader's Advice
The Navigator is around $11,000 cheaper than the Escalade, and it doesn't come up short in any major areas. Sure, it has less technology, but it's still loaded. It also has less power, but it's not exactly hurting for muscle. Safety equipment, warranty length and fuel economy aren't so bad, either.
With that said, we'd still get the Escalade. Yes, the Navigator is the better value, and it's the better choice on paper — and that's why it's the favorite among airport limousine companies and upscale car service businesses. But if you're looking for a giant, boldly styled, head-turning luxury SUV, then you probably aren't interested in how it looks on paper. The Escalade has more futuristic technology, more power, more modern styling and more overall luxury. It's clearly one of the shining stars of this segment once you forget about "on paper" and let your emotions take over.
Find a Used Cadillac Escalade for sale