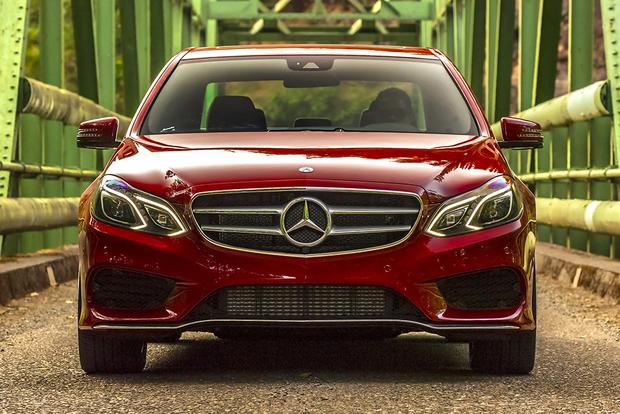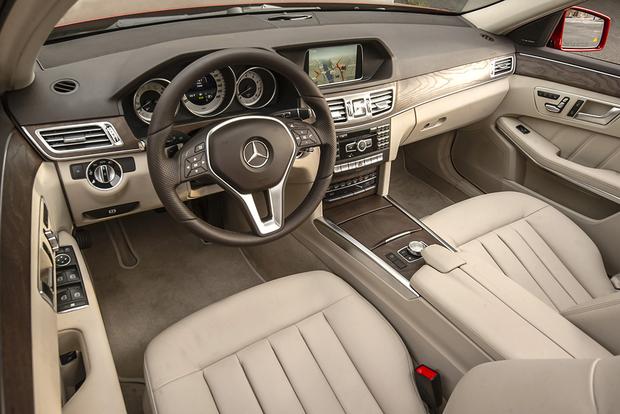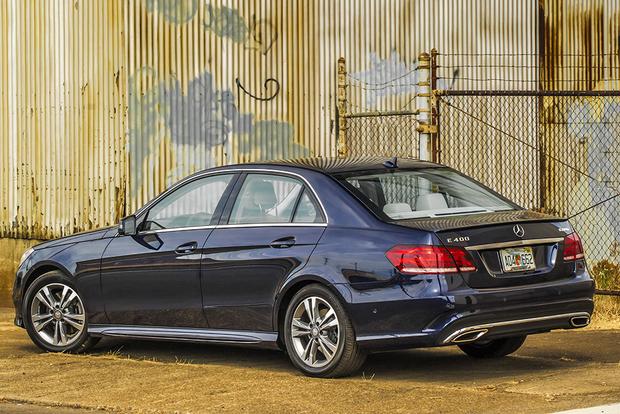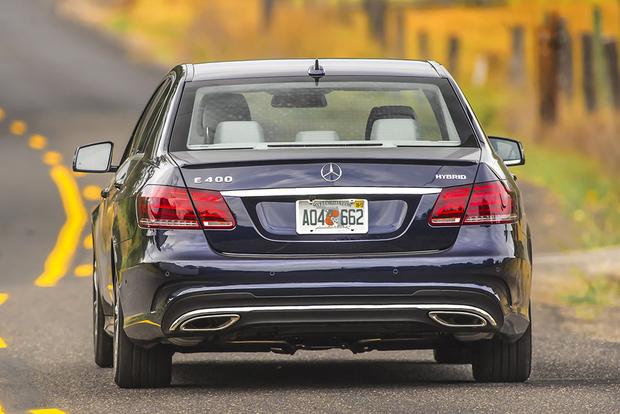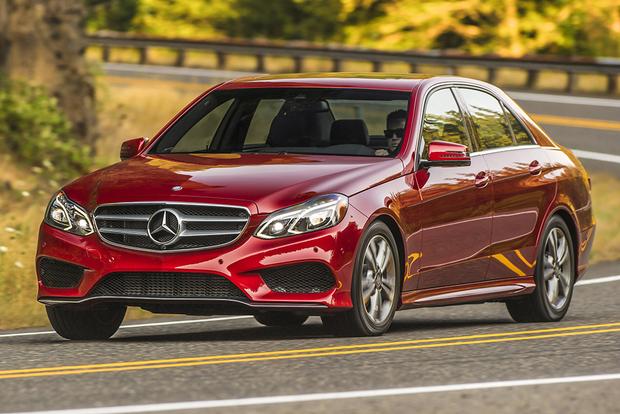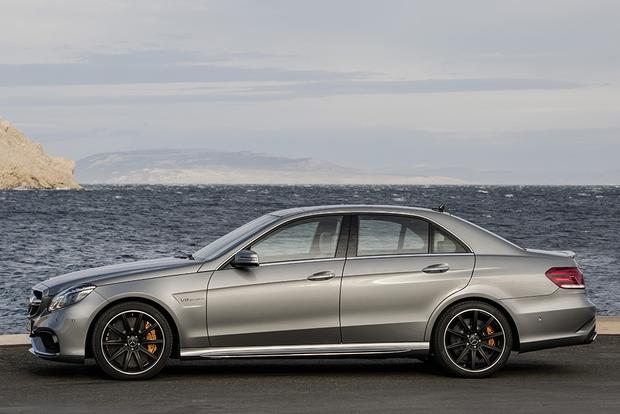 The 2015 Mercedes-Benz E-Class continues to offer a little something for every luxury shopper. Featuring numerous engines, rear- or all-wheel drive and no fewer than four body styles (sedan, wagon, coupe and convertible), the E-Class lineup is one of the most varied and versatile on the planet. It also has one of the widest price ranges, with the range-topping E63 AMG S Model nearly doubling up the entry-level E250 BlueTEC. If you're looking for a midsize luxury car that can pretty much do it all, the E-Class belongs at the very top of your test-drive list.
What's New for 2015?
The big news is the advent of the E400 model with its twin-turbo V6, supplanting last year's V8-powered E550 sedan and slotting in below the E550 coupe and convertible.
What We Like
Invincible feel at speed; many different engines and body styles; plenty of technology features
What We Don't
Pricey options; boring dashboard design
How Much?
$52,725-$101,525
Fuel Economy
All E-Class models have a 7-speed transmission and a rear-wheel-drive platform, with most offering 4MATIC all-wheel drive. The E250 BlueTEC sedan is powered by a 2.1-liter 4-cylinder turbodiesel engine that produces 195 horsepower and 369 lb-ft of torque. It's rated by the Environmental Protection Agency (EPA) at up to 28 miles per gallon in the city and 42 mpg on the highway.
Opt for the E350, and you'll get a 3.5-liter gasoline V6 (302 hp, 273 lb-ft) that returns up to 20 mpg city/29 mpg hwy. The E400 Hybrid sedan pairs the 3.5-liter V6 with an electric motor, netting 24 mpg city/30 mpg hwy. The non-hybrid E400 packs a twin-turbocharged 3.0-liter V6 (329 hp, 354 lb-ft) that's capable of the same 20/29 mpg efficiency. The E550 muscles up with a twin-turbo 4.7-liter V8 (402 hp, 443 lb-ft) that gives you up to 18 mpg city/26 mpg hwy. The E63 AMG (550 hp) and E63 AMG S-Model (577 hp) share standard all-wheel drive and a twin-turbocharged 5.5-liter V8 that tops out at 16 mpg city/23 mpg hwy.
Standard Features & Options
The E-Class lineup starts with the 4-door E250 BlueTEC ($52,725) and E350 ($53,225) models, which can be had in either Luxury or Sport trim for the same price. The Luxury comes with a traditional grille topped by a 3-pointed star ornament, while the Sport gets a firmer suspension and a different grille with a large star set in the middle. All models in this group offer standard features such as LED headlights and taillights, a sunroof, auto-dimming mirrors, a power-adjustable steering wheel, power front seats with memory, synthetic leather upholstery, Bluetooth, the COMAND infotainment system with a knob-based control layout and an 8-speaker audio system with USB connectivity.
Note that the E350 is available as both a sedan and a wagon, but the E250 is only offered as a sedan.
The E400 Hybrid ($59,645) is offered as a sedan in the Sport trim, with most of the same features as the lower-priced models.
Similarly, the E400 sedan ($63,275) is Sport-only, and it includes standard pleasantries such as power-folding mirrors, leather upholstery, a navigation system and 14-speaker Harman Kardon audio.
The E400 coupe and convertible largely share the sedan's features.
The E550 coupe ($60,325) and E550 convertible ($69,545) step up to such perks as 18-inch AMG wheels and an adaptive suspension.
Finally, the E63 AMG ($94,525), offered as either a sedan or a wagon, gets all manner of styling and performance upgrades to complement its fire-breathing twin-turbo V8. The E63 AMG S-Model ($101,525) throws in extra power and torque along with a limited-slip differential.
As for options, the E-Class seems to offer more of them than any other car on the market. Highlights, depending on model and style, include a panoramic sunroof, neck-level heating vents, ear-splitting Bang & Olufsen audio, sport front seats and carbon-ceramic brakes.
Safety
The 2015 E-Class comes standard with 4-wheel anti-lock disc brakes, stability control and driver drowsiness alert. Airbags are seemingly everywhere in the cabin, with rear airbags available as a separate option. The optional Driver Assistance package adds adaptive cruise control, lane-keeping assist and a collision mitigation system with automatic emergency braking.
In government crash tests, the 2015 E-Class sedan and wagon received four stars out of a possible five overall, with four stars for front impacts and five stars for side impacts. The independent Insurance Institute for Highway Safety (IIHS) gave the E-Class sedan and coupe its top rating of Good in all safety tests.
Behind the Wheel
The 2015 Mercedes-Benz E-Class lineup offers any level of performance you might desire, whether adequate, torque-rich acceleration in the E250 BlueTEC or missile-grade thrust in the E550 and E63 AMG models. No matter which one you choose, you'll enjoy that solid, hewn-from-granite feel at speed that has always distinguished Mercedes-Benz products from the pack. You'll also notice greatly improved handling relative to previous E-Class efforts. While the E-Class has certainly firmed things up a bit, it still places comfort over an all-out sporty ride. If you're after a bit more of an aggressive feel, opt for an AMG or even a BMW 5 Series. Both offer a more rewarding driving experience, but at the expense of the E-Class's sublime comfort.
We're a bit disappointed by the E's blocky, conservative dashboard, because it seems a bit behind the times, but we can't argue with the cutting-edge technology it contains. Although E-Class convertibles don't offer the security and all-season viability of a folding hardtop, the optional AIRSCARF neck heaters get you most of the way there. Cargo-hauling enthusiasts will love the E-Class wagon's capacious interior, while automotive enthusiasts of all stripes will probably bow down before the uniquely awesome E63 AMG wagon.
Other Cars to Consider
2015 Audi A6 -- The midsize luxury sedan from Ingolstadt offers serious competition with its sleek cabin treatment and athletic driving character.
2015 BMW 5 Series -- Once a paragon of sport-sedan responsiveness, the 5 Series has shifted its focus toward a cushier, Lexus-like ride. Nonetheless, it still feels like a BMW when you're not lead-footing it, and its luxury quotient is off the charts.
2015 Lexus GS -- This Japanese entrant makes compelling case for itself against the German establishment, providing a surprisingly rewarding driver experience while maintaining that Lexus's signature smooth ride.
Used Mercedes-Benz CLS-Class -- The stylish CLS, marketed as a 4-door coupe, can be had in certified pre-owned form for a fraction of its original price, making it a viable alternative to the relatively staid E-Class.
Autotrader's Advice
Every E-Class is a car to be proud of. We appreciate the E250 BlueTEC for its reasonable price and outstanding fuel economy, but you really can't go wrong with any member of this family.