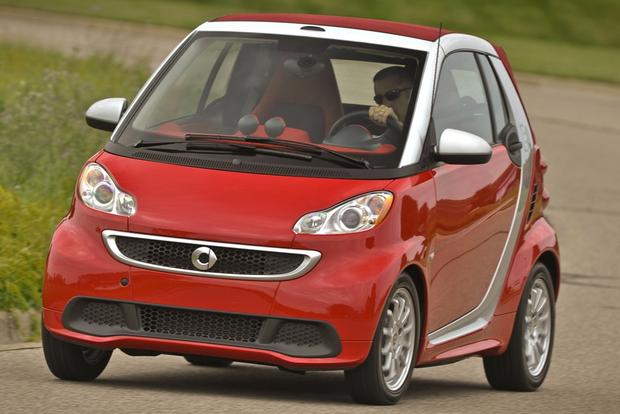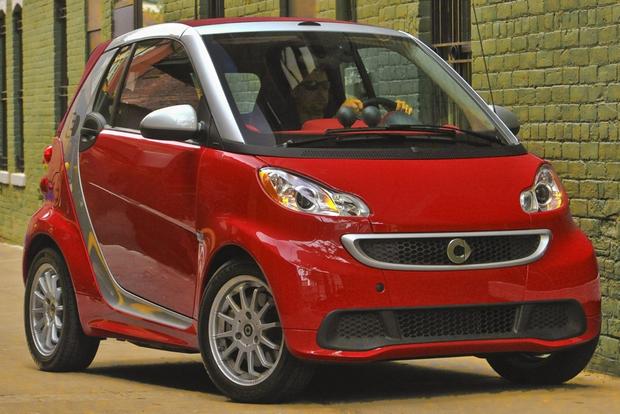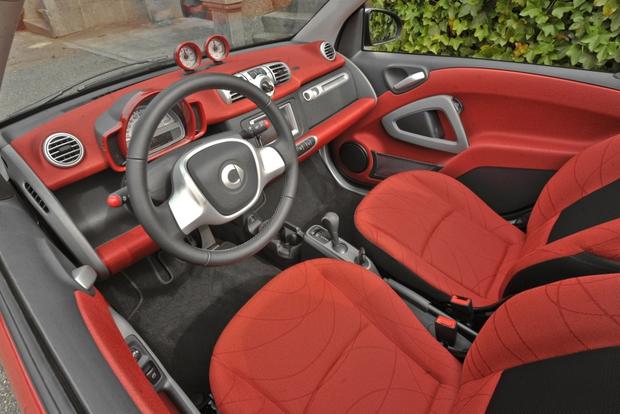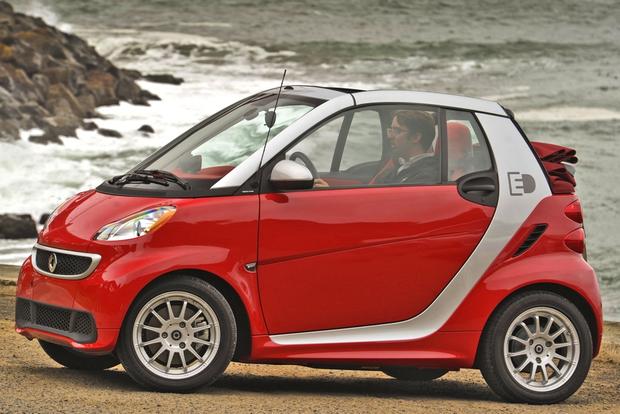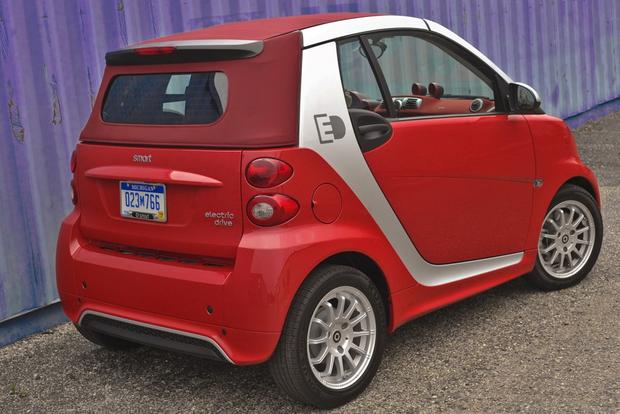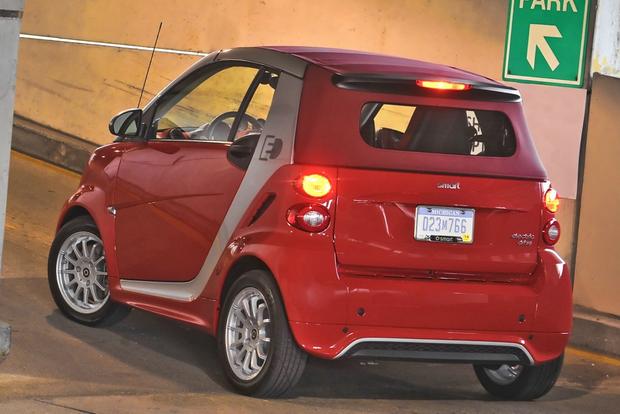 Our landscapes are changing. More people than ever live in dense urban areas, and automakers are keen to respond to the changes. Visit a major international auto show, and you'll see concepts specifically designed for city life -- small, nimble and efficient. smart may be ahead of the game, as its little fortwo has been available in the U.S. since 2008, but the 2015 smart fortwo now faces competition from other brands that are eager to take a bite out of its small but growing city-focused market.
One way smart has responded to the competition is with a fully electric model known as the smart fortwo electric drive, which debuted in 2013. Beyond that, the conventionally powered fortwo comes in two forms: a fixed-roof coupe and a cabriolet model with a retractable fabric soft-top. Both offer city dwellers a unique way to cruise around in style.
What's New for 2015?
The smart fortwo is unchanged for the 2015 model year.
What We Like
Easy to maneuver and park; fuel efficient; low base price
What We Don't
Limited use beyond the city; pricey with desirable options
How Much?
$14,000-$18,700 (gas-powered); $25,800-$28,800 (electric)
Fuel Economy
Gasoline-powered smart fortwo models offer one engine and transmission option: a 70-horsepower 1.0-liter 3-cylinder mated to a 5-speed automatic. Expect 34 miles per gallon in the city and 38 mpg on the highway, according to the Environmental Protection Agency.
Drivers who would prefer the all-electric smart fortwo electric drive get a 75-hp fully electric motor capable of traveling around 70 miles between charges. It's good for the equivalent (also known as mpge) of 122 mpge city/93 mpge hwy, though it doesn't use any actual gasoline.
Standard Features & Options
The smart fortwo is offered in two trim levels. Only the coupe comes in the base-level pure trim, only with its gasoline engine. Step up to the higher-end passion model, and you can have your pick of coupe or cabriolet and gasoline or electric.
The pure ($14,000) includes keyless entry, an automatic transmission, power locks, a leather-wrapped steering wheel -- and that's about it. Yes, you'll have to pay extra for cruise control, a stereo and even air conditioning, and we highly recommend doing so.
Step up to the passion ($15,700 for the coupe and $18,700 for the cabriolet or $25,800 for the electric coupe and $28,800 for the electric cabriolet), and you get a more sensible equipment list that includes automatic climate control, power windows, power mirrors, a driver's armrest, shift paddles for the automatic transmission and a stereo with an auxiliary jack and a USB port.
The smart fortwo's options list is surprisingly long, and it includes items such as leather upholstery, heated seats, a navigation system, a 7-speaker surround-sound system, LED daytime running lights and fog lights.
Safety
Despite its small size, the smart fortwo tends to get good marks for safety. In every Insurance Institute for Highway Safety test, it received a Good rating -- the highest possible result. In tests carried out by the federal government's National Highway Traffic Safety Administration, the fortwo earned four stars overall, a score comprised of four stars in frontal and rollover tests, along with five stars in the side-impact assessment.
The 2015 smart fortwo has four airbags in the cabin: two in front and two side-curtain airbags. The entire interior has been designed with passenger safety in mind, and the tridion cell -- the exposed metal beam just aft of the passenger doors -- is so strong that it needs to be cut into sections before being put in a crusher.
Behind the Wheel
The fortwo's small engine isn't anything to write home about, but no one expects it to be. The real issue, though, is the transmission. The 5-speed automated manual transmission is indecisive, switching gears early and often. Furthermore, gear changes are remarkably slow. The result is an extremely jerky ride in a majority of driving conditions. We've praised some automated manual transmissions for quick, precise upshifts and downshifts. The one in the smart, however, is not one of the better examples. Otherwise, the ride can be a bit harsh due to the fortwo's short wheelbase, but it's rarely uncomfortable in low-speed city driving.
With an overall length of 106.1 inches, utility isn't the first priority of the smart fortwo. Trunk space, for example, is small, holding only the bags from an average trip to the grocery store and not much else. But despite its small size, the fortwo's cabin is rather spacious, easily fitting 6-foot-plus passengers in its two seats. In fact, if your gaze is purely fixed out the windshield or side windows, it's easy to get into the mindset that you're sitting in a full-size car. Only when you look backward in the cabin or through the rearview mirror do its tiny proportions snap into focus. It's an arresting realization.
Other Cars to Consider
2015 Scion iQ -- The tiny iQ rides better than the fortwo, and it has more standard features. The iQ also has a back seat -- though it's tiny and only suitable in a jam. City fuel economy is better by a couple ticks, too.
2015 FIAT 500 -- The 500 is also bigger and more expensive than the fortwo, but it's very maneuverable in the city, and the driving experience is much more satisfying than in the fortwo. Plus, the 500 has a usable back seat (or more cargo space with the rear seat folded) and is rated at 40 mpg hwy.
Used MINI Cooper -- Few cars combine style and small size like the MINI Cooper. It boasts a nicer interior than the fortwo, along with more room, better driving dynamics and more available equipment. Pricing is high, though, so you may want to consider a used model.
Used Volkswagen Golf -- If you want a city car with a little more utility than the fortwo, consider a Volkswagen Golf. Fuel economy is excellent, especially in diesel guise, and like the fortwo, the Golf also offers a fully electric version. Pricing is higher than the fortwo's, though, so you may want to consider a used model.
Autotrader's Advice
While we might prefer the driving experience of some rival models, we don't blame you for being set on the smart fortwo's unique combination of reasonable pricing and city-car style. If you do get a fortwo, be sure to get the passion trim level, as it offers the best possible value in the model's lineup. While we like the fortwo electric drive, its $10,000 price bump is difficult to justify given the smart's tiny size.