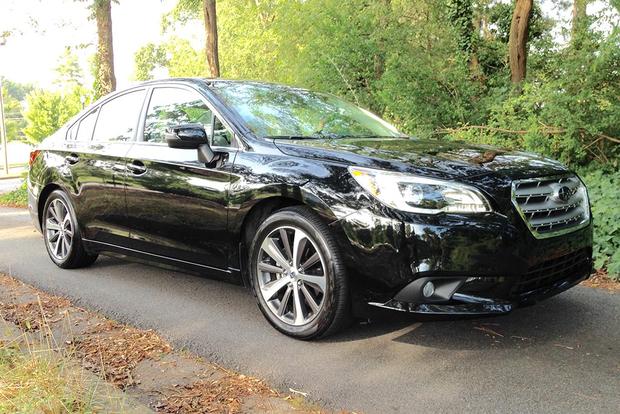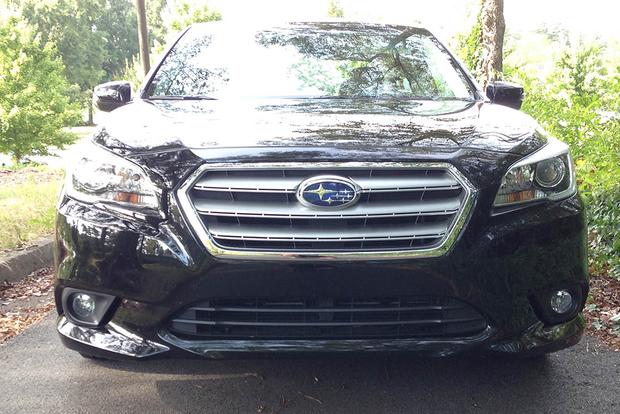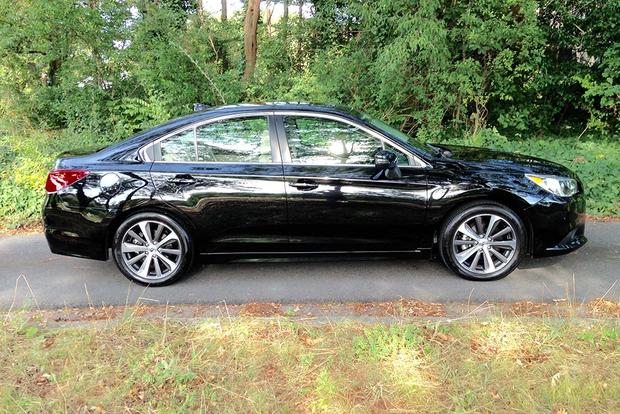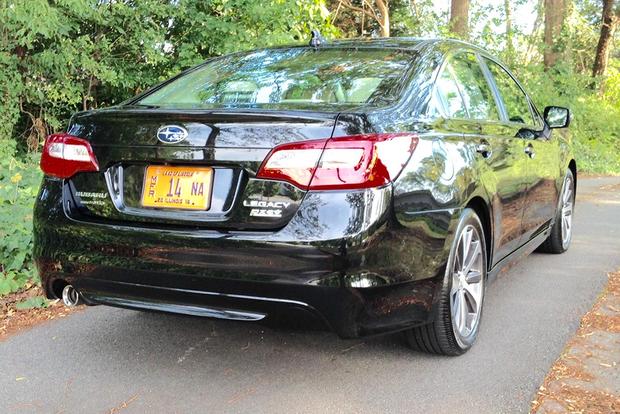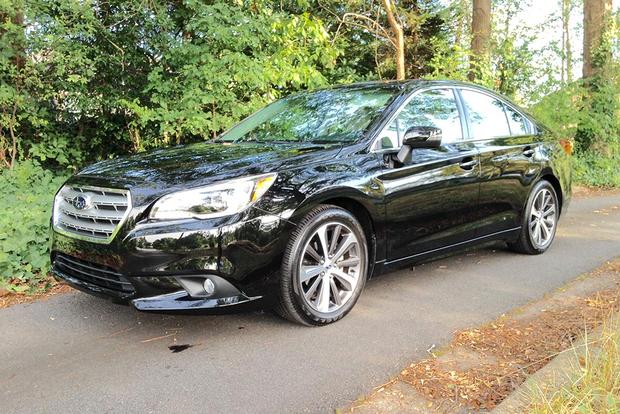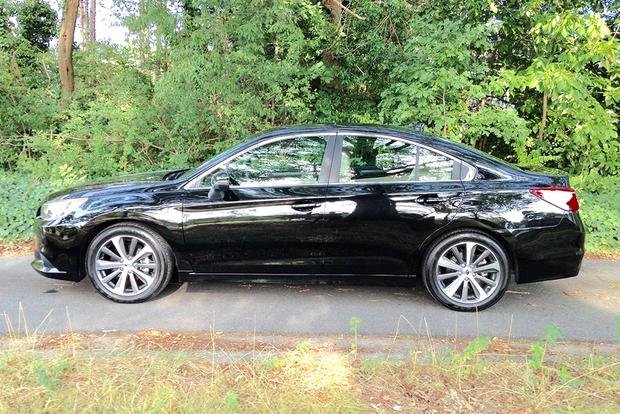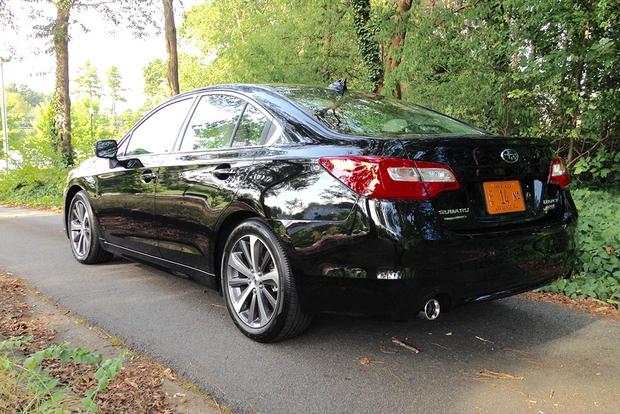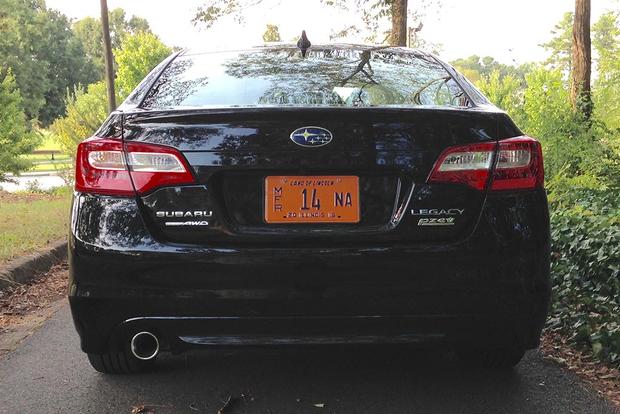 The time has come to return our 2016 Subaru Legacy long-term test car. Over the last year, we've subjected it to a litany of real-world tests, as our staff has used the Legacy for just about every chore, task and commute we could think of. So how did we like the Legacy? Overall, we were impressed with the sedan -- even though it doesn't quite have the name-recognition of more popular models like the Toyota Camry and the Honda Accord. Of course, we noticed a few quirks, too, and a few items we didn't like. Here's a closer look at our impressions.
Handsome Interior and Exterior
Just about everyone who drove our long-term Legacy commented on its attractiveness -- which isn't something we've always been able to say about Subaru's midsize sedan. Early impressions note that the car stands out from the rest of its midsize-sedan rivals and also that it offers a major improvement over the outgoing model with its unusually large fender flares.
However, the Legacy's cabin received even more praise than its exterior. One editor called the Legacy's interior "highly attractive," pointing out the "supple tan leather seats and well-placed amenities within the cabin." An editor also remarked that "the rear seat is on par with some of the midsize-sedan class leaders" and drew special attention to the heated seats, which rear passengers love. The Legacy also drew compliments for its interior simplicity, with one reviewer noting that "it's easy to get in the car and learn everything" -- something that isn't true of some new models.
Fuel-Efficient, Fun and Surefooted -- But Not Fast
Not surprisingly, the Legacy's driving experience also received a lot of compliments. Most who drove the Legacy came away with positive impressions of its handling, with one driver saying that "it's fun and rewarding to drive" and another calling it "a functional sedan you might enjoy driving" -- while simultaneously comparing it to the class-leader in fun, the Mazda6.
The Legacy also earned praise for its stable feel, owing to its standard all-wheel drive. After driving it in heavy rain, one editor noted that the Legacy "felt surefooted the entire time" and mentioned that it offered better traction than 2-wheel-drive models, which have a tendency to slip and bite as traction is gained and lost.
The Legacy's gas mileage also earned it high praise. In normal driving, we saw between 25 and 28 miles per gallon, but what impressed us most was its range. Combine the excellent fuel economy with a 18.5-gallon tank, and you could theoretically go almost 450 miles on a single tank of fuel. When we first got the Legacy and before we measured its gas mileage, one editor wrote, "I don't know exactly how many miles per gallon it's getting; all I know is that I've been driving for more than a week, and it still doesn't need gas."
The lone complaint about the Legacy's driving experience: acceleration. While some drivers charitably said the sedan "feels quick," its 175 horsepower won't satisfy shoppers looking for big power or strong stoplight starts. One editor called the acceleration "less than stellar" and likened the Legacy's performance to our Honda Fit long-term test car.
Impressively High-Tech
Of course, the Legacy earned a lot of praise for its technology. We say "of course" because our Legacy was equipped with Subaru's highly touted EyeSight safety suite -- technology that one editor said "works well and is a great addition to the Legacy." We especially enjoyed the adaptive cruise control system, which one editor described as "easy to use," noting that it's "smooth and confidence-inspiring" -- not too abrupt or harsh like in other models. The Legacy also earned high praise for its lane-keep assist system.
With that said, the Legacy's technology wasn't without its flaws. For example, EyeSight stops working in rain or fog and informs you of this with a warning light on the dashboard. While this isn't unusual for systems like EyeSight, it's disappointing, as inclement weather is when we'd most like to rely on it. Another interesting quirk: The Legacy's 4-speaker stereo system has only one rear speaker, positioned in the rear shelf between the back seats. This is different from most systems, with two front speakers and two rear speakers -- and it might be off-putting to some audiophiles. Nonetheless, an editor observed that he "didn't notice much of a sound quality loss."
The Little Flaws
Although we generally liked most of the Legacy's major traits, we found a few little flaws that annoyed us. For example, one editor had a lot of trouble getting the trunk to open from the key fob, noting that "it locks and unlocks the car perfectly" but doesn't open the trunk. The same editor also noticed an "incredibly loud beeping sound" that lasts for several seconds if you start the car without your seat belt on -- an annoyance for those of us who put on our seat belt before starting a car. Another weird flaw: The radio volume and the satellite-radio volume don't seem to be in sync. Switch from the radio to satellite radio, and you'll have to turn up the volume a few notches.
Our Take
Overall, we enjoyed our time with the 2016 Subaru Legacy, and we were pleasantly surprised with just how competitive it is in the midsize-sedan segment. While previous Legacy models haven't offered any major compelling benefits over rivals, the new version is a different story, as it offers an exciting driving experience, strong gas mileage, handsome interior and exterior styling, a lot of technology and surefooted all-wheel drive -- a feature few rivals offer. Find a Subaru Legacy for sale