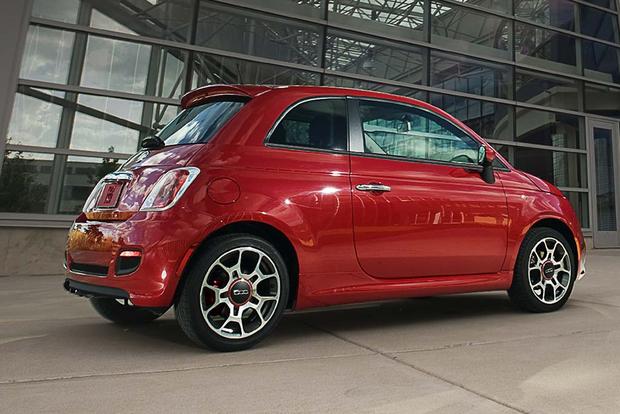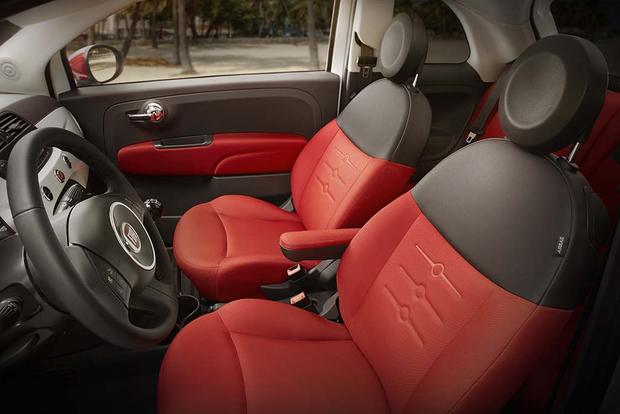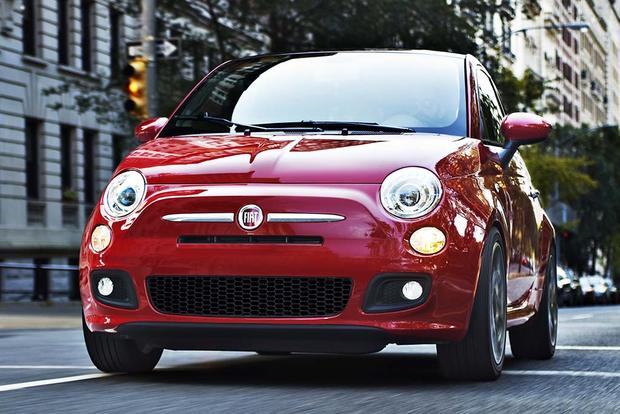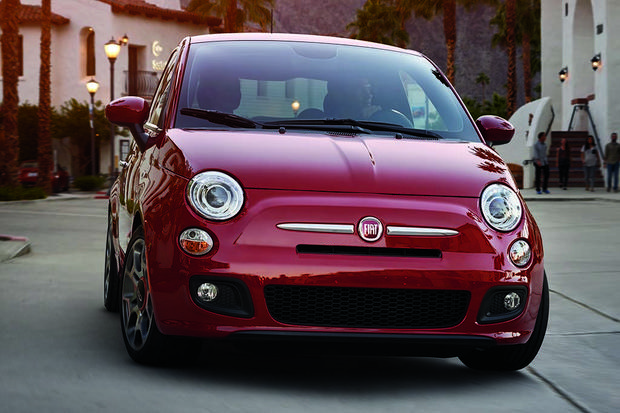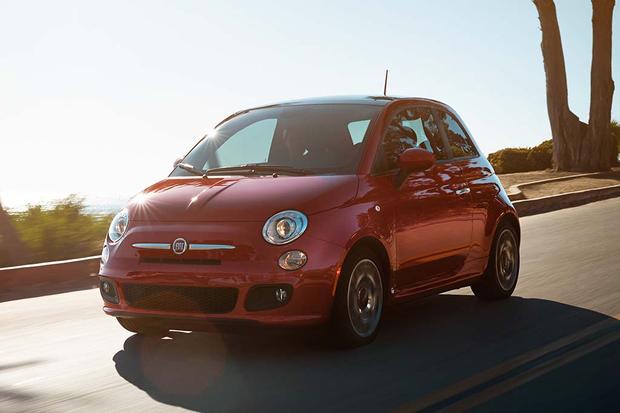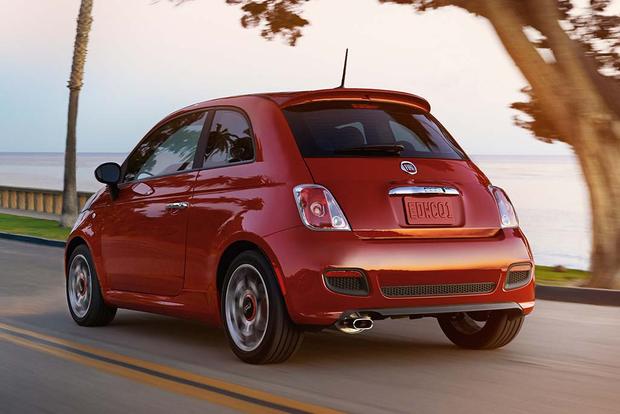 By now, everyone is aware of the FIAT 500 -- a small car known primarily for its unique looks and risque television ads. But the 2017 FIAT 500 offers a lot more than that, touting fuel-efficient powertrains, a stylish interior and -- in Abarth guise -- surprisingly impressive and expressive performance.
Originally available only as a hatchback and offered solely with a small 1.6-liter engine, the 500's lineup has grown to include the Abarth, an electric model (the 500e, reviewed separately) and even a convertible. Even with a reduction in trim levels for 2017, there remains a variety of stylishly quirky versions from which to choose.
Of course, the 500 is getting on in years -- not only has it been on sale in United States since the 2012 model year without a full redesign, it was actually sold in Europe for several years prior. That means its features list is a bit thin, its safety ratings are only so-so, and some of its controls are behind the times. There are also the inherent issues with its diminutive size, which isn't for everyone.
What's New for 2017?
The FIAT 500 lineup is reduced for 2017, leaving only the Pop, Lounge and Abarth trim levels. As such, you can only get the upgraded turbocharged engine on the Abarth. The electric 500e is still sold but is reviewed separately.
What We Like
Fun styling inside and out; lots of character for a low price; available quasi-convertible roof; zesty Abarth model
What We Don't
Poor fuel economy with automatic transmission; limited rear headroom; steering wheel doesn't telescope; base engine lacks punch; base model is less fun to drive than it looks
How Much?
$15,000-$21,500
Fuel Economy
The 500 offers two engines for 2017. The Pop and Lounge models use a 1.4-liter 4-cylinder that produces 101 horsepower and 98 lb-ft of torque. That's not a lot, even for a car of this size. With the standard 5-speed manual, it returns 31 miles per gallon in the city, 38 mpg on the highway and 34 mpg in combined driving. The optional 6-speed automatic drops those figures considerably, to 27 mpg city/33 mpg hwy/29 mpg combined.
The 500 Abarth uses a turbocharged version of the same engine good for 160 hp and 170 lb-ft of torque. With the manual, it returns 28 mpg city/33 mpg hwy/30 mpg combined, but the automatic once again takes its toll, at 24 mpg city/32 mpg hwy/27 mpg combined.
Standard Features & Options
The FIAT 500 is offered with two body styles, a hatchback and a convertible called the 500c. Both are available in Pop, Lounge and Abarth trim levels.
The 500 Pop ($15,000) comes standard with 15-inch alloy wheels, full power accessories, heated mirrors, cruise control, air conditioning, a height-adjustable driver's seat, a leather-wrapped tilt-only steering wheel, cloth upholstery, FIAT-Chrysler's 5-in Uconnect touchscreen interface, Bluetooth, two USB ports, an auxiliary audio jack and a 6-speaker Alpine audio system. The 500c adds a wind deflector and rear parking sensors.
The 500 Lounge ($18,500) adds fog lights, a glass roof (coupe), rear parking sensors, automatic climate control, heated front seats, leather upholstery, upgraded interior and exterior trim, and satellite radio.
The 500 Abarth ($20,000) is your high-performance option, boasting a more powerful engine, a snorty exhaust, 16-in wheels, a sport-tuned suspension, better brakes, special styling elements and cloth upholstery, and a sport-tuned steering wheel.
Some of the nonperformance items available on upper trims are available as options on those below. Additional options include a sunroof, bigger wheels, a navigation system and a 6-speaker Beats Audio system.
Safety
The 2017 FIAT 500 comes with standard stability control, 4-wheel anti-lock disc brakes and seven airbags -- front, front-side, driver-knee and full-length side-curtain.
In government crash testing, the 500 received four stars out of five overall, a rating that consists of four stars in the frontal-crash and rollover tests and five stars in the National Highway Traffic Safety Administration's side-impact assessment. In crash tests by the nonprofit Insurance Institute for Highway Safety, the 500 earned Good ratings in four of the agency's five tests and a Poor rating in the small-overlap front crash test (common among cars that haven't been redesigned in a while).
Behind the Wheel
The base-level 500 may look like a barrel of laughs, but it drives mostly like the tall economy car it is. A car as tiny as the 500 is bound to feel nimble, of course, and sure enough, this FIAT likes tight spaces, darting through the concrete jungle with sure-footed poise. Get it out on a real road, though, with real curves, and what you notice is the 500's high center of gravity and leaden steering. Its short wheelbase also equates to a choppy highway ride, and the base engine's acceleration is glacial.
Things change, however, when you're talking about the Abarth, which boasts excellent midrange power and an amply improved sport-tuned suspension. Perhaps its most appealing attribute, however, is its boisterous exhaust, which bellows and snorts like a much bigger, meaner car.
Inside, the quirks continue with a stylish cabin that's quite clearly a more special environment than those found in subcompact cars of a similar price. FIAT has also infused the 500 in recent years with a more up-to-date Chrysler touchscreen, which has improved functionality considerably. Space-wise, this is quite obviously a small car, but the front seat should provide more than enough space for even tall drivers so long as you avoid the optional sunroof. However, all passengers in back should feel squished -- not necessarily because of legroom, as the tall seat is actually surprisingly good in that regard, but rather because of a negligible amount of headroom.
We should add that the 500c's power-retracting convertible top is unconventional. Instead of constituting the entire roof, the 500c's soft top fills the open middle section between the conventional side pillars. It's more like an enormous cloth sunroof in the sense that you always have metal around you, even when the top is all the way down. The top includes three distinct positions and a glass rear window.
Other Cars to Consider
2017 Honda Fit -- No, it isn't as stylish as the 500. But for about the same money, it's better built, better equipped, more powerful, more efficient, more reliable and exponentially larger inside. Your heart may be saying "500!" but your head will be saying "Fit."
2017 smart fortwo -- The tiny smart fortwo offers a more exciting driving experience and an even more distinct appearance than the outgoing model. But it's even smaller and less practical than the 500, so prepare for a tight squeeze.
2016 Volkswagen Beetle -- The latest Beetle isn't mini, but it is an intriguing mix of German engineering and adventurous styling. A worthy FIAT rival for drivers who can stretch their budgets.
Used Mini Cooper -- The Mini is still the standard in this class for driver engagement, and its technology offerings are improving. Prices are steep, though, so you may have to consider a used model.
Autotrader's Advice
There's no doubt we'd take an Abarth, and we'd order ours in white with the white-painted alloy wheels. If you don't want all the power, consider a base-level 500 Pop -- it's an excellent deal and it boasts just about everything you may need thanks to Bluetooth, a USB port and even a leather-wrapped wheel.