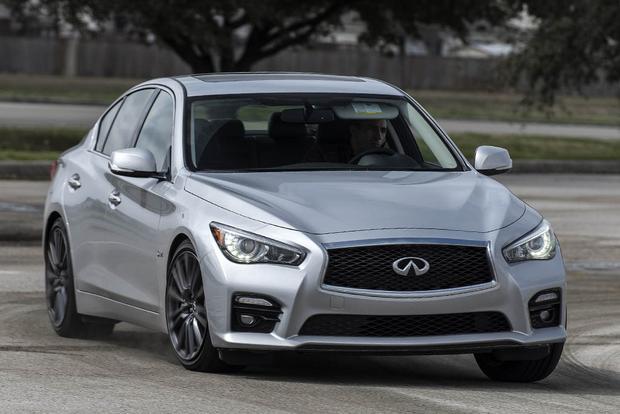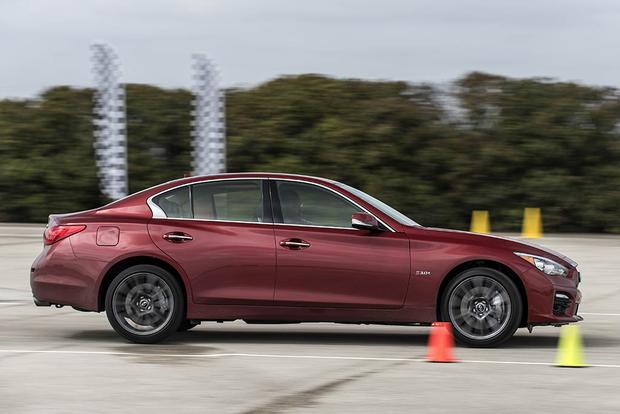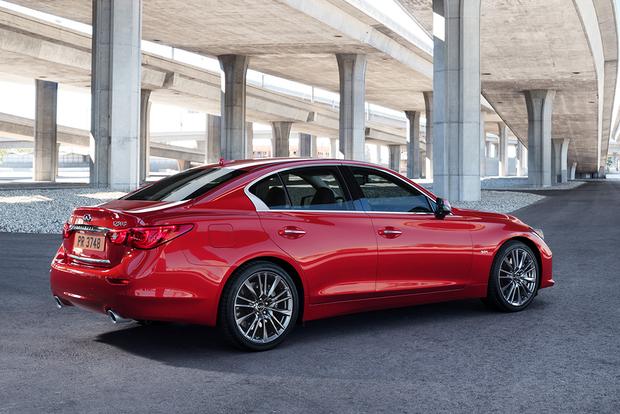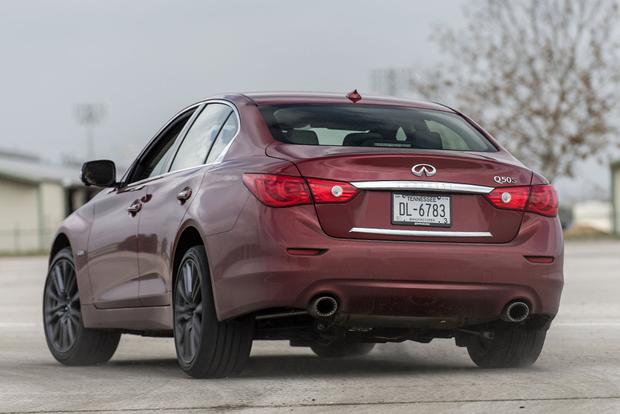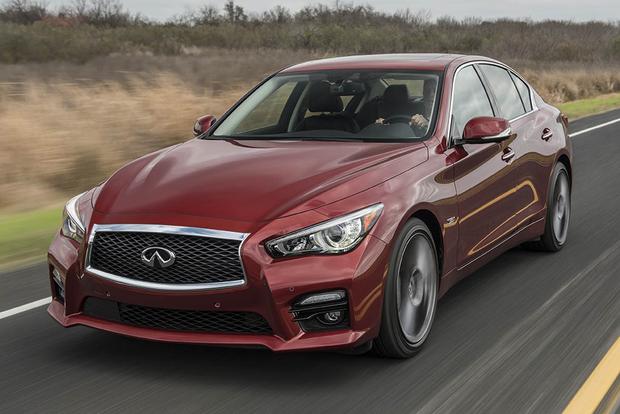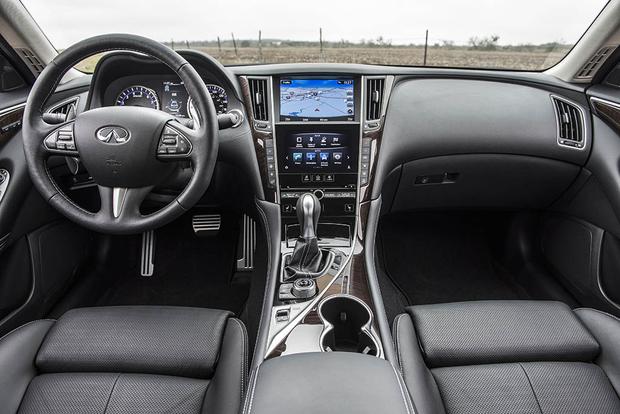 Infiniti continues to chip away at BMW's dominance of the midsize luxury performance sedan market, offering up a stylish alternative to the 3 Series in the 2017 Infiniti Q50. Offering an extensive model lineup, the Q50 can be anything from entry-level sport sedan to a bona fide autobahn burner ready to challenge to world's most exclusive sport sedans. Offering a trio of turbocharged engines ranging from a Mercedes-derived 4-cylinder to a scorching 400-horsepower twin-turbo V6, the only thing missing from the Q50 stable is torque happy V8. Last year's updates to the car's optional Direct Adaptive Steering address previous complaints about vague steering response, with three preset steering modes and six drive modes, including a personal setting. As always, the Q50 lineup for 2017 is as extensive as it is luxurious, giving buyers a choice of rear- or all-wheel drive and a number of available driver-assist systems designed to help keep the Q50 on the road and out of trouble.
What's New for 2017?
A new 2.0T Sport trim is added to the lineup, available in rear-wheel or all-wheel drive (AWD). The 2.0T Sport feature 19-in alloy wheels with summer run-flat performance tires, leather sport seats, magnesium paddle shifters, upgraded brakes and unique Sport trim pieces. The Red Sport 400 models receive red brake calipers, while Premium models gain a new 16-speaker Bose Performance Series audio system and Infiniti's Advanced Climate Control System.
What We Like
Sleek styling; choice of three powerful gasoline engines; much-improved Direct Adaptive Steering; gutsy hybrid model; easy navigation thanks to hard buttons and dual touchscreens
What We Don't
Sophisticated driver-assist systems aren't for everyone and can feel intrusive; narrow front seats; differing resolutions make dual touchscreens feel mismatched; no manual transmission; muted paint and interior color choices
How Much?
$34,855-$60,000
Fuel Economy
The Q50 2.0t is powered by a turbocharged 2.0-liter 4-cylinder engine good for 208 hp and 258 lb-ft of torque. The Environmental Protection Agency (EPA) estimates fuel economy for the rear-wheel-drive (RWD) model at 23 miles per gallon in the city and 31 mpg on the highway. The all-wheel-drive (AWD) version nets 22 mpg city/28 mpg hwy.
The Q50 3.0t and Q50 3.0t Sport employ a twin-turbocharged 3.0-liter V6 that generates 300 hp and 295 lb-ft of torque, while the Q50 Red Sport 400 uses a modified version of the same engine that's good for 400 hp and 350 lb-ft of torque. EPA estimates for the RWD 3.0t and Sport trims are 20 mpg city/29 mpg hwy, with the AWD models earning 19 mpg city/27 mpg hwy. The Q50 Red Sport 400 with RWD sees 20 mpg city/26 mpg hwy, and its AWD equivalent gets 19 mpg city/26 mpg hwy.
The Q50 Hybrid employs a 3.5-liter V6 teamed with an electric motor to create 360 hp. EPA estimates for the RWD version are 27 mpg city/32 mpg hwy, while the AWD Hybrid nets 26 mpg city/30 mpg hwy.
Standard Features & Options
The 2017 Infiniti Q50 comes in one body style applied to seven trims: 2.0t, 2.0t Premium, 2.0t Sport, 3.0t Premium, 3.0t Sport, Red Sport 400 and Hybrid. All Q50s are powered by their rear wheels but can be ordered with AWD.
The Q50 2.0t ($34,855, RWD; $36,855, AWD) includes 17-in alloy wheels, leatherette simulated leather seating, LED headlights, LED fog lights, heated outside mirrors, 8-way power driver and passenger seats with driver's-side manual lumbar support, Infiniti's dual-touchscreen interface with apps, a rearview monitor, dual-zone automatic climate control, Bluetooth, cruise control, rain-sensing wipers, Intelligent Key keyless entry and starting, and a 6-speaker AM/FM/CD stereo with HD Radio and dual USB ports.
The Q50 2.0t Premium ($39,305, RWD; $41,305 AWD) adds a 16-speaker Bose Performance Series sound system, a power moonroof, the Advanced Climate Control System, a heated steering wheel and a HomeLink universal garage-door opener.
The Q50 2.0T Sport ($43,205, RWD; $45,205, AWD) adds 19-in alloy wheels with summer run-flat performance tires, leather sport seats, magnesium paddle shifters, upgraded brakes and unique Sport trim pieces.
The Q50 3.0t Premium ($41,555, RWD; $43,555, AWD) has the same equipment as the 2.0t Premium.
The Q50 Hybrid Premium ($48,705, RWD; $50,705, AWD) includes the 2.0t Premium features and adds Direct Adaptive Steering, as well as the Premium Plus and Driver Assistance packages.
The Q50 3.0t Sport ($44,555, RWD; $47,555, AWD) also comes with the Premium features and adds 19-in alloy wheels, Dynamic Digital Suspension, bigger brakes, a unique front fascia, leather seating surfaces, chrome exhaust finishers and sport seats with extendable thigh support and driver's-side adjustable side bolsters.
The Q50 Red Sport 400 ($49,605, RWD; $51,605, AWD) includes the Sport's equipment and more aggressive summer tires, sport brakes with red painted calipers and unique 19-in staggered fragment alloy wheels.
Most options are bundled into packages. The Premium Plus package adds a power tilt-telescopic steering column, auto-dimming outside mirrors, voice-activated navigation with 3-D graphics, power driver-seat lumbar support, a heated steering wheel, heated front seats, Infiniti InTouch services and memory for the driver's seat, the mirror and the steering column.
The Driver Assistance package adds forward emergency braking, predictive forward-collision warning (it looks around the vehicle immediately in front of you to warn of potential dangers farther up the road), rain-sensing wipers, an Around View Monitor, a blind spot monitoring system and rear cross-traffic alert.
A la carte options include a power moonroof, Direct Adaptive Steering, leather seating and maple wood trim.
Safety
The Infiniti Q50 was crash-tested by the National Highway Transportation Safety Administration and earned a 5-star overall rating, with four stars in the front crash test and five stars for the side-impact and rollover tests. The Insurance Institute for Highway Safety gave the Q50 its best rating of Good in all performed crash test, and a Superior rating in the crash avoidance and mitigation test.
Also bolstering the Q50's safety credentials are an optional predictive system that gauges the speed of the vehicle two cars ahead and available lane-departure warning with active lane control.
Behind the Wheel
While none of the Q50 models are slouches, the slowest of the bunch is the 2.0t. In the 3.0t, abundant power flows through the 7-speed transmission, producing brisk acceleration and smooth shifts, while the Hybrid model delivers even more grunt thanks to a total output of 360 hp. On 3.0t models, Direct Adaptive Steering interprets steering-wheel input through an electronic control unit and turns the front wheels via two electric motors. Standard in the Hybrid and available on the 3.0t and Red Sport 400 models, the second-generation Direct Adaptive Steering system delivers improved road feedback and a more natural steering feel.
The Q50 drives with a secure, surefooted and swift grasp of the road, but real driving enthusiasts will want to skip the electronic steering and stick with the standard hydraulic system. There are, however, other reasons to opt for Direct Adaptive Steering, including a lane-minding system that helps keep the car centered in its lane (assuming the road stays generally straight). Other tech driving features include distance control, which helps maintain a safety cushion between you and the car ahead of you.
The star of the show is the Q50 Red Sport 400. Packing a 400-hp wallop and making 350 lb-ft of maximum torque from the performance version of the 3.0-liter twin turbo, this Q50 is identifiable by its red S badging. Two key elements set the 400-hp V6 apart from the 300-hp version. For more efficient cooling, the 400-hp V6 has a second water pump. Additionally, it boasts an industry-first turbo speed sensor, giving the turbo system a 30 percent power boost by allowing the blades to spin faster. Both V6 iterations require premium fuel.
Other Cars to Consider
2017 Audi A4 -- The A4 delivers a premium look and feel, with a stunning interior that many consider best in class. However, the A4 is a front-wheel-drive car, so unless you opt for the AWD version, its handling won't be as precise as the Q50.
2017 BMW 3 Series -- The BMW 320i sedan opens up the Bavarian brand to more buyers, but like the base Q50, its turbocharged 4-cylinder might not appeal to luxury buyers, and there's no AWD hybrid model.
2017 Alfa Romeo Giulia -- A relative newcomer to the sport sedan scene, the Guilia offers stunning good looks and impressive performance credentials. It's priced right, but there is no long-term data on its reliability or resale.
Used Infiniti M45 -- A 2011-2015 Infiniti M (Q70 after 2014) offers similar styling, the option of a V8 engine and a more luxurious interior, all while staying within the Infiniti family.
Autotrader's Advice
If you're looking for a blend of comfort and performance, the Q50 3.0t with the Premium Plus package delivers just about everything you'll need. Hardcore enthusiasts will want the Red Sport 400 AWD with the Technology package, while fuel economy fans should go with the Hybrid.