Editor's note: You may want to read more of Autotrader's model vs. model comparison car reviews as well as the 2017 Toyota Prius Prime review and the 2017 Chevrolet Volt review.
If you spend the bulk of your driving time puttering back and forth to work in traffic but occasionally need more range than an electric car provides, a plug-in hybrid is a fantastic choice. The 2017 Chevrolet Volt and the 2017 Toyota Prius Prime are two of the best, so let's take a look to see which might be better for you.
2017 Toyota Prius Prime
The Prime is the plug-in hybrid version of the regular Prius, featuring a larger battery that provides 22 miles of electric-only driving range and superior overall fuel economy. It also has slightly different (and arguably better) styling, an available extra-large touchscreen and slightly less cargo space. It seats four people versus the regular Prius's 5-person capacity.
Read more: Prius vs. Prius Prime: What's the Difference?
2017 Chevrolet Volt
The Volt was completely redesigned last year. Its more attractive and conventional styling, higher-quality cabin and improved all-electric range were highlights. For 2017, its options list gains adaptive cruise control and an upgrade emergency braking system.
Reliability
The Prime is a new version of the 2017 Prius, a car itself too new to have reliability data. But there's little reason to doubt that it will deviate from the flawless reliability record of the Toyota Prius. The Volt is also quite new, and although its predecessor never sold in high enough numbers to generate a lot of reliability data, what does exist indicates industry-average reliability. Either way, though, it would be hard to beat a Prius in this regard.
Fuel Economy
Well, this is why you're considering a plug-in hybrid, right? The thing is, it's vital to look beyond simple mile-per-gallon figures. Because the Volt and the Prius Prime can operate on electricity alone, your specific driving tendencies dictate your actual mpg figures more than for any other type of car. For instance, if your journey to work is only 20 miles round-trip, it's perfectly feasible that you won't burn a drop of gasoline as long as you can plug in at night. In that way, you could get infinity mpg.
Therefore, the car's all-electric range matters a great deal, and the Chevy Volt has a huge advantage here. It can go 53 miles on electricity alone versus the Prius Prime's range of only 25 miles. That's not much better than the more conventional Ford Fusion Energi plug-in hybrid sedan.
However, if you tend to drive more than 50 miles before recharging, the Prius Prime does get superior fuel economy when its all-electric range is exhausted. It achieves 54 mpg in combined driving when operating as a normal hybrid, whereas the Volt returns only 42 mpg combined. Keep in mind, though, that because of the way mpg figures are calculated, that fuel-economy difference isn't as big as it seems when you compare actual dollars spent on gasoline.
So which car saves more gasoline? It really depends on you.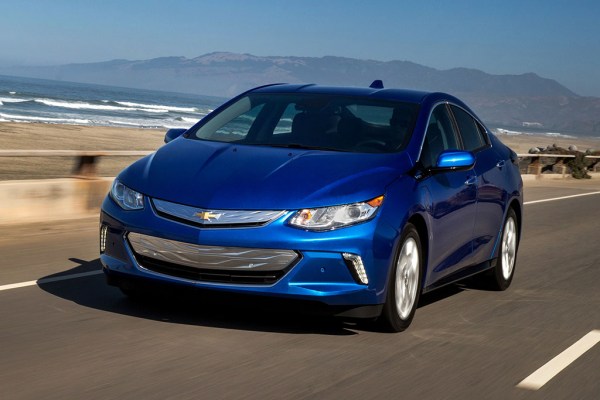 Safety
Distinctively, the 2017 Toyota Prius Prime comes standard with a forward-collision warning and auto-brake system that can detect pedestrians, plus lane-departure warning with steering assist, automatic high-beams and adaptive cruise control. A blind spot monitoring system and rear cross-traffic alert are optional. All of those can be added as options to the Volt Premier trim level, although Chevrolet does include OnStar emergency communications as standard equipment. Its automatic collision notification, emergency-assistance button and stolen-vehicle location services are included on the Prius Prime Advanced trim level.
The Volt has not be crash-tested by a third party. The non-Prime Prius received a top 5-star overall crash rating from the government.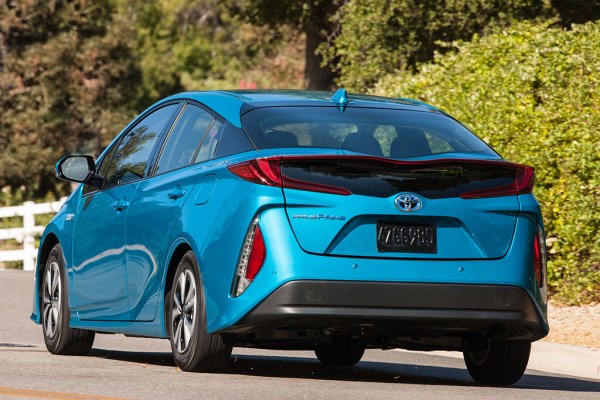 Technology
These cars have high-tech powertrains, so it's only natural that they also have plenty of high-tech infotainment features as well. The Volt comes standard with on-board Wi-Fi, Apple CarPlay, satellite radio, two USB ports and Chevy's MyLink touchscreen, which we've found to be one of the most user-friendly systems out there. Its main menu screen is customizable, so you can arrange its icons and apps as you see fit (including smartphone-connection ones you can add).
The Prius Prime comes will less standard equipment. It has one USB port, satellite radio, navigation and Toyota's perfectly user-friendly 7-inch touchscreen standard, but the Volt's extras are not available. Stepping up to the Premium or Advanced trim levels adds one key piece of tech: an 11.6-in vertically oriented touchscreen unique to the Prius Prime. It's reminiscent of the Tesla Model S and X's similarly oriented screen but isn't as well-executed. The Prime's always displays the navigation system on top of the bifurcated screen, while the bottom portion covers everything else, including the audio system. At least in terms of the audio system, the smaller standard touchscreen is actually a bit easier to use (you can't see your radio presets and song/channel information at the same time, for instance). The simplified climate controls located alongside the screen also aren't as user-friendly, and the standard volume knob is replaced by a touch-activated button, which is never good.
Interior Quality and Space
The Prius Prime's larger battery pack reduces its cargo capacity compared to the regular Prius and removes the rear center seat, reducing seating capacity to four. Well, the Volt technically has five seats, but there's a great big asterisk with that statement as the rear middle seat is effectively an extra seat belt and a bit of padded upholstery covering the giant center hump. It's pretty much vestigial and nothing we'd consider an advantage, especially since the Volt's outboard rear seats have considerably less space than their counterparts in the Prius Prime. Simply put, the Toyota is the more passenger-friendly vehicle. It also has more cargo space.
Value
The Chevrolet Volt costs about $6,000 more than the base Prius Prime. Yes, it has a more advanced plug-in hybrid system that will save you a ton of money if most of your driving is done on electricity alone, but it may still take a while to pay back. The Prius Prime also has greater passenger and cargo space, and its standard suite of accident-avoidance tech would cost $990 extra in the Volt — and require you to pay for the $37,570 Premier trim. Keep in mind that both cars are currently eligible for large federal and state tax credits that will drive down their prices considerably.
So, the Volt is the better plug-in hybrid. But is it the more sensible purchase? Perhaps not.
Autotrader's Advice
It would be nice to say, "Buy the Volt, it's the better car!" or, "The Prius Prime is the smart choice for most buyers," but we can't be so definitive. This is the type of automotive decision that requires more thought, calculation and research than usual. Perhaps more than any other type of car, choosing a plug-in hybrid really depends on how much you drive, how far you drive and how many people you'll be bringing with you.
Find a Used Toyota Prius Prime for sale