Small SUVs like the 2020 Acura RDX are the automotive "popular kid" lately. Add "luxury" to the title and these little utility vehicles get especially interesting, often adding features like torque-vectoring all-wheel drive (AWD), a turbocharged engine, wood-lined interior, heated and cooled seats and 20-in wheels.
In fact, many small luxury SUVs are among our favorite vehicles. The Lincoln MKC, Audi Q3 and Porsche Macan all have that certain something that convinces us their popularity won't end with an ice-cream scooping gig at the mall.
Why We Got It
We're always on the lookout for good new cars that don't require we break the $50,000 mark just to get certain features. It sounds like a lot but KBB says the average transaction price for new cars is more than $36,000. Of course, that means many cars are much more expensive. We're always puzzled by glowing reviews of 6-figure cars. Hang on there Captain, you're trying to tell me that Motor Track magazine says a $200,000 car is really quick — wow! Often, we're a lot more interested in how quick or plush a new car can be for $37,000 or a used car for $21,500. And that's exactly why we landed on the new Acura RDX. It's been totally redone for 2020 and represents the best of what American Honda has to offer.
Executive Editor Brian Moody said, "The Acura RDX has always been a decent premium SUV. I don't know if I would consider previous versions all-out luxury vehicles but this one is fully there. The combination of high-end materials, European-style athletic performance and a sharp new look should mean a European-style price but the RDX is reasonably priced considering all that's included in the new RDX."
Our RDX
With that in mind, we opted for a version of the Acura RDX with more features than the average buyers likely want. Accordingly, that drives up the price. Our 2020 Acura RDX has the Technology and Advance Package but does not have the A-Spec appearance package.
That means we have an AWD (which can be added by itself for $2,000) RDX with lots of extra features. The Technology Package ($3,200) includes many extras like 19-in wheels, smart key for the rear hatch door, ELS audio system, navigation, two rear USB ports, blind spot monitoring, rear cross-traffic monitoring, and front and rear parking sensors. The Advance Package is an additional $4,900. However, you have to get the Technology Package if you opt for the Advance package.
The Advance Package does include many desirable features like a surround-view camera, heated rear seats, heated steering wheel, head-up display, real wood trim, ELS surround sound with 16-speakers (Tech Package includes an ELS system with 12-speakers), adaptive suspension, rain-sensing wipers and LED fog lights. If we had opted for it, the A-Spec Package would have added $3,000, which would push the price over $50,000. Still, at $47,700, we think the 2020 Acura RDX with the Tech and Advance packages is a good deal. Similar size luxury SUVs from European brands can cost $5,000 to $10,000 more.
All versions of the RDX are powered by a 272-horsepower 2.0-liter 4-cylinder engine. It's connected to a 10-speed automatic transmission. Front-wheel drive (FWD) is standard but AWD is offered as well. An AWD RDX gets an estimated 21 miles per gallon in the city, 27 mpg on the highway and 23 mpg in combined driving.
Initial Impressions
At first glance, the new RDX is several steps above the previous model. Now, we can recommend the RDX alongside historically "nicer" vehicles like the Audi Q5. We like the real wood trim as well as the excellent ELS sound system. Overall, the new RDX comes off as a truly luxurious small SUV and we looking forward to pressing it into service for everyday use. Find an Acura RDX for sale
---
Ownership Update – 9/4/19
by Tommy Flanagan
For my yearly road trip to Daytona Beach, I scored the keys to our long-term 2020 Acura RDX. It's brand new to our fleet and after driving the new RDX last year, I was anxious to get some serious drive time behind the wheel. The RDX is now in its third generation and this version seems more upscale than the previous generation. Let's see how well our new RDX performs on its maiden road trip.
Hot off the heels of a 2019 refresh, The Acura RDX ushers in 2020 with no mentionable changes. The sole engine is still a turbocharged 2.0-liter 4-cylinder coupled to a 10-speed automatic transmission. With 272 horsepower and 280 lb-ft of torque, it provides decent power and acceleration with shifts that are smooth and less jerky than some other smaller SUVs I've driven. Rarely did the RDX ever seem to search for the right gear.
Our RDX features the Advance package, which also includes the Technology package. It features amenities such as a 10.5-in head-up display, heated and ventilated 16-way power front seats, and premium audio system with 16 speakers. This package also includes rain-sensing windshield wipers, a heated steering wheel, and heated rear seats. Apple CarPlay is another feature I've grown fond of when on the road for several hours. No longer do I have to pull over to reply to text messages. It's also standard equipment on the RDX.
For this driver, adaptive cruise control is an absolute must for long trips. Once you've experienced driving with this feature, it's hard to do without. The RDX's system worked well compared to previous Acuras (and Hondas) I've driven in the past. It didn't approach a slower driver ahead and then abruptly decelerate to match the slower car's speed. The RDX gradually matched the speed of the slower driver until I could pass and be on my way.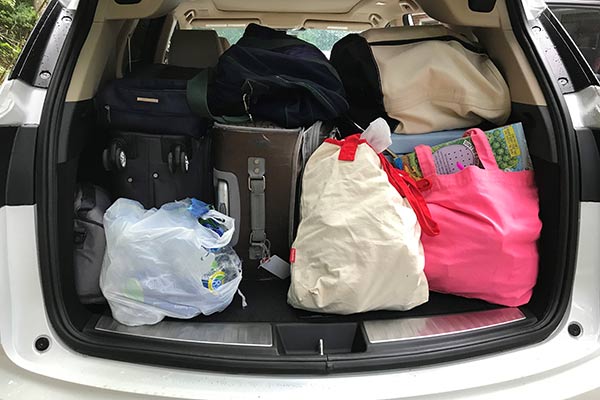 For a compact SUV, the RDX has a surprising amount of interior space. Up front, there's plenty of legroom and the aforementioned 16-way seats provide plenty of support for the long ride. I was also surprised at how much legroom the second row provided. For all our gear, there's 29.5 cu ft. of storage behind the second row. That's big enough for two large roller bags, a medium-size cooler and several bags to carry snacks and other essentials for the trip. There's even an under-floor storage area that can house smaller items you want to keep out of sight.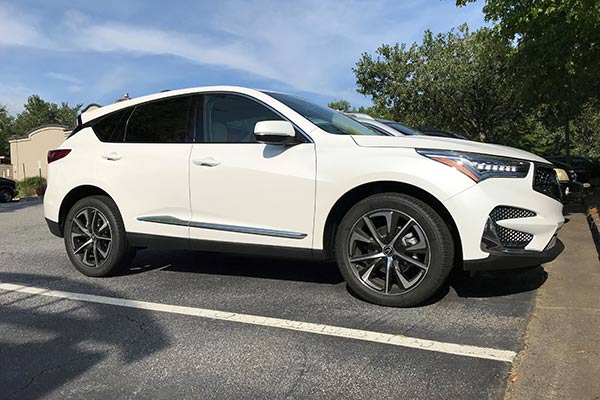 There were a couple of irritations I had with the RDX. First off, the infotainment system's touchpad controller takes a bit of getting used to. It's difficult to maneuver around and not as intuitive as I would have liked. When using the navigation system, I found it easier to find a location using voice commands than with using the keyboard on the screen. Also, the blind spot monitoring system doesn't warn you of a car in your blind spot until the vehicle is almost next to you. I found myself cutting off drivers on a couple of occasions because of this.
Overall, I really enjoyed driving the RDX. Even with some of its drawbacks, it's quickly growing on me. Even though it's considered a compact SUV, it feels anything but thanks to its spacious cabin, front and rear legroom, and storage capacity. I'm hoping to get a lot more time behind the wheel over the next few months. Find an Acura RDX for sale
---
Ownership Update – 10/2/19
by Brian Moody
A few years ago, Acura had a very unusual event at the Capitol Records building in Los Angeles. While I'm all for hanging out at one of the most important buildings in American music history, it was hard to see the connection to the automotive world. However, the point of the event was to give a little background about audio mixing and surround sound systems in general. Acura has gone to great lengths to make sure the Panasonic systems in their vehicles, such as in the 2020 Acura RDX, sound like something you'd expect to hear in a luxury car.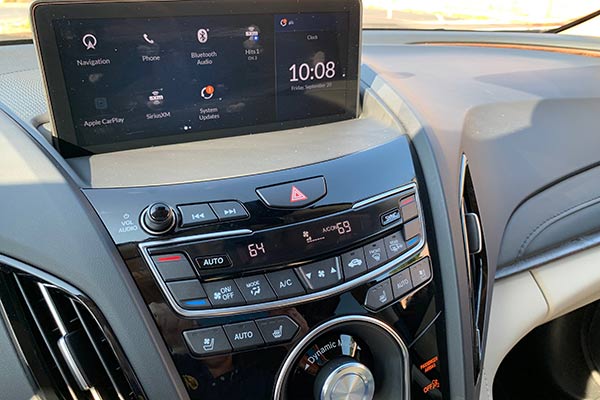 ELS / Panasonic
For years, I've regarded the Mark Levinson in-car audio systems found in Lexus vehicles to be the best of the best. But the ELS sound system in the RDX is pretty spectacular in its own right. It's a 16-speaker, 710-watt system that includes surround-sound capability, as well as an adjustable center channel and adjustable, ceiling-mounted speakers. Acura says, "It was developed by Acura and Panasonic and tuned by Grammy-winning music producer Elliot Scheiner to deliver a new dimension of sound to the listening experience."
There is a standard 8-speaker ELS system available that does a good job — or even an optional 12-speaker system (part of the Tech Package), too. But audiophiles will want the top ELS Studio 3D audio system that requires the Advance or A-Spec package. This system provides an amazingly spacious sound stage and almost flawlessly delivers both an intimacy and clarity few other in-car systems can match. Bass is tight and punchy, and both crossover and separation are nicely tuned. Sound reproduction is subtle but powerful with impressive clarity. Even satellite radio and compressed files sound good.
Price
The only issue here is that this optional audio system is expensive with the 2020 Acura RDX. You can get it in either the $3,000 A-Spec appearance package or the $4,900 Advance Package, but you also have to get the $3,200 Technology Package before the other two packages become available. That means the top upgrade for the audio system is at least a $6,200 added expense. Those packages also include many useful comfort and convenience features, such as a heated steering wheel, extra USB ports, wood trim, head-up display, surround-view parking camera, rain-sensing wipers, adjustable suspension settings, LED fog lights, bigger wheels, etc. If you're leasing, this will be a small hit to your monthly payment. Ultimately, you have to decide how much of an audiophile you are, and you should at least take the time to listen to the top system when you're at the dealership shopping. Find an Acura RDX for sale
---
Ownership Update – 10/30/19
by Dwight Cunningham
After a recent vacation I came to the realization that the RDX is enjoyable to drive on a long trip. The road noise is kept at a minimum, especially with the very nice sound system. There are speakers everywhere! It handled road construction and bumps with ease and we never really noticed any feedback from the road. The big issue for me was the engine. There was power when you needed it, but when you accelerated you could hear the engine in the cabin. And the sound wasn't good — it sounded like the engine was overworked and bogged down. I don't want to hear noises like that in a luxury vehicle.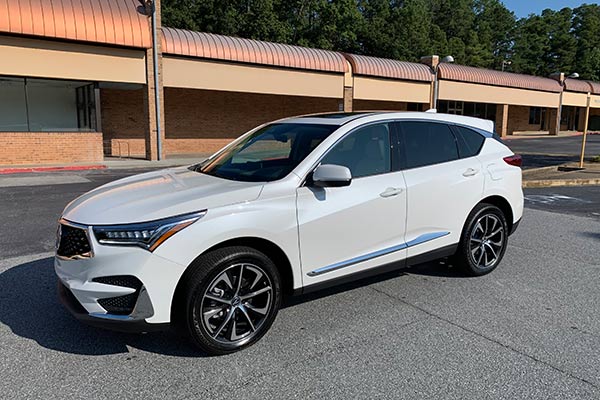 The interior is roomy and there are plenty of cup holders and places to put your mobile toys. The seating was comfortable overall. I didn't feel fatigued after driving for eight hours. However, I would prefer just a little more cushion. The seats aren't hard, but they could use a little extra padding for long rides.
This is a First World problem, but the RDX could use a hands-free lift gate option. When you have luggage or groceries in your hand, you want the cargo door to open for you. I would expect that for this price point, this would be a standard option. There are vehicles at lesser price points that have this option. I'd love to see a button inside the cargo area to close it, instead of just the one that's on the cargo door. Find an Acura RDX for sale
---
Ownership Update – 12/30/19
by Brian Moody
While the 2020 Acura RDX is best categorized as a small luxury SUV, its turbocharged engine gives it a bit of a sports car feel as well. It's not on par with the Porsche Macan, but the driving dynamics, acceleration and driver-selectable driving modes make the RDX significantly more fun than the Lexus NX and Infiniti QX50. The recently redesigned RDX also has a leg up on the competition when it comes to interior refinement and delivering a truly luxurious experience.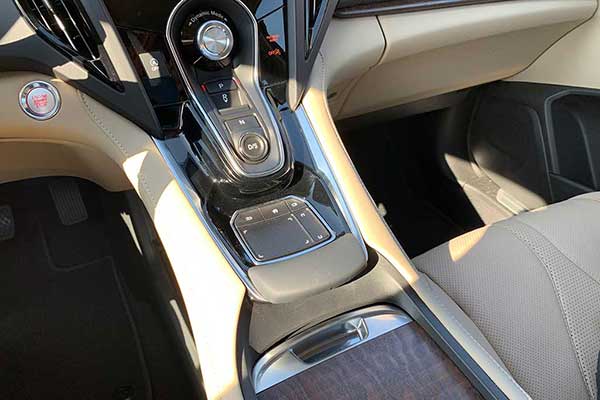 One thing that has been a point of controversy is the touchpad controller for the navigation, information and entertainment system. At first, it seems like it mimics the Lexus touchpad and mouse-like controller, but the Acura version is better. It's just a touch-sensitive pad, but the hard buttons at the edges (these are reconfigurable by the owner) make it easy to get to your "go-to" features. There is a learning curve, so if you are considering buying a 2020 Acura RDX, allow for time at the dealership the day you pick it up to get a 15-minute tutorial. I did this, and it really changed my opinion dramatically.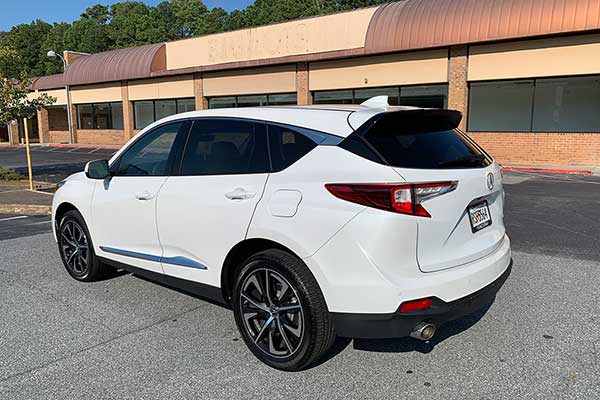 One RDX high point is the exterior look. The redesign moved the RDX up several notches to the point where it now looks like a high-end, European luxury SUV. Ours has the larger, optional wheels. Get them — it makes a big difference in terms of the car's look. Find an Acura RDX for sale
---
Ownership Update – 1/29/20
by Tara Trompeter
If you're anything like me, you probably hate taking your car in for service. The prospect of spending a few hours in a poorly-lit waiting room with the aroma of overly-strong coffee and Judge Judy blasting on the grainy TV screen isn't my idea of a good time. So when the little wrench icon lit up on the dash of our long-term 2020 Acura RDX last week, signifying the need for the crossover's first major service visit, I couldn't help but groan. However, from the moment I called Ed Voyles Acura in Chamblee, GA, to make an appointment, my experience was nothing like what I expected.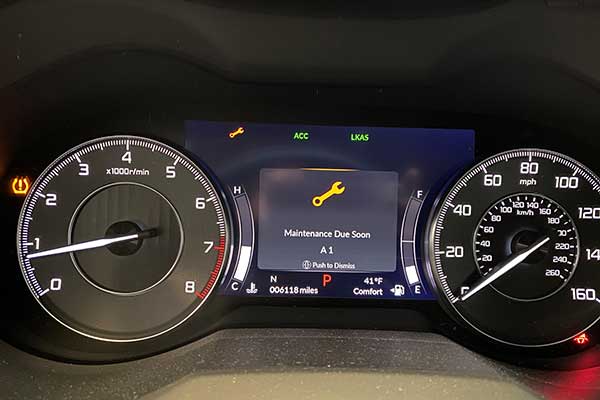 I'm sure you've called a dealership service department in the past, only to find a cranky scheduler on the other end of the line who wants to be doing just about anything in life other than speaking to you. However, I was greeted over the phone by a lovely woman who was cheerful and incredibly helpful, taking down all of my information quickly and confirming my appointment for the following day via text before I hung up. I even received a reminder text the next morning.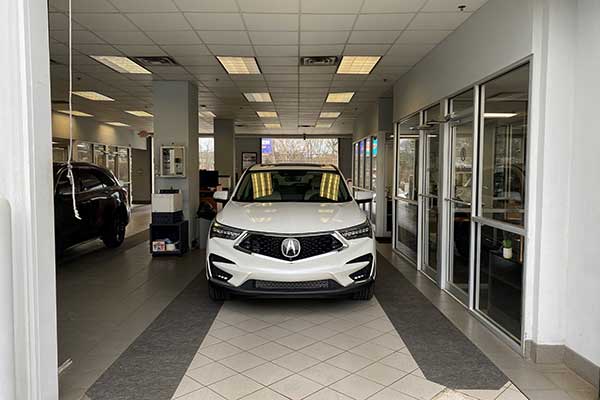 I pulled into the service area and was immediately greeted by a kind gentleman named Al, who would be my technician and point of contact. He sent me a text while I was in his office as a way for us to stay in touch throughout my service visit, which I'd never experienced before. He led me into the waiting area (which was well-lit with a good coffee smell, although predictably the TV was set at top volume), and told me he'd keep me posted on my vehicle's progress via text. I connected to WiFi easily and worked for about an hour before I received my first text message that read, "They are still working on your RDX, but everything checks out fine," shortly followed by "Do you want the RDX washed after they're through with service?" This was a very nice surprise. While the car was being washed, I received another message saying that my vehicle report was ready with a link to click. I was taken to an "inspection summary" of my Acura RDX, showing me that 43 items passed inspection, with an outline of each item checked during the service and the tech's observations. I was blown away!
Al brought me into his office to quickly take payment ($76.15) and then he led me to my freshly washed car (both inside and out, which never happens!). He followed up shortly thereafter with a nice thank you via text. I drove out of there thinking what a positive experience that was and how well I was taken care of. The staff was very friendly and unbelievably efficient. I was so impressed by how modern their system was, with text communication and digital reports sent to your phone. While I may never be excited by the idea of taking my car in for service and being forced to watch House Hunters at top volume, I certainly will never dread taking our long-term 2020 Acura RDX in again…unless, of course, they change the channel to Judge Judy.
---
Ownership Update – 2/28/20
by Tara Trompeter
A colleague asked me an interesting question recently. He knew I'd been driving our long-term 2020 Acura RDX for a while, so he wanted to get my opinion on something. "My mother-in-law is looking for a new crossover and I told her to check out the RDX. But what do you think about the touchpad?" he asked.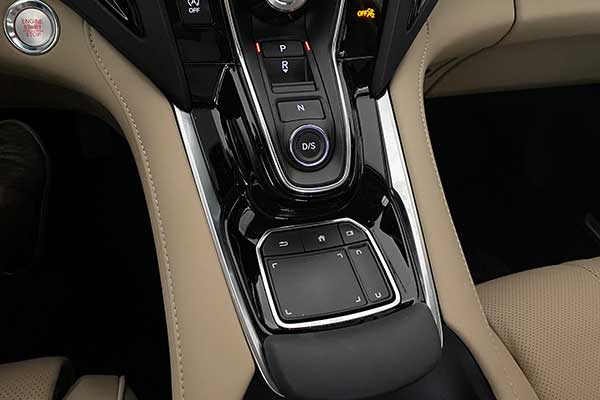 He was referring to the Acura True Touchpad, which is the automaker's proprietary method of controlling the infotainment system. There are differing opinions within the industry as to how effective of an interface this is, and my co-worker was clearly concerned that his mother-in-law might find it to be a bit too tricky.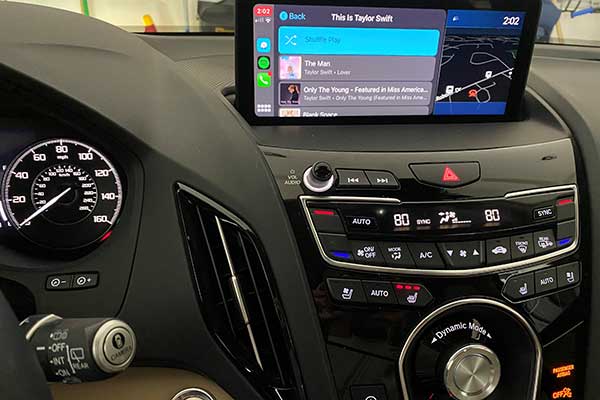 I thought about it for a few minutes. Admittedly, when I first started driving the RDX last month, the touchpad drove me a little crazy. It was very sensitive, and I often found it difficult to tell which icon was highlighted when I was searching for something specific. I always plug my phone in so that I can use Apple CarPlay – specifically, my Spotify app. And then after a few days, I realized just how much I liked having quick access to my "This is Taylor Swift" playlist (no judging) so that I could easily find the song I was looking for or even switch between playlists, all with the swipe of a finger and without having to take my eyes off the road. I also loved being able to just rest my hand near the touchpad for quickly making or answering phone calls or pulling up my Waze app when needed.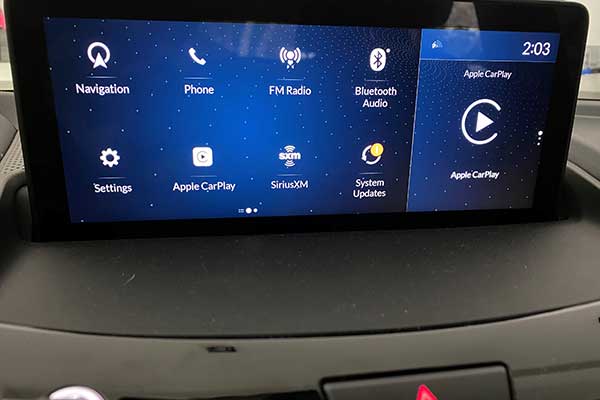 The Acura True Touchpad takes some getting used to, for sure, and as executive editor Brian Moody suggested, a 15-minute tutorial at the dealership will go a long way. But even more than that, I think just living with it and using it daily will get most drivers to the point where not only are they comfortable with it, but also where they really learn to love it. I ended up driving my husband's Ford Explorer recently because I needed a third row, which the RDX doesn't have. I plugged in my phone and out of habit reached down for the touchpad, which of course wasn't there. The Explorer has a great touchscreen, but it took effort to keep my arm extended to find the playlist I wanted and to pull up directions to where I was headed. I found myself missing the touchpad — a feeling I wasn't expecting.
So when my colleague asked my thoughts about the touchpad and whether I thought his boomer-aged mother-in-law could get the hang of it, I stopped and thought about my experience for a few minutes. And in the end, I told him that I absolutely think she should consider it. It's a great little crossover all around, and while the touchpad seems finicky at first, it quickly becomes a piece of technology you wouldn't want to live without. Find an Acura RDX for sale
---
Ownership Update – 6/8/20
by Autotrader Editors
Ben Cheney, Automotive Data Manager, took a long trip in the RDX. Some of his concerns, this time around, were not your usual road trip requirements. He drove the RDX from Atlanta to Oklahoma City to adopt a dog his family had promised to care for.
Ben says "The trip was almost exactly 1,800 miles. Luckily, we had Autotrader's long term Acura RDX for the drive. Since there is a pandemic happening, we were incredibly anxious about a cross country drive. Where would we sleep? Did we have enough hand sanitizer for each gas fill up? Would there be restaurants open for takeout? The one thing I was not nervous about was the performance and reliability of the RDX. As expected, it handled the drive flawlessly. It was a very interesting drive being that the highways were mostly empty. We averaged 24 mpg which isn't too bad considering our RDX is the AWD variant. One notable was how quiet the vehicle was at highway speeds — I was very impressed. " For comparison, the EPA overall average estimate for fuel economy is 23 mpg, so Ben beat that by 1 mile per gallon.
One thing to consider in light of all this praise: If you're shopping for a used Acura RDX, you may want to get one made after 2019. It's an all-new vehicle so the upgrades compared to, say, a 2017 are significant. Where an older RDX feels like a fancy Honda CR-V, the 2019 and newer model looks and feels like a proper small luxury SUV. Ben added "There was plenty of room for our new four-legged member of the family."
One thing Ben didn't like as much was the in-car tech. "The steering wheel controls do different things depending on what is being displayed on the home screen. For example, when showing XM, the left toggle wheel can change station presets; however, if anything else is displayed on the screen, that toggle will now do something specific to that screen and not change the station preset. One fix we found is to use the four corners of the touchpad to perform specific functions — you can even rearrange the screen somewhat. Is it perfect? No. But this set up is better than the Lexus touchpad and, by end of the trip, we started to feel like going back to a touchscreen was a more intrusive way of navigating the in-car controls." Find an Acura RDX for sale