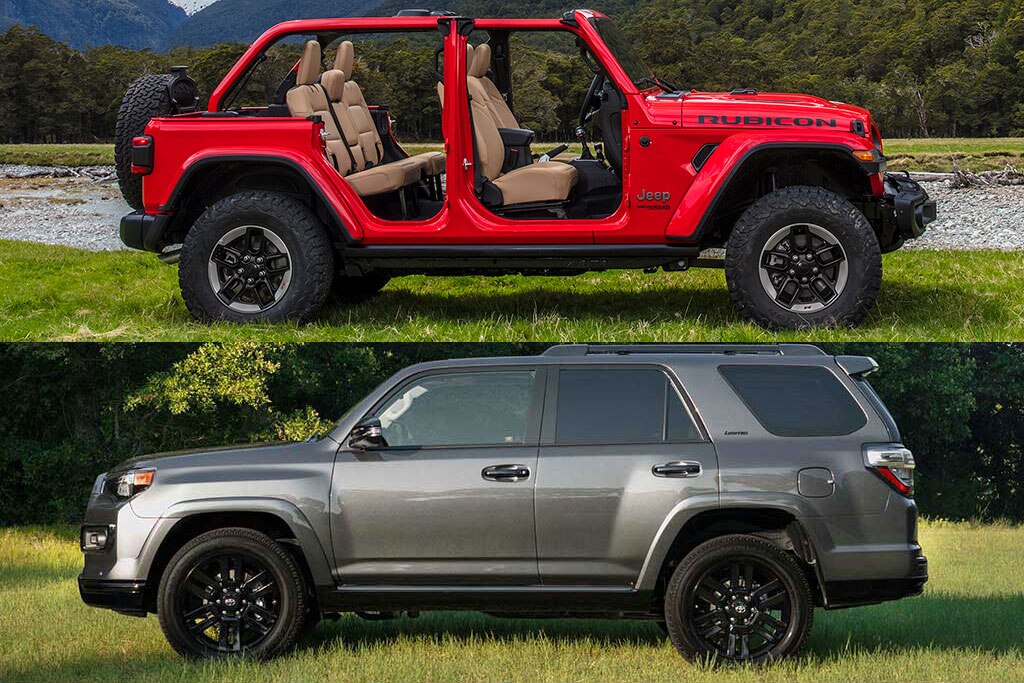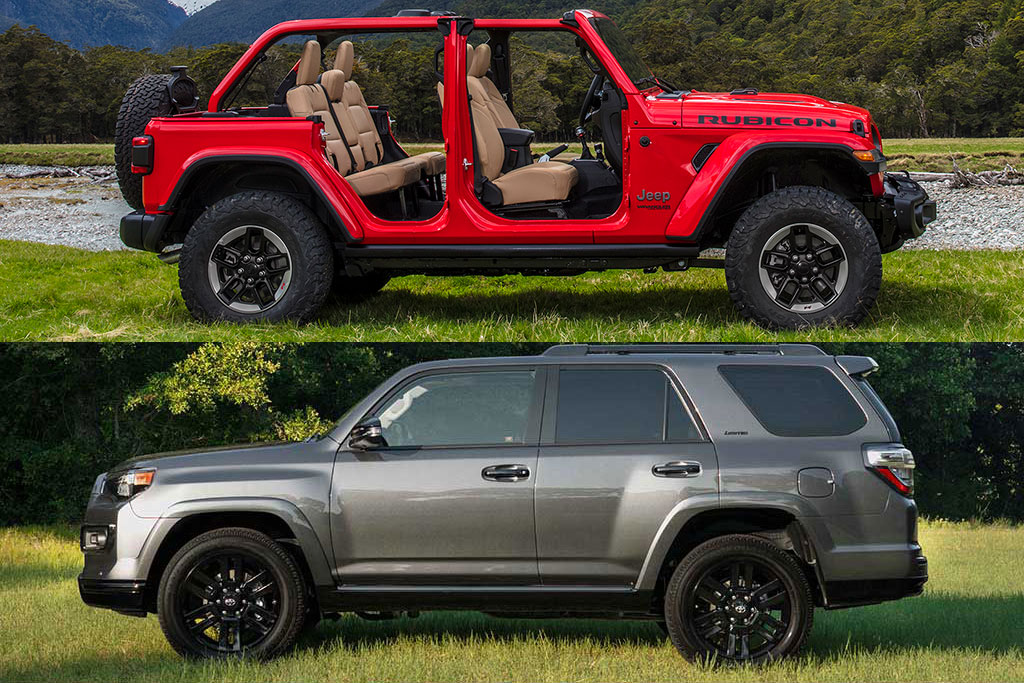 The Toyota 4Runner has been on sale largely unchanged since the 2010 model year.
The Jeep Wrangler was all-new for 2018.
Each vehicle is a purpose-built off-roader.
The 2020 Jeep Wrangler and the 2020 Toyota 4Runner are two of the most capable and exciting new vehicles on the market today. Each is iconic in its own way, and the two happen to be the only midsize body-on-frame SUVs left on the market.
Here, we'll take a look at how they compare in a number of categories.
Exterior
If you're reading this, then you're probably familiar with the iconic designs of these two utility vehicles. The Wrangler's aesthetic has remained the same since it was born as a military vehicle during World War II. The current JL-generation Wrangler, which debuted for the 2018 model year, has blocky proportions, round headlights and Jeep's familiar 7-slat grille. It also has a removable roof and doors, and it has a windshield that folds flat. There's really no other vehicle like it — at least not until the reincarnated Ford Bronco goes on sale. The 4Runner has been on sale in its fifth-generation form since the 2010 model year and, despite its age, still sells in big numbers. Its design is a little more conservative than the Wrangler's, but its iconic boxy shape is still there. See the 2020 Jeep Wrangler models for sale near you
The 2020 Jeep Wrangler is offered in 2-door and 4-door configurations, though 4-door models are far more common than 2-door models these days. The original 4Runner came with two doors. See the 2020 Toyota 4Runner models for sale near you
Interior
Though both vehicles are considered midsize sport utilities, the 4Runner is bigger than the Wrangler on the inside. It's also more carlike, but only next to the Wrangler. The 4Runner has big, chunky, old-school controls. It's nowhere near modern, but it boasts some modern features — some standard, some optional. The Wrangler, on the other hand, is in its own league. Its upright windshield sits about a foot from the driver's face, with only a shallow dashboard in between. That dashboard is packed with modern features, such as a great infotainment system and circular vents. The best way to put it: The Wrangler's interior is designed to be cool (and it is), and the 4Runner's is cool by accident.
In terms of cargo volume, the 4Runner is a lot bigger than the Wrangler. The 4Runner has 47 cu ft of space behind its second row and 88 cu ft with the second row folded. The 4-door Wrangler Unlimited has 32 cu ft behind its second row and 72 cu ft with the second row folded.
Mechanicals
The 2020 Toyota 4Runner comes with a single engine option: a 4.0-liter V6 engine that makes 270 horsepower and 278 lb-ft of torque and is paired with an ancient 5-speed automatic transmission. Fuel economy from this ancient mill isn't great, coming in at 17 miles per gallon in the city, 20 mpg on the highway and 18 mpg in combined driving when equipped with 4-wheel drive.
The Wrangler is available with two gas engines and a diesel option. The two gas engines are pretty evenly matched. There's a basic 3.6-liter V6 that makes 285 hp and 260 lb-ft of torque. There's also an optional 2.0-liter turbo that makes 270 hp and 295 lb-ft of torque. Regardless of engine or configuration, the Wrangler returns between 20 mpg and 23 mpg in combined driving — considerably better than the 4Runner. The Wrangler is also available with a 3.0-liter diesel engine that puts out 260 hp and 442 lb-ft of torque. It's rated at 25 mpg combined. The Wrangler gets an 8-speed automatic transmission across the board, though the gas V6 can be paired with a 6-speed manual transmission — often the preferred choice for off-roading.
Features & Technology
While they're rugged, old-school off-roaders underneath it all, the Wrangler and 4Runner can be had with more modern features than you'd probably expect. Each is available with a good assortment of active safety features. The 4Runner's active safety features come standard, while the Wrangler's are optional. The 4Runner doesn't offer blind-spot monitoring, but the Wrangler does.
Neither vehicle offers the best safety ratings. The 4Runner's age keeps it from earning top marks, and recent Insurance Institute for Highway Safety testing has shown that the Wrangler has a tendency to roll over in small-overlap front crash tests. Each vehicle comes with a decent infotainment system with Android Auto and Apple CarPlay compatibility. Beyond that, given their adventuring aspirations, the Wrangler and 4Runner both have an array of clever storage solutions throughout their cabins.
Each vehicle comes with loads of off-road capability. The Wrangler is the more purpose-built off-roader. It comes with a solid rear axle — it's the only mainstream passenger vehicle that still offers one. The 4Runner has an independent front suspension, and it's considerably better on-road than the Wrangler's suspension setup.
The top-tier Wrangler is the Rubicon trim, which offers tougher axles, taller fenders, a lower crawl ratio, locking front and rear differentials, a disconnecting front sway bar, a Fox-tuned off-road suspension, all-terrain tires and more. The 4Runner is most capable in its TRD Off-Road and TRD Pro trims. The TRD Off-Road trim comes with a locking rear differential, crawl control and multi-terrain select, and it's the only 4Runner that can be optioned with Toyota's Kinetic Dynamic Suspension System. The TRD Pro adds to the mix a high-performance off-road suspension setup co-developed by TRD and Fox, a front skid plate, unique wheels, unique exterior trim pieces, a TRD Exhaust, and a set of Rigid Industries fog lights.
While the Wrangler's removable roof and doors are certainly enticing, the 4Runner's trick roll-down rear window is pretty clever, too.
Pricing
Factoring in destination fees, an entry-level 2020 Toyota 4Runner SR5 comes in at a little over $37,000, and a loaded 4Runner TRD Pro has an MSRP of just under $51,000. The 2020 Jeep Wrangler starts at just over $33,000 and tops out at around $64,000 in its fully loaded Rubicon trim.
Conclusions
Either vehicle makes for an exceptionally fun and capable off-roader. The Wrangler offers top-tier off-road capability combined with the configurability of a removable roof and doors. But the tradeoff is a cramped interior, lots of wind noise, and a sometimes harrowing highway ride.
The 4Runner, on the other hand, is a much nicer on-road vehicle than the Wrangler and it still excels in the dirt, but it doesn't offer the exceptional off-road geometry of the Wrangler. Additionally, the 4Runner lacks the Wrangler's configurability.
You probably already know which of these vehicles you prefer, but if you're still on the fence, your decision should come down to whether you prefer the Jeep's marginally better off-road capability and removable body parts or the 4Runner's nicer and more comfortable driving dynamics. Find a Jeep Wrangler for sale or Find a Toyota 4Runner for sale