Editor's note: You may want to read more of Autotrader's model vs. model comparison car reviews as well as the 2016 Tesla Model X review and 2016 Tesla Model S review.
What's the difference between the 2016 Tesla Model X and the 2016 Tesla Model S? Well, simply put, one is an SUV and the other is a sedan. However, you'd be surprised how much these two all-electric luxury vehicles have in common. Let's take a look at each to help you figure out which one might be better to plug into your garage.
Exterior
For better or worse, the 2016 Tesla Model X looks like a Model S that was inflated with too much air. Their styling details are incredibly similar, and indeed, there's far less visual difference between Tesla's sedan and SUV offerings than those of other luxury makers.
The two share the same wheelbase, but the X is bigger in every other dimension, including sitting 2 inches farther off the ground. Both can be raised when equipped with the optional air suspension.
The greatest difference is the X's falcon-wing rear doors that uniquely fold up and out. We've found them to be more of a show-off feature that can quickly irritate with their slow movement, limited mobility in tight spots and the fact they prevent the use of roof racks. Many owners have also complained of their unreliability.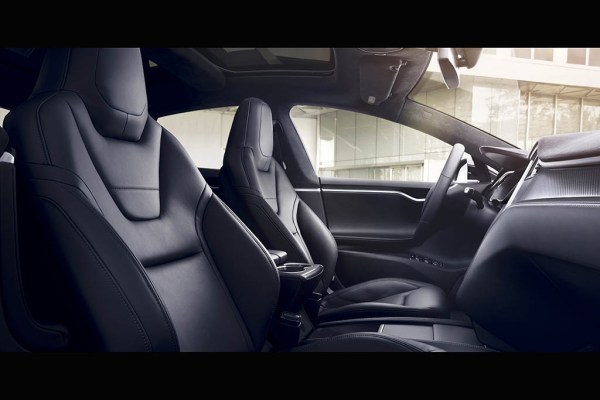 Interior
Both Teslas share a similar interior design dominated by an enormous touchscreen that controls most vehicle functions. Interior quality is unremarkable, especially on the priciest models, in which the materials used and the quality of construction start to really pale in comparison to that of other, similarly priced luxury models.
One key difference is the X's standard Big Sky windshield that extends to almost above the driver's head. It's a novel feature, but its sunshade is a flimsy removable unit, and some may prefer a traditional windshield.
The two Teslas mostly differ in terms of interior space. The Model S is surprisingly spacious, with plenty of back-seat legroom and just enough headroom beneath its sloping roofline. There is also an optional rear-facing jump seat for $3,000 that folds flat into the cargo area. It's only for small kids, who will no doubt take the opportunity to have fun at the expense of trailing fellow motorists. With or without that seat, the Model S has a huge cargo area for a sedan of its size, and there's even more to be found in the not-insignificant front trunk. See the 2016 Tesla Model S models for sale near you
Cargo volume actually isn't that much better in the Model X, with most of its added space the result of its greater body height. There is definitely more space for people, though. A standard 5-person configuration can be supplanted with optional 7-seat (2-3-2) or 6-seat (2-2-2) configurations. The third row is a far more spacious, comfortable and all-around viable people-carrying solution than the Model S's jump seats.
Mechanicals
For all intents and purposes, there's little mechanically separating the 2016 Tesla Model X and the Model S. They're each available with the same combinations of battery packs and electric motors, though the Model X comes only with all-wheel drive (indicated with a D). The Model S 60 and 75 come standard with rear-wheel drive.
Though their specifications are similar, the X's greater weight is a detriment. For the most part, you should expect to go 20 fewer miles in a respective Model X and be about a half-second slower from zero to 60 miles per hour. Either way, though, you'll be going substantially farther and faster than the current crop of EVs.
Features & Technology
There are few standard and optional feature differences. Besides its available panoramic sunroof, everything you can get on the Model S is also available on the Model X. It doesn't quite work the opposite way. The Model X is available with ventilated front seats, a towing package and auto-opening/closing front doors (like the falcon wings, they're a bit of a parlor trick). The S is also available with 18- and 21-inch wheels versus 20- and 22-in options on the X. See the 2016 Tesla Model X models for sale near you
Both cars are available with the same so-called Autopilot technology. Despite the name, this is not a true autonomous driving system, but rather a series of advanced driver aides that goes a bit further in its assistance than similar systems offered by other brands.
Driving Experience
Both Teslas offer acceleration unlike anything else on the road. The range-topping P90D models are shockingly quick, and even the lesser trim levels should impress with their silent, smooth and instantaneous power. Their ride and handling are also impressive for such large vehicles, but the Model S is superior to drive due to its lower center of gravity and greater rigidity. Of course, that's not unusual for a sedan-vs.-SUV comparison.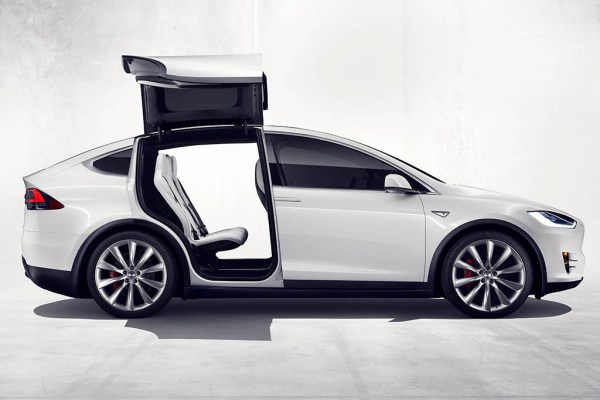 Safety
The Tesla Model S received a perfect five stars in every National Highway Traffic Safety Administration test, and although it hasn't been tested yet, we expect the Model X will do the same (if anything, its rollover rating could be lower).
Both Teslas come standard with a blind spot monitoring system and lane-departure warning, as well as automatic emergency braking — these are usually options. Autopilot essentially enhances these features.
Conclusions
Unless you really need a real third row of seats, the Tesla Model S should be the better choice for most people. It has greater range and uses less energy to recharge, and it's quicker, better to drive and still plenty practical. It also lacks gimmicky features such as the compromising, problem-prone falcon-wing doors. Find a Used Tesla Model S for sale or Find a Tesla Model X for sale