When one thinks of exotic supercars, names such as Ferrari, Lamborghini and Bugatti quickly come to mind. But there's a new name you may want to commit to memory, an American manufacturer known primarily for its fleet of affordable cars, trucks and SUVs. It's Ford, and with the introduction of the 2017 Ford GT, the Detroit-based company is once again dipping its proverbial toe into the pool of exotic, high-performance supercars. We say "once again" because Ford has been here before, once in the late 1960s and again in the mid-2000s. For 2017, the Ford GT returns to take its place among the world's great performance machines. However, unlike most of Ford's vehicles, the GT's estimated $450,000 price tag will likely place it well out of most consumers' reach.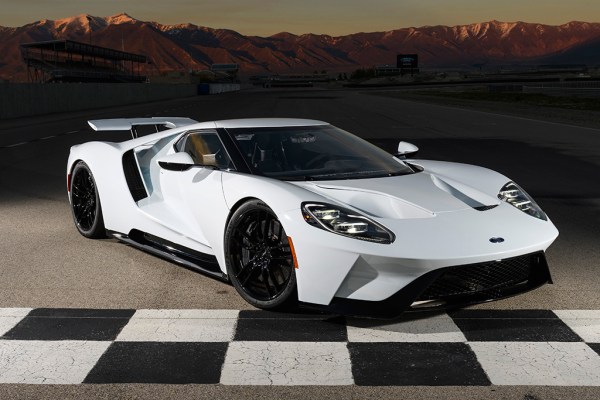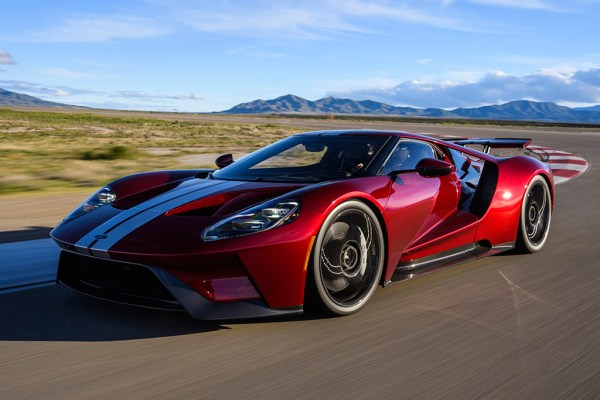 A Body Like No Other
To create its supercar, Ford engineers started with a clean slate. The 2017 GT's body is like nothing we've ever seen, blending old and new styling themes with a functional design that enhances both performance and adrenaline. The GT's carbon-fiber body and aluminum subframe weigh a mere 3,054 pounds without fluids, creating a power-to-weight ratio of just 4.72 lbs/hp. That's within spitting distance of cars like the Ferrari 488 GTB and McLaren 675LT. Ford's teardrop-shaped supercar includes buttress-like supports extending from the roof to the rear fenders. This design not only looks fantastic, it actually helps with aerodynamics by increasing downward pressure on the rear wheels. Nestled between the rear fenders and body are a set of integrated air inlets that simultaneously feed air to the engine and intercoolers, with the plumbing cleverly hidden inside the buttresses. Moving to the rear, we find an integrated wing that automatically deploys upward at high speeds to improve airflow and can even change its shape depending on conditions and performance demands. Below the wing are two massive exhaust outlets that mirror the large, round LED tail-lamp assemblies.
Up front, the GT most resembles its GT40 ancestor with a low, rounded front end punctuated by a prominent set of integrated headlights. The GT's headlight design includes a set of stacked rectangular LED lighting elements similar to the inset rectangular design of the original car. Active grille shutters tucked behind the GT's front air intakes help to manage downforce at the front end. Visibility is aided by a set of long side mirrors attached to front-hinged doors that swing up and forward, a marked difference from the 2005 GT, which integrated the door design into the roof panel.
Inside, the 2017 GT's cockpit stands in stark contrast to its flashy exterior. The design is simple, elegant and uncomplicated, with a large rectangular configurable display directly ahead of the driver and a smaller infotainment screen just to the right. An F1-inspired steering wheel that's flat at both the bottom and top houses most of the GT's essential controls, including the drive-mode selector and paddle shifters. We love the narrow center console housing the gear selector and starter, but our favorite visual feature is the dual-stacked air conditioning vents built into the doors. Because the GT's tight-fitting sport seats are directly attached to the carbon-fiber cockpit shell, all adjustments to accommodate varying-size drivers are done via the adjustable steering wheel and pedals.
Performance To Match Its Good Looks
Rest assured, the 2017 Ford GT's mechanicals rise to the promise made by its stunning design. Behind the cockpit resides a twin-turbocharged and intercooled 3.5-liter EcoBoost aluminum V6. Rated at a jaw-dropping 647 horsepower and 550 lb-ft of torque, it's the most powerful EcoBoost engine ever developed by Ford. The engine is mated to a 7-speed dual-clutch transmission, and performance estimates suggest a top speed of around 216 mph, making the GT one of the fastest supercars in the world.
Underneath the GT's sleek exterior is an unequal-length control-arm setup featuring a racing-styling torsion bar and pushrod suspension with adaptive shocks that can lower the GT by 50mm. Electronically adjustable DSSV dampers at the rear help keep the back end planted during high-speed maneuvers. Because there are no coil springs, the bulk of suspension components can be placed inboard, a design that allows for the GT's unique exterior aerodynamic channels. The suspension works in conjunction with a 5-mode drive system (Normal, Sport, Wet, Track and V-Max) that adjusts throttle, transmission, traction control and rear-wing deployment settings.
To assure the GT can stop as well as it goes, Ford employs a huge set of Brembo carbon-ceramic brakes tucked behind equally huge 20-inch multispoke alloy wheels. Surrounding those wheels is a set of Michelin Pilot Super Sport Cup 2.0 tires uniquely formulated to the GT's specific requirements.
The History Behind The GT
To understand why Ford built a half-million-dollar supercar, one must understand the company's history. Ford's foray into the world of high-performance racing cars began in the early 1960s, when it began entering the first GT40 in a number of races, including Daytona, Sebring and the Holy Grail of racing, the 24 Hours of Le Mans. After a disastrous first few years, Ford employed racing legend and automotive pioneer Carroll Shelby to help with the car and its racing program. Shortly thereafter, the GT40 went on to crush rival Ferrari in four consecutive Le Mans wins, from 1966 to 1969. The party came to end, however, when in 1970 Porsche introduced its 917, a car that made the aging GT40 all but obsolete.
In 1995, 25 years after the GT40 retired, Ford showed a supercar concept named the GT90. The fully functional concept displayed a modernized take on the GT40's shape and was powered by a 720-horsepower V12 with four turbochargers bolted to its block. So keen was public interest in the car that Ford green-lighted the next concept, the 2002 GT40 Concept. That car spawned the short-lived 2005-06 Ford GT, a car that employed a number of cutting-edge technologies, including a superplastic-formed frame, all-aluminum body panels and a number of one-off component designs. A supercharged 5.4-liter V8 was mounted just behind the cockpit, producing an impressive 550 horsepower. In testing, the GT achieved a top speed of 205 miles per hour and bolted to 60 mph in a scant 3.6 seconds.
The first production car to roll off the assembly line sold at the Pebble Beach Concours d'Elegance auction for just over $557,000. Ford reported a few more cars sold for well over the original $140,000 MSRP, sometimes by as much as an additional $100,000. However, once the initial thrill of the car faded, so too did sales. Although Ford had planned to sell 4,500 GTs, by the end of 2006, GT production numbers totaled just 4,038, with about 300 of those cars being shipped out of the country. During its short run, the GT earned praise from such celebrity enthusiasts as Jay Leno, although admittedly Top Gear's Jeremy Clarkson ended up demanding Ford take back his vehicle due to a series of issues where the car refused to start.
Today, the 2005-06 Ford GT is a highly desirable collectible, with prices on Autotrader ranging from $250,000 for a base GT up to nearly $500,000 for the limited-production 2006 Heritage Edition. That's a considerable return on investment if you were one of the later buyers who managed to pick up the car at or near the original $140,000-to-$160,000 MSRP.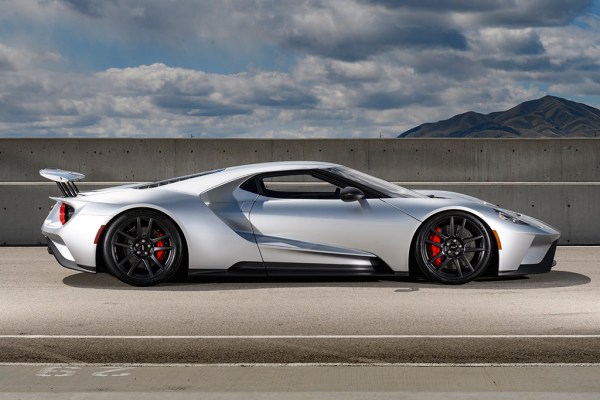 Ford's Goal Achieved
In 2016, Ford began racing the new GT in a number of endurance races, culminating in a first-place finish at the 2016 24 Hours of Le Mans. We should note that the GT beat out a Ferrari, sparking a rematch that's sure to rekindle the long-forgotten 50-year-old rivalry. So how does one get their hands on 2017 GT? Spoiler Alert: That's no longer an option, at least not in the near term through Ford. With a preliminary production goal of just 500 GTs over the next two years, all of the cars have been claimed thanks to a unique lottery that saw over 7,000 applications received. Production units 1 and 2 will go to Ford Motor Company Executive Chairman Bill Ford Jr. and CEO Mark Fields, respectively. Some of the other lucky recipients include Scottish singer Amy Macdonald, former baseball great C.J. Wilson and Dragtimes' Brooks. No word yet if Jay Leno or Jeremy Clarkson made the list.