Apple CarPlay was introduced to the masses back in 2014. The simple software allows drivers to use apps on their iPhone like Apple Maps, Google Maps, Apple Music, Spotify, Podcasts and more through their vehicle's infotainment system. In the five years since it was made available, automakers have adopted the technology at a slow but steady pace, integrating it into their vehicles as they've been updated or redesigned, and most manufacturers now offer CarPlay, along with Google's comparable Android Auto, across the majority of their model range. Toyota has long been a holdout though, which is particularly frustrating given that the company's homegrown infotainment software is rather lackluster. Starting with the 2019 model year though, Toyota has finally begun to integrate CarPlay throughout its range, although Google's service, Android Auto, is still offered on just a few select models. Here we'll outline all of the new Toyotas that are available with Apple CarPlay here in 2019.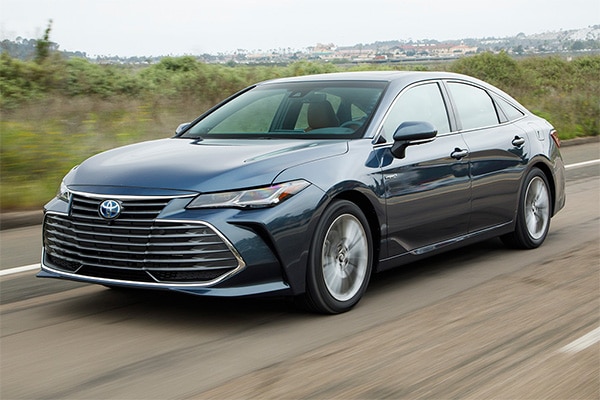 2019 Toyota Avalon
The Avalon has long been Toyota's large midsize sedan, offering more space and greater overall refinement than the more mainstream Camry. Toyota introduced an all-new Avalon for the 2019 model year and with that redesign came standard CarPlay compatibility delivered through a generously-sized 9-in infotainment screen. Find a Toyota Avalon for sale
2019 Toyota Corolla Hatchback
The 2019 Corolla Hatchback is all-new and offers a sporty design and an available 6-speed manual transmission with rev-matching capability, which makes it a breeze to drive even for those just learning to drive a manual. The new Corolla Hatchback offers a standard 8-in touchscreen display with CarPlay capability. Find a Toyota Corolla Hatchback for sale
2019 Toyota Camry
Long one of the best-selling vehicles in the United States, the Camry received a full redesign for the 2018 model year. Oddly, CarPlay compatibility was not introduced with this redesign, but rather it was added a year later for the 2019 model year, where it's standard across the board. The Camry also comes standard with a 7-in infotainment screen, while SE trims and up get a larger 8-in screen. Find a Toyota Camry for sale
2019 Toyota C-HR
While it offers the ride height and general shape of a sport utility vehicle, the C-HR's lack of available all-wheel drive (AWD) means we're inclined to call it a hatchback rather than a full-blown SUV. Still, the subcompact CH-R's styling is unique and sporty, and all trims come with a standard 8-in touchscreen infotainment system with Apple CarPlay. Find a Toyota C-HR for sale
2019 Toyota RAV4
The best-selling RAV4 is all-new for 2019 and it's hands down one of the most appealing vehicles on the market. Unique trim levels include a rugged-looking Adventure model and a sporty XSE trim offered on the Hybrid that comes with a performance-tuned suspension. For 2020, a TRD Off-Road model joins the lineup and will offer all-terrain tires and a re-tuned suspension. CarPlay is standard across the board. Entry-level models get a 7-in touchscreen, while upper trims come with an 8-in unit. Find a Toyota RAV4 for sale
2019 Toyota Sienna
The Toyota Sienna was last fully redesigned for the 2011 model year, making it the oldest minivan on the market. While it's showing its age with regard to crash test performance and feature content, the Sienna offers available AWD and standard active safety features like automatic emergency braking and radar cruise control. For the 2019 model year, Toyota updated the Sienna's infotainment offering, and CarPlay is offered on LE trims and up, all of which come with a 7-in touchscreen display. Find a Toyota Sienna for sale
2020 Toyota 4Runner
Long considered a dinosaur with regard to features and design, Toyota has taken measures to prolong the 4Runner's life by incorporating active safety tech along with a new, larger infotainment system with both CarPlay and Android Auto capability. These updates will apply to the 2020 model year 4Runners, which should go on sale later in 2019. Find a Toyota 4Runner for sale
2020 Toyota Corolla
While the new Corolla Hatchback was released for the 2019 model year, the Corolla sedan debuts as a 2020 model and like the new hatchback, offers a 7-in infotainment system with Apple CarPlay across all trim levels. Find a Toyota Corolla for sale
2020 Toyota Highlander
The Highlander is Toyota's midsize 3-row crossover and competes with vehicles like the Ford Explorer, Honda Pilot, Volkswagen Atlas and Subaru Ascent. For 2020 the Highlander will be all-new, and gains a new standard V6 engine. Platinum models will come with a massive 12.3-in touchscreen, while all other trims get an 8-in screen. CarPlay, along with Android Auto, will come standard across the board. Find a Toyota Highlander for sale
2020 Toyota Prius Prime
The Prius Prime is the plug-in electric version of the Prius and offers up to 25 miles of electric-only range. While one of its calling cards is its available portrait-oriented 11.6-in infotainment screen, the Prius Prime up until this point has lacked CarPlay compatibility, meaning that it's never really made good use of all that screen real estate. This changes for the 2020 model year, when the CarPlay becomes standard. Oddly, Toyota has yet to make it clear whether CarPlay capability will be coming to the regular Prius. Find a Toyota Prius Prime for sale
2020 Toyota Sequoia
Like the 4Runner, the Sequoia is one of the oldest vehicles in Toyota's lineup. Also like the 4Runner, Toyota is updating the Sequoia for 2020, giving it a new, updated 7-in touchscreen with standard CarPlay and Android Auto. Find a Toyota Sequoia for sale
2020 Toyota Supra
While the new Supra does in fact offer Apple CarPlay, it does so in a unique way. Given its BMW roots, the Supra adheres to the German automaker's inane policy of treating CarPlay as a subscription, although Toyota has announced that it will provide the first four years of "service" for free. Either way, we think charging for a simple software-based feature like this is pretty bold here in 2019, especially given how when Supra owners' prepaid CarPlay "subscriptions" start running out in a few years, the feature will almost certainly be standard on almost every new vehicle across the industry. Find a Toyota Supra for sale
2020 Toyota Tacoma
As part of its refresh for the 2020 model year, the Tacoma gets a new 8-in infotainment system with both CarPlay and Android Auto. This helps it keep up with the Ford Ranger, Chevrolet Colorado and Jeep Gladiator in the ever-competitive midsize pickup segment. Find a Toyota Tacoma for sale
2020 Toyota Tundra
Like the new Tacoma and 4Runner, the Tundra is available with a new 8-in touchscreen infotainment system for 2020 that offers both CarPlay and Android Auto capability. Find a Toyota Tundra for sale
2020 Toyota Yaris
The new-for-2020 Yaris Hatchback, which is really a rebadged Mazda2 — a vehicle offered in markets outside of the U.S. — will offer CarPlay compatibility along with Android Auto.
In summary, while Android Auto is still left out of most of the lineup, Toyota has quietly updated the majority of its products to offer CarPlay over the past year, and by the time the 2020 models hit dealerships, only a few will still likely lack CarPlay integration: the 86, the Mirai, the Land Cruiser and possibly the Prius. Find a Toyota Yaris for sale