Station wagons offer the comfortable driving experience of a car with the practicality of an SUV. They're also arguably much cooler looking than your everyday 3-box sedan. Sadly, though, wagons have fallen out of favor in recent years as the public has grown obsessed with SUVs, despite the fact that wagons are more efficient and typically offer better ride quality. Nonetheless, there are plenty of great wagons available on the used market, and here we've rounded up six of our favorite used wagons available for around $15,000 or less.
2010-2014 Subaru Outback
Over 100,000 Subaru Outbacks have been sold every year since 2011, meaning that there are tons of Outbacks to choose from on the used market. Offering the benefits of an SUV combined with the efficiency of a simple sedan along with a ride-height that splits the difference between the two, few vehicles offer a better blend of comfort, livability and utility than the Subaru Outback. The Outback also comes standard with all-wheel drive (AWD), making it great for those living in snowy climates, or for anyone who just wants added peace of mind when driving down a dirt road. Buyers looking for a $15,000 Outback have two generations to choose from. 2015-2018 examples from the Outback's fifth-generation are available for around $15,000 and offer great standard active safety features like radar cruise control and automatic emergency braking. Most lower-priced examples from these years though will be lower-end trims with high mileage, and there are only around 150 listed altogether that would fit within our budget. Step down to the fourth-generation model, sold from 2010 to 2014, and you give up some safety features and newness, but your options increase considerably, with over 1,000 to choose from on Autotrader for under $15k. Find a Subaru Outback for sale
2015-2018 Volkswagen Golf Sportwagen
A stretched version of the venerable Volkswagen Golf hatchback, the Sportwagen offers great cargo volume, an engaging driving experience, and an upscale cabin, making it one of the most sensible used wagons you can buy. Under the hood is a 1.8-liter turbocharged 4-cylinder putting out 170 horsepower and 184 lb-ft of torque. Transmission options were either a 6-speed automatic or a 5-speed manual. While AWD was available, it'll be hard to find one at our desired $15,000 price point, as AWD vehicles tend to hold their values better than front-wheel drive (FWD). As the Golf Sportwagen was all-new for 2015, it offers many of the features that buyers are looking for in a vehicle today, including a good ratio or power to fuel-efficiency, Android Auto and Apple CarPlay and great active safety features like blind spot monitoring and radar cruise control. There are currently close to 250 2015-2018 Golf Sportwagens listed on Autotrader for about $15,000 or less. Find a Volkswagen Golf Sportwagen for sale
2011-2014 TSX Sport Wagon
The Acura TSX Sport Wagon is a rare vehicle. Just like the basic TSX was based on the Japanese- and European-market Honda Accord, the TSX Sport Wagon was an Americanized version of the Japanese-market Accord Tourer, and was sold in the U.S. for just four model years from 2011 to 2014. Powering the TSX Sport Wagon was a 201-hp 2.4-liter 4-cylinder engine paired with a 5-speed automatic transmission. Overall, the TSX Sport Wagon offered luxury, performance, practicality and reliability, making it a shame that it wasn't more popular. As a result of its slow sales, there aren't a ton of TSX Sport Wagons to choose from on Autotrader, with only 56 listed in total, while only around 30 are listed for $15,000 or less. Find an Acura TSX Sport Wagon for sale
2009-2015 Toyota Venza
The Venza was sold for six model years from 2009 to 2015 and mixed elements from the Toyota Camry midsize sedan and Lexus RX midsize crossover. Power came from either a 4-cylinder engine making 182 hp or a 6-cylinder putting out 268 hp. AWD was optional. The Venza received an update for the 2013 model year, receiving modernized styling front and rear and some updates to its infotainment system. The Venza offered car-like driving characteristics in a practical package with 36 cu ft. of cargo room behind the second row, or 70 cu ft. with the second row folded. There are currently around 650 Venzas listed on Autotrader for around $15,000 or less. Among these are around 200 offering both AWD and a V6 engine. Find a Toyota Venza for sale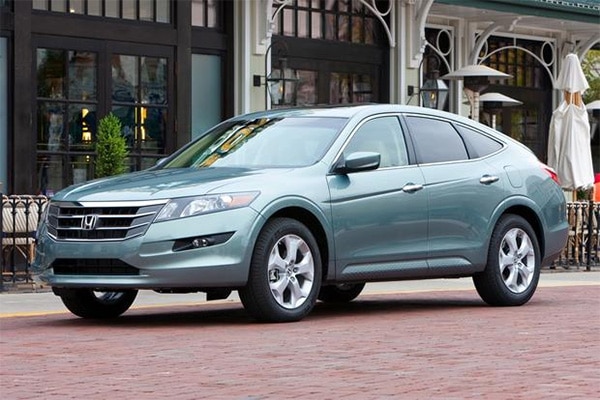 2010-2015 Honda Crosstour
The short-lived Honda Crosstour was an odd amalgamation of a sedan, a wagon, a hatchback and an SUV. Despite its odd proportions and somewhat sea mammal-like appearance, the Crosstour was an extremely well-rounded vehicle in the same vein as the Subaru Outback. AWD was optional, as was a potent V6 engine putting out 271 hp and 245 lb-ft of torque. One transmission was offered: a 5-speed automatic. Of the 500+ Crosstours currently for sale on Autotrader, around 350 carry prices of $15,000 or less, giving you a wide variety to choose from. Of these, around 160 come with AWD and the V6 engine, making for a great value. Note that for 2010 and 2011, the Crosstour was sold as the "Accord Crosstour" — a reflection on its Accord-based underpinnings. Be sure to account for this in your search. Find a Honda Crosstour for sale
2012-2017 Toyota Prius V
A far cry from some of the other vehicles on this list that prioritize a sporty driving experience, the Prius V is all about efficiency. The economically minded Prius V proved popular with a wide variety of buyers, and around 150,000 were sold over the vehicle's six model years on sale. Fuel economy was great, coming in at 43 miles per gallon in the city, 39 mpg on the highway and 41 mpg in combined driving. These exceptional figures allow for up to 488 miles of range between fill-ups, according to the Environmental Protection Agency (EPA). Cargo volume was also greatly improved over that of the regular Prius, with just over 34 cu ft. behind the second row, or 67 cu ft. with the second row folded. While it won't satisfy your need for speed, the Prius V is one efficient vehicle, in more ways than one. Offered from the 2012 to 2017 model years, there are currently around 350 Prius Vs listed on Autotrader for $15,000 or less.
One thing to keep in mind when looking for a used Prius V: Given their good mix of space and efficiency, a lot were used as taxi cabs, which tends to mean a rough life in urban settings with lots of potholes, abuse from both passengers and drivers and long running times without a break. Other than the fact that many ex-cabs will still be painted in taxicab yellow, the easiest way to spot a used cab is by its mileage — used taxis tend to accrue a lot of miles in a short amount of time. We recommend steering clear. Find a Toyota Prius V for sale