The Mazda Miata is the ultimate driver's car. Affordable, approachable and fun, the MX-5 Miata is an exceptional vehicle for everything from learning to drive a manual transmission, track day fun or just tooling around town. There are few vehicles that come close to the balance of the Miata, and given that it's been on sale now for over four decades, buyers looking for a cheap used sports car have loads of used Miatas to choose from. Here we've outlined five good options currently listed for sale on Autotrader.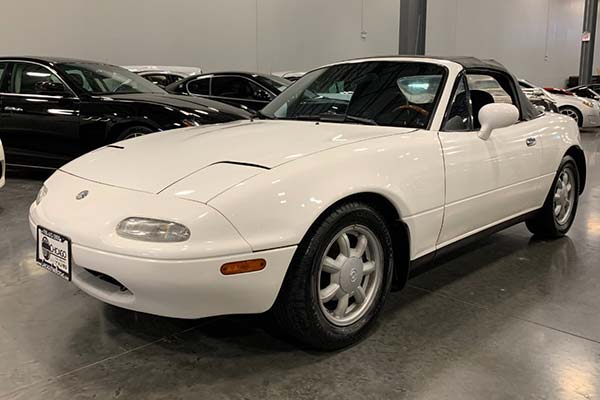 1993 Mazda MX-5 Miata NA – $5,950
We'll start things off with the original Miata, which was known as the "NA" generation. Introduced in 1990 and sold through 1997, this is the Miata that started it all. Identifiable primarily through its pop-up headlights, the NA Miata came with a 4-cylinder engine paired with either a manual or optional automatic transmission, a formula the vehicle still follows to this day. And also to this day, we'd highly recommend getting the manual, even if you haven't yet learned to drive a stick. The first-gen Miata we've highlighted here hails from the 1993 model year and comes with the manual transmission, not to mention a JDM-style aftermarket wood steering wheel and parking brake lever. There's also a luggage rack attached to the rear trunk lid — another cool aftermarket addition. Located in McCook, Illinois, this '93 Miata comes with 75,000 miles on the odometer and an asking price of just under $6,000.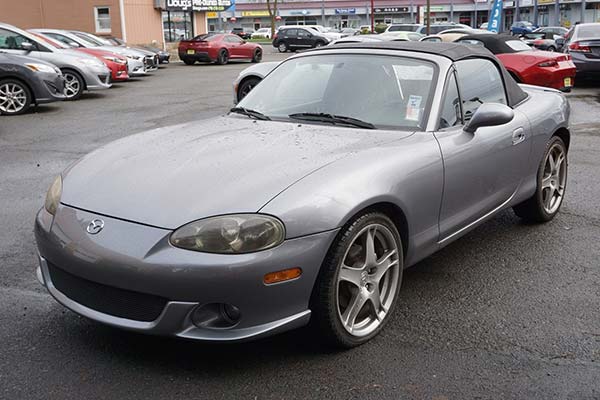 2005 Mazdaspeed MX-5 Miata NB – $11,987
Next on our list is a second-generation, or "NB" Miata. The NB was sold from the 1999 through 2005 model years (there was no 1998 model year Miata). While it had a restyled body with updated lighting and an enhanced interior, the NB Miata shared a number of components with the first-generation model. What makes it particularly unique is the fact that for the 2004 and 2005 model year, Mazda offered a Mazdaspeed performance trim level, which to this day is the only Miata to offer a turbocharged engine. Output was 178 horsepower and 167 lb-ft of torque — impressive figures for such a small vehicle. Altogether, just 5,428 Mazdaspeed Miatas were produced, and this is one of them. It's located in Edmonds, Washington, with just 52,000 miles on the odometer and an asking price of $11,987.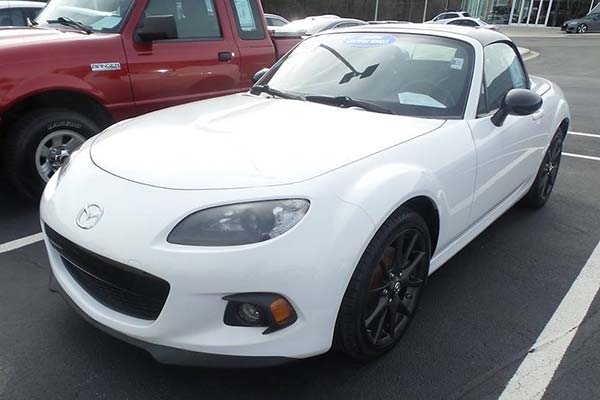 2013 Mazda MX-5 Miata NC Club Hard Top – $10,499
The NC Mazda Miata is probably the most controversial of the four Miata generations. While it adhered to the MX-5's formula of rear-wheel drive (RWD), a roadster design and usable power, it's also the heaviest Miata, which led many to write it off. As a result though, the NC Miata is also the best value in used Miatas. While it's about 100 pounds heavier in roadster form than the NB Miata, the NC still offers the same excellent driving experience as its predecessors. The NC also introduced an optional power folding hard top, which undoubtedly added even more weight, but also makes the car more aerodynamic, which leads to better times on the track. The one we've highlighted above is a track-oriented Club model that comes with the folding hard top. It has 95,000 miles on the odometer and is located in Winston Salem, North Carolina, with an asking price of $10,499.
2016 Mazda MX-5 Miata Club – $16,822
The current-gen Miata, known as the ND, debuted for the 2016 model year and is easily the best iteration yet. It cut the weight of the NC by more than 100 pounds while pairing an attractive exterior with a modern interior. Power comes from a 2.0-liter naturally aspirated 4-cylinder. Output was rated at 155 hp for 2016 through 2018, while an update for 2019 saw output increase to 181 hp, which many agree is a more ideal figure for this car. Like the Miatas before it, the ND is available with either a manual or an automatic transmission. Club models tend to be the most performance-focused of the Miata trims, and the one we've highlighted here even comes with an aftermarket removable hard top. It's located in Richmond, Kentucky, with 53,000 miles on the odometer and an asking price of $16,822.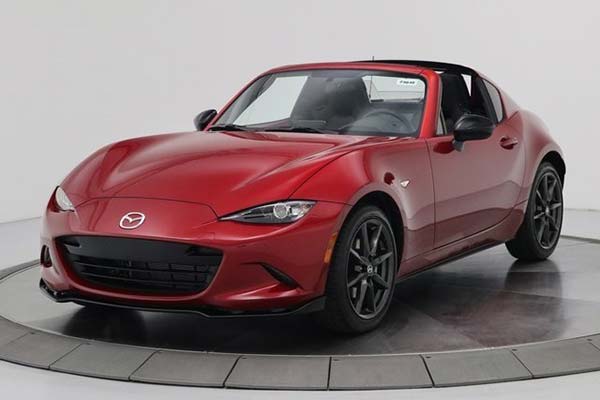 2017 Mazda MX-5 Miata RF Club – $29,695
Instead of offering a traditional folding hard top with the new Miata, Mazda took a different path, introducing an entirely new body style known as the RF. These two letters stand for "Retractable Fastback," and the Mazda Miata RF indeed features a sloping fastback design with a power folding roof panel over the passenger area that retracts into the rear deck lid at the push of a button. As with the hardtop NC Miata that preceded it, the Miata RF offers the full Miata experience, but creates a comfortable, quiet cabin whenever the driver desires. This 2017 example hails from the RF's first year of production. It's a Club model with a 6-speed manual transmission. Despite being a 2017 model, the listing dealer, located in Evanston, Illinois, claims only 19 miles on the odometer, hence this three-year-old Miata's nearly $30,000 asking price. Find a used Mazda MX-5 Miata for sale