Few automakers have as heady a reputation when it comes to station wagons as Mercedes-Benz. The automaker's longroofs are icons in Europe, where they're often used as taxis, and in the U.S., where they tend to be clustered around high-buck burgs like Greenwich, Connecticut.
The Mercedes wagon comes in two basic flavors for Americans: the luxurious E 450, with its wafty air suspension, or the ferocious E 63 AMG, with its track-tuned underpinnings and 603-hp twin-turbo V8 engine. The pickings are much the same on the used market, though AMG versions tend to hold their value especially well — better than their E 55 and E 63 sedan equivalents, too. Just don't buy one like our Tyler Hoovie. Actually, it's best to not follow his advice at all.
Anyway, here's a look at five price points and the Mercedes-Benz wagon you can expect to get at each.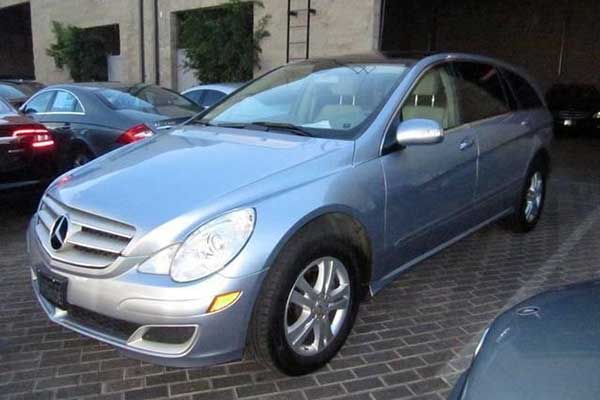 $10,000: 2006 Mercedes-Benz R 500
Let's start with a wagon that's not really a wagon at all: the R-Class. Mercedes marketed its E-Class-based tall crossovery thing as a minivan alternative in some markets, but it's really more like a high-riding station wagon.
Listed for just $9,999, this baby blue example in Sun Valley, California, is powered by a healthy 302-hp 5.0-liter V8, and it's been driven just 102,000 miles. A 15-year-old V8 Mercedes isn't necessarily a rational buy, but given that Mercedes recently stopped building the R-Class (in Indiana, of all places), perhaps parts availability won't be all that bad. #justification Find a Mercedes-Benz R-Class for sale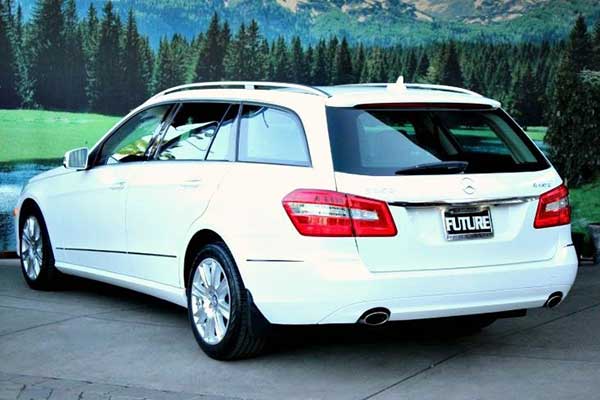 $20,000: 2013 Mercedes-Benz E 350
Double your budget and you can find a good example of a 2011-2013 E-Class. The 2012 and 2013 versions were powered by a slick 302-hp 3.5-liter V6 — yes, that's the same horsepower rating as the 2006 R 500's V8 — and they came with a 7-speed automatic transmission and all-wheel drive.
The cars had the last version of the quad headlight arrangement that Mercedes introduced on its groundbreaking 1996 E-Class, and optional extras fitted to some included adaptive cruise control, automatic emergency braking and a massaging driver's seat. Those are rare options, but they're findable. This white wagon in Glendale, California, shows just one owner on its Carfax, and it's optioned with leather rather than the more common MB Tex vinyl upholstery for a reasonable $20,995. Find a Mercedes-Benz E 350 for sale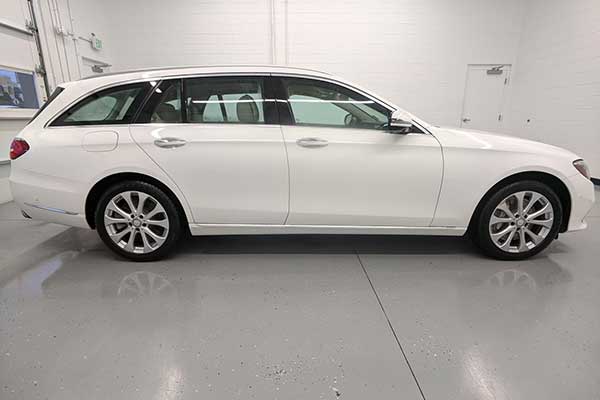 $45,000: 2017 Mercedes-Benz E 400
With a budget upward of $40,000, you'll be presented with a conundrum. The current-generation E-Class has depreciated to this level, and previous-generation E 63 AMGs can be had for the same price. Let's stick with the E 400 for now. The latest E-Class is certainly one of the finest cars produced, but it's also among the most complicated.
For about $45,000, this 2017 E 400 in Baltimore is painted in classic white over hard-wearing tan leather, and it's backed by a Mercedes-Benz certified pre-owned warranty. In addition to a rigorous inspection and a 1-year, unlimited-mile warranty bump, CPO cars also qualify for special low-interest financing. This example is relatively low-option for a current E-Class wagon, but it still has adaptive cruise control and the increasingly rare 3-pointed star hood ornament. Find a Mercedes-Benz E 400 for sale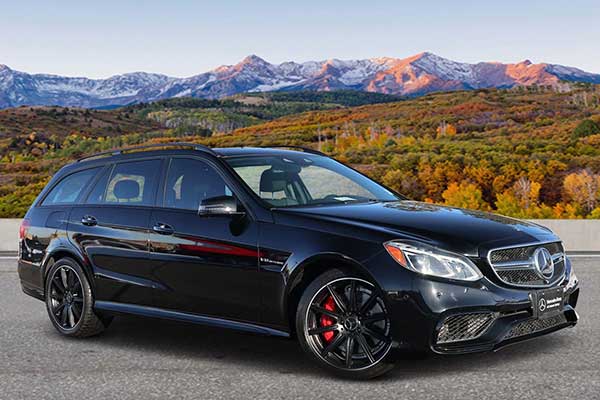 $80,000: 2016 Mercedes-Benz E 63 AMG S-Model
For enthusiasts, the E 63 wagon is iconic. The car's subtle looks, its practical anti-SUV body and its ferocious performance have earned it tremendous respect and bumped its resale value higher than the otherwise identical E 63 sedan. With 577 hp under the hood, the 2016 E 63 S-Model represents the pinnacle of the 2010-2016 E-Class.
This timeless black-on-black example in Colorado Springs almost seems like a bargain for $79,999. Its $80,000 price tag is hefty, but this rare car was more than $100,000 new and it's barely even broken in, with fewer than 29,000 miles on its odometer. Mercedes only sells a handful of E 63 wagons each year, and it's not likely there are more than a few identical ones. Find a Mercedes-Benz E 63 AMG for sale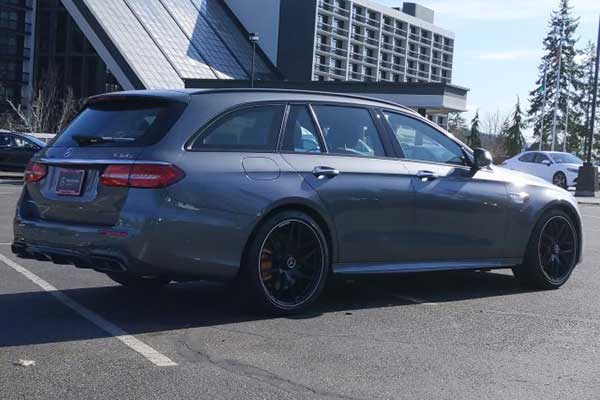 Sky's the limit: 2020 Mercedes-Benz E 63 S
$142,000 will buy you a brand-new house in Missouri — or a brand-new, highly optioned Mercedes-Benz E 63 wagon in Bellevue, Washington. This Selenite Gray 2020 E 63 is about as nice as they get, even if it is in kind of a boring color. There is nothing dull about the new E 63's driving experience, though. Its twin-turbo V8 rushes 603 hp to all four wheels through a 9-speed automatic transmission. Find a Mercedes-Benz E 63 AMG for sale
MORE FROM OVERSTEER
Here's What the Kia Telluride and the Hyundai Palisade Look Like Parked Next to Each Other
5 Malaise-Era Classics On Autotrader
Autotrader Find: 1998 Mitsubishi 3000GT VR-4 with 9,000 Miles