I recently vacationed in Vietnam for my honeymoon, and I didn't expect cars to be as common as they were. My only impression of the small nation before the trip came from an old "Top Gear" Christmas special, which had the famous trio of presenters driving scooters across the country. Thankfully for me, a lot has changed in the 10 years since that was filmed. It's much easier nowadays to get around with taxis, rental cars and even a ride-sharing app resembling Uber, but this new emerging car culture in Vietnam is really, really weird.
I think the basis of these confusing automotive trends in Vietnam has to do with the local fashion, which has a total disregard for copyright infringement, and few qualms with the sale of counterfeit merchandise. When I arrived, my bags had gotten lost in Beijing — so I needed some clothes. Thanks to import tariffs, a set of standard Calvin Klein underwear at the local mall was $50. After scoffing at the ridiculous prices in a few other shops, my sister-in-law suggested we go to the counterfeit mall directly across the street. Inside of this massive multi-story structure, I was able to buy 3 pairs of identical looking underwear for $5 — along with a Nike golf shirt for $3. Of course, I couldn't resist a Rolex Yachtmaster wristwatch as well — especially since it was only $50.
The counterfeit mall was much busier than the legitimate mall, and it offered very good copies of everything — from Gucci purses to Breitling watches, along with just about every other desirable apparel brand. I noticed many young women were buying fake handbags, then shamelessly posing for photos across the street in front of the store that sold the real merchandise. I think this explains why the automotive badging situation in Vietnam is so out of control.
>I never saw a Mercedes-AMG car during my trip, but just about every single Mercedes on the road had a fake AMG badge. There were even AMG badges on Sprinter and Metris vans, two of which I saw with extra graphics proclaiming their Sprinters to be "125th anniversary special editions." As far as I know, Mercedes never made any special AMG Sprinters to celebrate the birth of Mercedes in 1886. Of course, every BMW needed an M badge as well — and even most Toyotas, which is perceived as a luxury brand in Vietnam, were adorned Toyota Racing Development, Sparco or any other "The Fast and the Furious" style sticker you could possibly think of.
Some of the badging upgrades on cars were from different brands entirely, and by far the most common and unusual example I saw was Discovery lettering applied to the hood of just about any type of car. I spied these stickers, copied directly from the hood of a Land Rover Discovery, applied on everything from a Toyota Corolla Taxicab, to a Ford Ranger Police vehicle and a Kia Rondo, the last of which I actually got to ride in using a rideshare app. Judging from the level of bling on the car, I assumed the driver was an enthusiast. Using my wife as a translator, I asked him what his favorite car was, and he claimed to not have one. When I asked him about the Discovery badging, he said he thought it looked neat.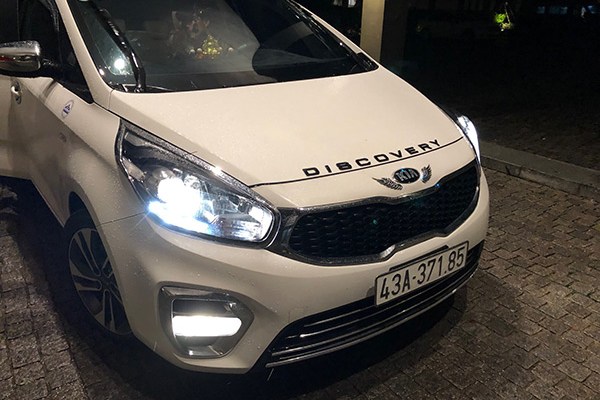 Needless to say, the two weeks of car spotting in Vietnam had me very confused, but I really enjoyed my time there. Nearly all of the cars I rode in had manual transmissions, and a lot of them were diesel as well. So clearly, despite the silly badging choices, the people of Vietnam have some automotive taste.
MORE FROM OVERSTEER:
Here's Why the Koenigsegg Agera RS Is Worth $10 Million
I Bought the Most Unreliable BMW Ever Made
Autotrader Find: 1990 Subaru Legacy With a Landau Roof