In recent years, Chrysler has made a point to include some cool "Easter eggs" throughout its vehicles — little items you won't find unless you're looking for them. That's especially true of Jeep models, which feature more of these Easter eggs than other brands. A few weeks ago at the New York Auto Show, I found a few of these cool Easter eggs — so here they are.
"To New Adventures"
Here's a close-up image of the area surrounding the ignition button on the Jeep Renegade. It's not just a simple plastic part — instead, it says "TO NEW ADVENTURES," giving you a little reminder you're supposed to enjoy your Renegade more than a normal, non-Jeep vehicle, every time you start it up.
Jeep Climbing Windshield
On the Jeep Wrangler, there's a little graphic of a Jeep Wrangler climbing the windshield. Not only is this a cool look (and not only does it remind you of the Wrangler's climbing capabilities), it also makes Jeep owners far more likely to replace their windshields with a factory part — increasing Chrysler's bottom line.
Jeep Grille
The Jeep grille is highly distinctive, so why not include it throughout the car? Here's a Jeep grille perched around a speaker, reminding you that your speaker isn't just in any vehicle … it's in a Jeep. Many people won't notice this, or at least they won't realize that they're looking at the Jeep grille — but it's a fun thing to spot if you know about it.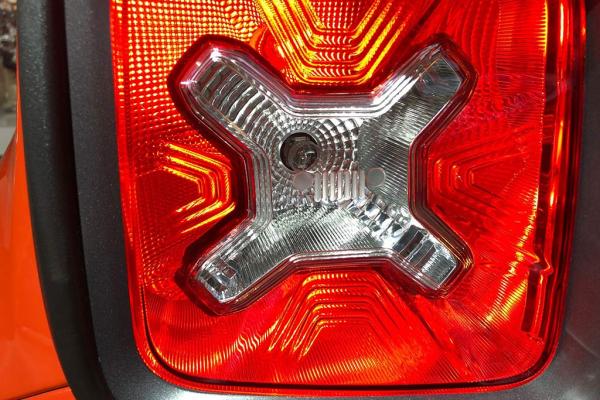 Renegade Taillight Grille
The Jeep Renegade's taillights are well-known for their odd design — a square with a little "X" inside. But if you look really closely at that X, you'll see another Jeep grille — an Easter egg you absolutely won't notice unless you get really close.
Renegade Taillight Cup Holders
And speaking of those Renegade taillights, check this out: The Renegade's cup holders are also boxy, rather than circular like the cup holders in most cars — and at the base of the cup holders, you see that very same "X" design from the taillights. That's another cool item most people probably won't piece together — but it's cool when you spot it. Find a Jeep for sale
MORE FROM OVERSTEER:
Here's Everything I Hate About My Cheap Ferrari F355
Video | The BMW M760i Is the Most Expensive BMW Ever
Autotrader Find: 1989 Cadillac Allante With 1,600 Miles