There's a brand-new BMW M5 that's just hitting dealerships, so I felt this would be a good time to take a little trip down BMW M5 memory lane and reminisce on past models — and, specifically, I thought it'd be nice to rank all the old M5 models from best to worst. Every time I do one of these rankings, it's great fun, but also it inspires a lot of controversy from people who are wrong. So today I'm going to show you the correct rankings, in my own opinion — and you're going to tell me I'm wrong, even though you are. With that in mind, let's get started.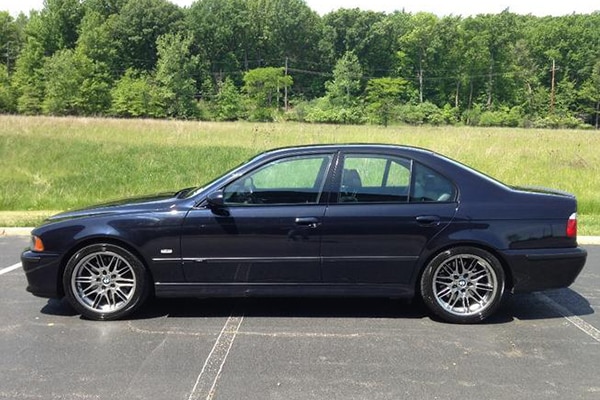 1. 2000-2003 BMW M5 (E39)
There's no doubt among any M5 fan that the "E39" model represented the high-water mark for the car. The M5 of the early 2000s had it all: a manual transmission, absolutely beautiful styling, a simple interior and a wonderful driving experience. The E39 M5 is already gaining rapidly in value, and I have absolutely no doubt it will soon be worth big money as enthusiasts look back on this period in BMW's history with nostalgia.
2. 2018-Present BMW M5 (F90)
The latest BMW model is a return to form for the super sedan, as it offers handsome styling and truly delivers on what it "means" to be an M5: unbelievable performance wrapped in a subtle, luxury car exterior design. Just like its predecessor, the F10, the F90 drives like a smaller car than it is, and it's tremendously exciting, tremendously luxurious, and filled with amazing technology. It's the perfect car — unless you want three pedals.
3. 2012-2016 BMW M5 (F10)
The "F10" version of the BMW M5 is also a blast to drive, and it was the last M5 that'll ever come with a manual transmission. Back when it came out, it was the "best M5 ever," aside from the iconic E39 model — but with the arrival of the new version, it's been pushed into the next position. Still, this car also did everything you'd expect from an M5, with blisteringly fast performance and business-like styling, along with all the luxuries you'd want in a pricey high-end sedan.
4. 1990-1995 BMW M5 (E34)
The E34 M5 was an excellent evolution of the car, bringing strong performance to the beautiful "E34" generation of the 5 Series. Styling touches were nice, and the E34 M5 initially used the famous — and bizarre — "turbine" wheels, designed to increase brake cooling, which makes the car look like it's wearing white wall tires. The E34 M5's primary drawback is engine power: With only about 310 horsepower, U.S. models weren't raucously fast, though other markets got a larger engine with extra power.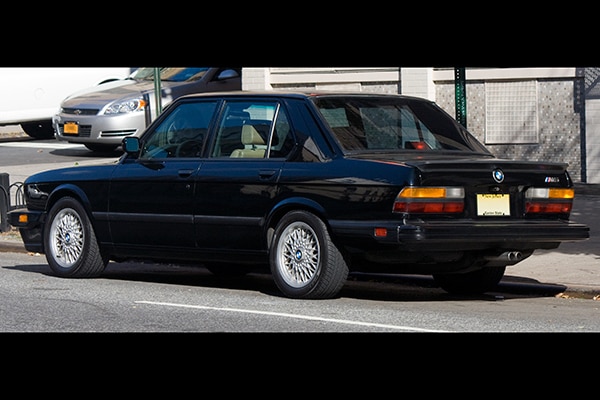 5. 1980s BMW M5 (E28)
The E28 M5 is the one that started it all, and BMW lovers will forever be in its debt — but the E28 M5 was hardly the M5 we know today, as it offered just 255 horsepower from its straight-six. Still, the E28 M5 was the beginning of an important run, and we must appreciate it for its contribution to the BMW lineup — even if it wasn't quite as explosive as its successors.
6. 2006-2010 BMW M5 (E60)
On paper, the "E60" BMW M5 should be the very best one — an impressive V10 power plant, an available manual transmission to run through the gears and (in Europe) a "Touring" station wagon version. Unfortunately, the E60 M5 was very different in practice. Reliability was off-the-charts terrible — and even though owners are loyal, everyone seems to have a cousin or a friend whose E60 M5 blew its motor thanks to the famed rod-bearing issue. There are a lot of reliability upgrades being offered now, but these cars caused many headaches for many owners.
Doug DeMuro is an automotive journalist who has written for many online and magazine publications. He once owned a Nissan Cube and a Ferrari 360 Modena. At the same time.
MORE FROM OVERSTEER:
The Early Chrysler LX Cars Aren't Aging Well
Video | Here's Why the BMW i3 Isn't Worth $50,000
Here Are the Cheapest Electric Cars For Sale on Autotrader