Over the last few weeks, we've shown you what cars have the vanity license plates FAST, SLOW and FERRARI. Today, we're going to tackle the cars with the PORSCHE vanity plate. And there's finally a little bit of consistency: They're usually on a Porsche. See the Porsche models for sale near you
Except when it's on a Jeep Wrangler.
The PORSCHE vanity license plate returns to a vehicle in 27 states, meaning it's either not registered in the other 23 (plus D.C.) or, more likely, it's on a pre-1981 vehicle that doesn't have a 17-digit VIN. In the few backwards, old-fashioned, archaic states that still don't offer 7-character vanity plates (like Massachusetts and Oregon), I substituted in "PRSCHE," which I think is close enough. So does the guy in Alaska with the '99 Boxster.
Among those 27 states, PORSCHE is on a Porsche in 21 of them. The most valuable one is, unsurprisingly, in Connecticut, where the PORSCHE vanity plate is registered to a new 911 Turbo or Turbo S, while the least valuable Porsche is probably the '87 944 in Idaho. Disappointingly, Louisiana — which has been on an excellent streak of car-plate combos lately — didn't return.
As for the states where PORSCHE isn't on a Porsche, one of them is (of course) Florida, where it's registered to a Jeep Wrangler. I say "of course" because (a) it's Florida, and (b) the FERRARI vanity plate in Florida was registered to a 2011 Volkswagen Golf TDI.
Other states where PORSCHE isn't on a Porsche: In Illinois, it's on a '93 Jeep Wrangler. In Maine, which has been the subject of much Oversteer commenter scorn due to previous bad vanity plates (like FAST on a Corolla wagon), it's on a 2001 Dodge RAM. In Maryland, it's on a Lexus RX 350. In Massachusetts, it's on a Volkswagen New Beetle. And in my home state of Pennsylvania, it's on an Audi TT — someone undoubtedly looking to trade up in the future.
Here's the full list for those of you who want to see what car has the PORSCHE vanity plate in your state: Find a Porsche for sale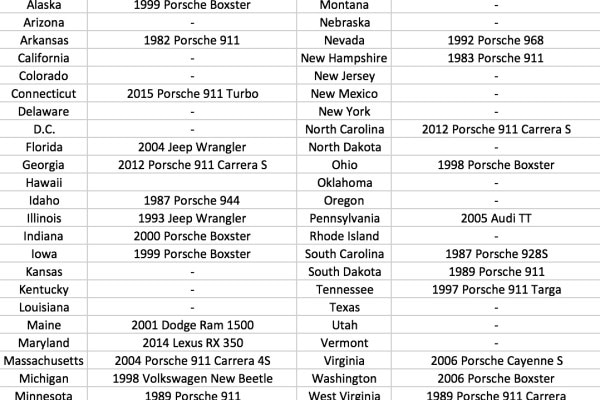 MORE FROM OVERSTEER:
Why Rent a Normal Car When You Could Rent a 550-Horsepower Jaguar?
If You Want to Work in the Car Industry, Try Starting at a Dealership
Autotrader Find: One-Owner 2005 Toyota Tacoma With 445,000 Miles