If you're looking for an electric car, you may have already realized that used examples are unusually cheap. Electric cars seem to depreciate very quickly, in part due to government subsidies on new models that don't apply to used versions, which drives their prices down. Regardless of the reason, however, the point is that shoppers looking for a used electric car can find great bargains — and I've highlighted six cheap electric cars for sale currently available on Autotrader.
The BMW i3 is an electric hatchback with futuristic styling. New pricing is high, and many consumers are negotiating good deals, as BMW dealers have had trouble selling new i3 models in the wake of stronger competition. But used i3 models are bargains, with this certified pre-owned example listed at Stevens Creek BMW in the San Francisco Bay Area for just $14,983 with 29,865 miles. That's a bargain, considering the original price just three years ago was likely well over $40,000.
Although used examples of the Chevy Bolt are holding their value surprisingly well, shoppers looking for a good deal on an electric Chevy hatchback can still find one. It'll come in the form of the Spark EV, which is an electrified version of Chevy's subcompact Spark hatchback. This particular example is offered by Carr Chevrolet in the Portland, Oregon, area with just 38,000 miles for $8,200 — and while the Spark EV wasn't sold outside of the West Coast, used examples are trickling to other markets across the country.
The Fiat 500e is a fun all-electric hatchback with the same cute styling as the standard 500, and a surprisingly spry driving experience. The 500e is also a bargain on the used market, and this 2015 model is proof: Though it's just three years old, and while it's traveled just 31,100 miles, it's listed for just $7,200 at Jeep Chrysler Dodge of Ontario, in Southern California, which is a far cry from its original price of around $35,000 just a few years ago.
The Nissan Leaf is well-known in the car world for its electric powertrain and 4-door hatchback practicality. Used examples of the Leaf are getting cheaper, and this 2011 model is proof: It's a top-of-the-line Leaf SL, and it's driven just 37,200 miles — but it's offered for only $6,353 at KarPlus Warehouse in the Los Angeles area. That's a bargain for a practicality, city-friendly electric vehicle, and, like all the other cars on this list, it's a huge discount from the original sale price.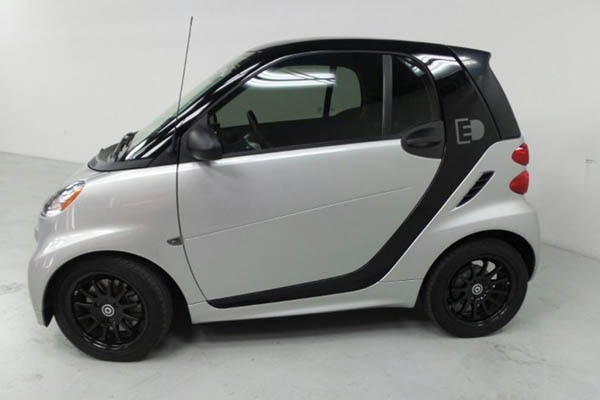 2014 Smart ForTwo Electric Drive — $5,494
The Smart ForTwo Electric Drive isn't the most practical electric vehicle, as it can travel only 58 miles on a full charge. But it's a great car for in-town use, as it's effectively a golf cart with better comfort, more storage and more crash protection — great for drivers who don't commute long distances, and just want a simple car for driving in a big, crowded city. Used ForTwo Electric Drive models are also crazily cheap: This one is just four years old and it's traveled less than 17,000 miles, but it's listed for a mere $5,494 at Lute Riley Honda in the Dallas area.
Although this Tesla Model S is the most expensive car on this list, it's also the most desirable, as the Model S is highly sought-after in the electric car community — for its brand name, its performance and its technology. This Model S is the base version, a 60D, meaning it can only travel around 210 miles on a full charge — but it's still a bargain: It's listed by World Class Automobiles in New Jersey for $38,575, which is roughly half the price of a brand-new, base-level Model S. This Model S has also covered only 44,000 miles, meaning it hasn't been excessively driven long distances or been worn out by prior owners.
MORE FROM OVERSTEER:
Video | The Volvo XC40 Is the Quirkiest Volvo in Decades
Lexus Once Had a "Pebble Beach Edition" Trim Level
Video | A $25 Part Fixed My Broken Rolls-Royce Phantom