I've written a slew of content about my daily driver 2012 BMW M3, but there's another vehicle in my fleet: my wife's 2015 Subaru XV Crosstrek Hybrid Touring. I don't see too many things said about the long-term ownership of hybrid vehicles, so I wanted to detail our ownership for these 120,000 miles.
We bought the Subaru new in June of 2015 with only 45 miles on the clock. Since then, we've put over 25,000 miles a year on the car — which has required me to do 23 oil changes so far. I do them roughly every 7,000 miles, with some leeway in between for timing.
Our Crosstrek has been our road trip warrior. We've taken it for multiple day trips from Pennsylvania to the beach town of Ocean City, Maryland, along with trips to Atlantic City, New Jersey, trips to race events, a visit to Disney World in Florida, and most recently to the seashell capital of the world: Sanibel Island, Florida. We're even planning another trip to drive down to the Florida Keys, so this thing is going to continue to see some miles.
When we purchased the Crosstrek, it came with the normal Subaru warranty: three years or 36,000 miles. I knew with my wife's daily commute that we'd quickly blow through that, so I got an aftermarket extended warranty which bumped the years to seven and the mileage to 100,000 — but, to be honest, I probably shouldn't have bought it.
It was a little over three years of smooth sailing with our Crosstrek until our first hiccup in ownership at around 95,000 miles, when we began hearing cranking and feeling a bucking feeling in the steering during hard left or right turns. I knew the problem had to be one of the axles. I took it to my local Subaru dealer, who determined that the front left axle boot was worn, and since the lubrication was gone I was probably feeling and hearing metal-on-metal contact. My aftermarket extended warranty covered the work, and it was the only pre-100,000 mile issue I had with the Crosstrek — but now the warranty is gone.
With the Subaru warranty gone 70,000 miles ago, and since crossing over the aftermarket warranty threshold at 100,000, long-term maintenance fears cross my mind with a hybrid. Looking up the Subaru XV Crosstrek Hybrid battery part number, they run about $4,500.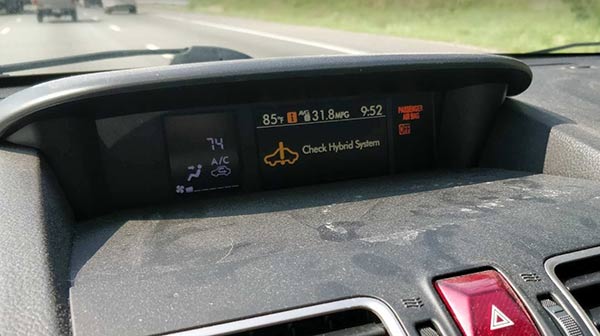 At around 110,000 miles, we began feeling our first issues with the Crosstrek's hybrid system: We received a "Check Hybrid System" error message. Telling us to "Stop in a Safe Place. Turn Engine Switch OFF and Restart. Check Owner's Manual". This happened intermittently for about 10,000 miles. While we retained our ability to charge the hybrid battery, we lost our ability to start and stop at dead stops. Eventually, we discovered the issue, which I'll cover shortly.
At around 115,000 miles, we began feeling our next mechanical issue. In the winter, I equip my wife's Crosstrek with a more aggressive winter tire/wheel combo to deal with the snow, sleet and ice a southern Pennsylvania winter can provide. This creates a little bit of road noise — but when I removed the tires in the spring, I was still getting some road noise when her stock Hybrid trim wheel/tire combo was previously whisper quiet. After about a thousand miles of being unable to diagnose which wheel was the problem, we just took it to the Subaru dealer. It turned out that out our right wheel bearing was on its last leg, and we got that replaced at 116,000 miles.
Now, back to that hybrid issue. At 119,000 miles, I figured out what it was. The Hybrid Crosstrek is equipped with three batteries: a normal car battery on the driver side of the vehicle, a start/stop battery on the passenger side of the vehicle and the big 'ol Hybrid battery in the back under the hatch. One day, my wife called me during her commute from work telling me there was an awful smell coming from her car. I tried to diagnose the vehicle issue through the phone, guessing what it could be: A burning smell may mean a caliper was hanging or something. When she pulled into the driveway, it smelled like rotten eggs. I knew it was the battery.
I popped open the hood to find the start/stop battery slowly leaking battery acid. The start/stop battery is an odd battery due to its size and output. A new one at the dealer would have run me $800 plus labor, and there are only really two aftermarket options. I got it replaced with a comparable battery that I later learned Toyota Prius models also utilize.
When I pitched this article and began writing it, we only had these four issues: two mechanical and two hybrid issues, which really combined into one issue. But then we began having a new recent oddball issue. Our navigation/head unit is acting up. When setting a destination, the navigation voice says the first few words of the first details of the route, then sounds abruptly cut off and it stays silent for the rest of a trip. The navigation also displays an abnormal time we will arrive at a destination. The time displayed on the navigation screen will match the car's time, but the time we will arrive at the destination will be extremely large and incorrect. A 2-hour trip will say we will arrive seven to eight hours later. I am still debugging this issue, as it has just started. My first thoughts are something to do with the new start/stop battery — but if a Hybrid system accepted it, a multimedia head unit should.
We plan on owning this Subaru Crosstrek well beyond 200,000 miles. I wanted to detail what it was like to own a high-mileage hybrid crossover.
Have a hybrid crossover with more mileage? Tell me about the details and your experiences in the comments and on Facebook. Find a Subaru XV Crosstrek for sale
For more of his automotive exploits, you can follow Danny on Instagram: @DKorecki and subscribe to his YouTube channel.
MORE FROM OVERSTEER:
Video | Here's Why I Bought a Mercedes-Benz G500 Cabriolet
2007 Honda Odyssey 2-Year Ownership Update: I Still Love My Boring Minivan
Autotrader Find: Super Rare 4-Seater Volvo XC90 Excellence