I spotted these two classic Mercedes-Benz Unimog 404s parked in an otherwise vacant parking lot a few miles south of downtown Salt Lake City. Only ever sold in the U.S. in extremely limited numbers, Unimogs are a line of German all-purpose vehicles built to go anywhere under the harshest of conditions and through the roughest of terrain. To help with this, Unimogs have "portal axles," a rare setup that gives them increased ground clearance over vehicles with regular solid axles.
How does this work? Well, on a regular old solid-axle vehicle, like a Jeep Wrangler for example, the axles are joined to the wheel at the very center of the wheel hub. When viewed from a side perspective, if your wheel was a clock, the axle would be joined to the wheel at the center, where the hands are attached to a clock. Pretty obvious — it's how (just about) all wheels work.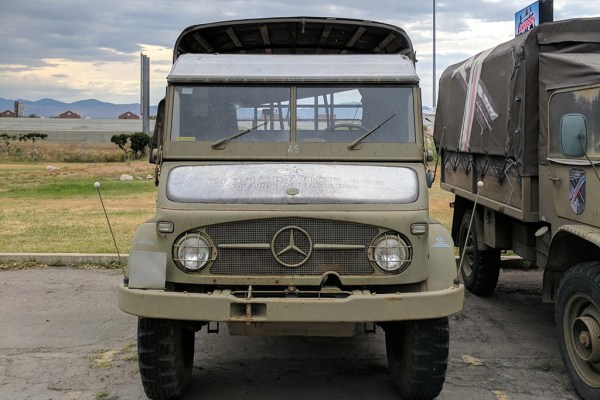 Portal axles, on the other hand, are joined to the wheel not at the center of the wheel hub, but higher up, and use a complex cluster of gearing to turn the wheel at a normal rotation, just like a standard axle. Going back to the clock analogy, when viewed from a side profile, a portal axle connects to the wheel at 12:00. This higher up, more recessed positioning of the axle gives the vehicle considerably more ground clearance and keeps it from bottoming out in mud and on heavily rutted trails and other uneven terrain that would stop a standard solid-axle vehicle dead in its tracks.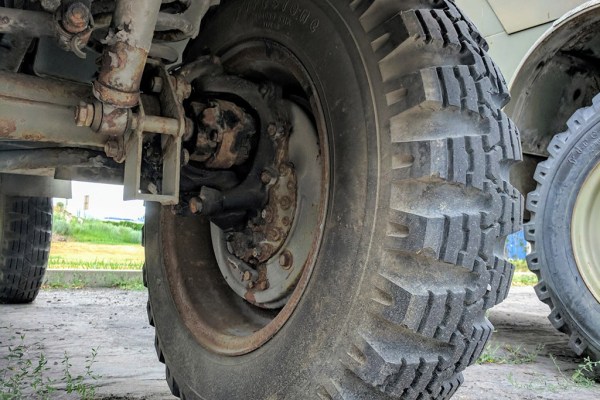 Another benefit of portal axles is that the gearing in the hubs can be optimized for increased torque at the wheel without forcing this increased stress upon the differential and other components. This makes them a perfect fit for heavy-duty workhorse vehicles like the Unimog that are likely to see most of their use on muddy farms and ski resorts rather than on a highway.
Other vehicles with portal axles include the Pinzgauer (a similar vehicle to the Unimog), the Volkswagen Kubelwagen, the original Humvee/Hummer H1, the Mercedes-Benz G63 AMG 6×6 and G550 4×4 Squared, and my favorite, the Toyota Mega Cruiser.
Altogether, portal axles are a complex and therefore uncommon feature left only to the most hardcore of off-road vehicles. Find a Mercedes-Benz for sale
Chris O'Neill grew up in the rust belt and now lives in Salt Lake City, Utah. He managed to work in the auto industry for a while without once crashing a corporate fleet vehicle. On Instagram, he is the @MountainWestCarSpotter.
MORE FROM OVERSTEER:
Here Are 5 Exotic and Luxury Cars That Have Lost $200,000 in Value
The 2007 Bentley Azure Has Lost $300,000 in Value Over 10 Years
Is the Mercedes-Benz SL Headed for Oblivion?