Utility-minded shift-it-yourselfers, it's time to put your money where your mouth is. Just a trio of 2019 model year SUVs and crossovers remain available with manual transmissions. Decades ago, a 4×4 without a clutch was a rare sight, and even as recently as the early 2000s, most moderately priced SUVs still came standard with a manual gearbox.
Today, we have to stretch the definition of an SUV or crossover to include choices that are hardly traditional. Only one, the Jeep Wrangler, fits the conventional SUV mold, and even it's unlike anything else on the road. Recently departed crossovers and SUVs that came standard with a manual transmission included the Mitsubishi Outlander Sport, the Mini Cooper Countryman and the Mazda CX-5. You'll have to look for a used SUV on Autotrader if you want one of those with a manual transmission.
Here's a look at the only stick-shifted SUVs and crossovers available new to Americans. Better get your order in now.
Jeep Compass
The Compass is Jeep's freshest SUV design, and it's also one of the last with a manual transmission. You'll find a 6-speed stick on the base Sport and midlevel Latitude trims, where it's paired with a 2.4-liter inline four. On Compass Sports, the stick is available with either front-wheel drive or all-wheel drive, while Latitudes limit the manual gearbox to AWD versions.
Opting for the manual transmission saves about $1,500, though it limits the available features you can select. For instance, don't look for a Compass with the reasonably priced Advanced Safety Group ($795), which includes automatic emergency braking and adaptive cruise control, if you want the manual transmission. Find a Jeep Compass for sale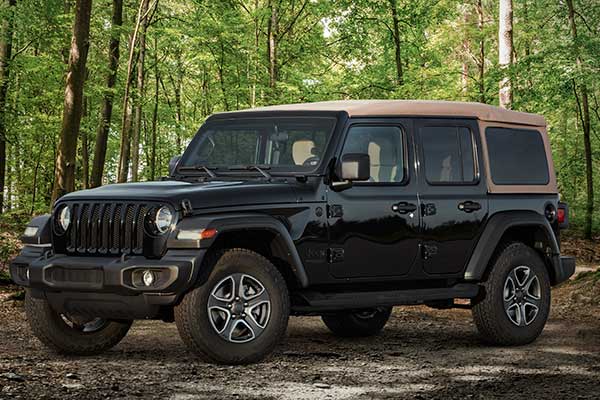 Jeep Wrangler
Jeep's traditional off-roader can be had with a 6-speed manual transmission in any configuration, so long as the base 3.6-liter V6 engine is selected and not the optional 2.0-liter turbo-4 and the new-for-2020 turbodiesel. Going for the manual saves a staggering $2,750 over the 8-speed automatic transmission on the Wrangler. Unlike the Compass, Jeep treats the 6-speed as a standalone option, meaning buyers can add a multitude of other features, including active safety tech, bigger screens and more off-road or luxury goodies.
Still, Jeep says that fewer than 5 percent of new Wranglers leave its Toledo, Ohio, assembly plant bound for U.S. showrooms with the manual transmission. Its days might be numbered, at least if the finance folks catch wind of these hard-to-justify sales figures. Find a Jeep Wrangler for sale
Subaru Crosstrek
Subaru still offers three models with stick shifts — the BRZ sports car, the Impreza compact and the Crosstrek — making its dealers among the best places to hunt out a clutch pedal. However, Subaru is largely a crossover brand, and with the demise of the 6-speed Forester after 2018, only the Crosstrek remains available with a manual transmission.
The good news is that manual Crosstreks are relatively common. The gearbox can be had on the base and Premium trims, and all Crosstreks come standard with AWD. Sticking with the stick saves $1,350 over the optional continuously variable transmission, though, as on the Compass, Subaru doesn't bundle automatic emergency braking and adaptive cruise control with the manual transmission. Find a Subaru Crosstrek for sale
MORE FROM OVERSTEER
Here Are the 5 Most Expensive Luxury SUVs For Sale on Autotrader
These Were The 5 Weirdest Minivan Features
I Accidentally Bought the Two Cheapest Cadillac Allantes in the USA