If you're looking for a cool older pickup truck, you probably already know that it's hard to find a really nice one. Pickups are rarely preserved — they're typically used as workhorses and driven hard, put through their paces carrying things and hauling stuff, just like they're designed to do. But some pickups survive — and these five are great examples of well-preserved older trucks.
1990 Chevy Silverado 454 SS – 2,070 Miles
This is one of the lowest-mileage older pickup trucks for sale on Autotrader — though if you know the truck, you'll know that it's no surprise. These "454 SS" Silverado pickups are very, very rare, built as performance models before GMC rolled out the Syclone shortly after. This 454 SS is offered by Hayes Auto Sales in Roseville, California, with 2,070 miles for $39,995.
1993 Ford F-150 Lightning – 2,520 Miles
This 1993 Ford F-150 Lightning has a similar story to the 454 SS above: it's an ultra-well-preserved version of a rare, high-performance pickup, so its preservation isn't as surprising as some other trucks. This F-150 Lightning is finished in red with a gray interior and boasts just 2,520 miles from new, which is a truly impressive number for any vehicle after more than 25 years. It's offered by Skyline Ford in Salem, Oregon, for $39,995.
1992 Chevy Silverado – 3,224 Miles
This 1992 Silverado is an amazing story of preservation: a regular-cab, normal, unexceptional 1500-series pickup that somehow survived 27 years with only 3,224 miles. It's truly incredible how well this truck was preserved, and it's likely that no other Silverado from this era is in this kind of condition — and this one is offered by Dillon's Auto in Lincoln, Nebraska, for $37,998. That may seem high for an old pickup, but you won't find another like this.
1986 GMC Sierra Fire Truck – 12,791 Miles
In some cases, we know why trucks get preserved — and this is one of those situations. This is a 1986 GMC pickup that was used as a fire truck, apparently in the small town of Ulah, North Carolina. There must not be too many fires in Ulah, so this truck didn't see much action: 33 years after it was sold new, it's accumulated just 12,791 miles. It's now offered by Morrison Motor Company in Concord, North Carolina, for $23,900, and it's an amazing relic of fire companies gone by.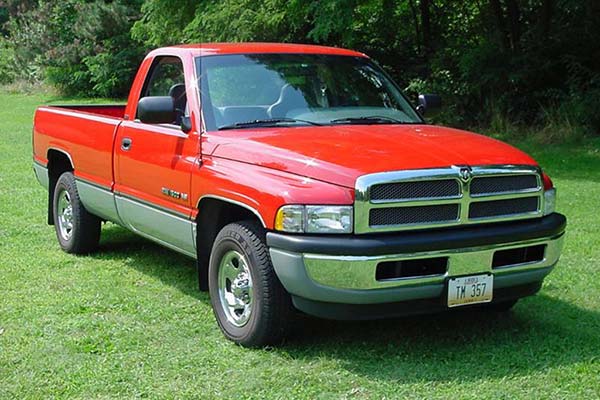 This Dodge Ram doesn't quite have the ultra-low mileage of the other vehicles on this list, but it's impressive nonetheless. It's a 1994 model that's traveled just 26,300 miles from new, and it looks to be in fantastic shape — better than any other Ram from this era. This Ram was always a nice-looking truck, and this particular model is especially clean. It's offered by a private seller in Akron, Ohio, which seems like a deal given the mileage.
MORE FROM OVERSTEER:
Video | Here's Why the McLaren Senna Is Worth $1.8 Million
Video | Here's Why I'm Already Selling My 1976 Cadillac Eldorado
Autotrader Find: 1999 Rolls-Royce Silver Seraph With 157,000 Miles