Editor's note: You may want to read more of Autotrader's model vs. model comparison car reviews as well as the 2003-2007 Honda Accord used car review, Buying a Used Honda Accord: Everything You Need to Know and Buying a Used Toyota Camry: Everything You Need to Know.
If you're interested in an affordable, reliable used family sedan, then it's very likely the 2003-2007 Honda Accord and the 2002-2006 Toyota Camry have made your shopping list. Both cars offer notorious reliability, reasonable pricing and a model range that runs the gamut from entry-level models with 4-cylinder engines to muscular, sporty, V6-powered versions. But which one do you choose? We've created a close comparison to help you reach a conclusion — but first, let's cover the basics of both cars.
2003-2007 Honda Accord: The Basics
The 2003-2007 Accord was offered in base-level DX, midlevel LX and upscale EX models. Both the LX and EX were offered with V6 power, though only the EX could be had with leather. The Accord was also offered as a 2-door coupe, though the coupe was only available in LX or EX guise. In 2005, the Accord debuted a hybrid version — the Camry didn't offer a hybrid until its next generation — but it focused on performance and fuel economy rather than just gas mileage.
2002-2006 Toyota Camry: The Basics
The 2002-2006 Camry was offered in three trims: the base-level LE (more of a competitor to the Accord LX than the DX), upscale XLE and sporty SE. A coupe and convertible version was sold separately as the Toyota Solara. Like in the Accord, a 4-cylinder engine was standard; the Camry also offered a 3.0-liter V6 and, beginning in 2004, an even larger 3.3-liter V6 in the sporty SE model.
Reliability
It can be hard to assess reliability for vehicles this old, since most firms that measure reliability cease doing so when a car has reached 10 years of age. Nonetheless, both the Camry and the Accord are renowned for their dependability, which is the primary reason their resale values are so high. Consumer reviews of both models on Kelley Blue Book suggest a litany of happy owners, with very few drivers disappointed in their cars.
With that said, one item is worth mentioning for shoppers interested in these models: Certain versions of the Accord and Camry use timing belts rather than timing chains. While timing chains are designed to last the life of the engine, timing belts require costly replacement every eight years or so (depending on mileage driven). In both the Accord and Camry of this era, V6 models use a timing belt, while 4-cylinder versions have a more robust (and less costly) timing chain.
Fuel Economy
The most common Honda Accord — with a 4-cylinder engine and an automatic transmission — returned 24 miles per gallon in the city and 33 mpg on the highway. That same version of the Toyota Camry offered 23 mpg city/32 mpg hwy — a downgrade, but a tremendously slight one. Manual-transmission 4-cylinder Accord models also offer better gas mileage than the stick-shift Camry, boasting 26 mpg city/34 mpg hwy to the Camry's 24 mpg city/33 mpg hwy.
As for V6-powered models, the Accord once again has an advantage, touting 20 mpg city/30 mpg hwy to the Camry's 20 mpg city/27 mpg hwy — likely a result of the Accord's 5-speed automatic versus the Camry's 4-speed. Most importantly for drivers especially focused on fuel economy, the Accord Hybrid touted up to 30 mpg city/37 mpg hwy. Toyota didn't begin offering a Camry Hybrid until 2007.
This one is simple: The Accord beats the Camry in every fuel economy category — and it's the only one of these two models to offer an extra-efficient hybrid version.
Safety
From the beginning, the Accord had slightly more safety equipment than the Camry. For instance, all Accord models offered standard anti-lock brakes beginning in 2003, while the Camry didn't follow suit until 2005. Front-side and side-curtain airbags were standard on some Accord models (EXs and V6s) but remained optional on all Camry models through the full run in 2006. And traction control was optional on the Camry V6 but standard on the Accord V6.
As a result, while it's possible to get a Camry equipped with the same level of safety equipment you'll find in an Accord, you'll likely find a broader range of Accord models that include the safety features you're looking for.
Technology
As you might imagine, neither the Camry nor the Accord offer the level of technology you've probably come to expect if you've spent any amount of time in brand-new vehicles. Nonetheless, both the Camry and Accord were roughly even with their technology; both models offered an optional navigation system — a dinosaur by modern standards — along with the standard mid-2000s fare, such as a power sunroof, a CD player, leather upholstery, keyless entry and steering-wheel audio controls. Neither car gets a victory here, as neither one offers a major advantage over the other.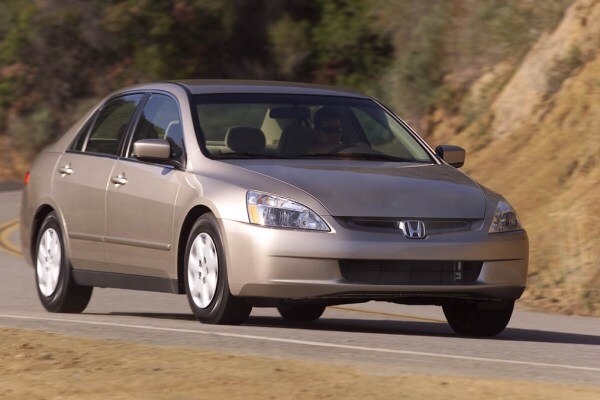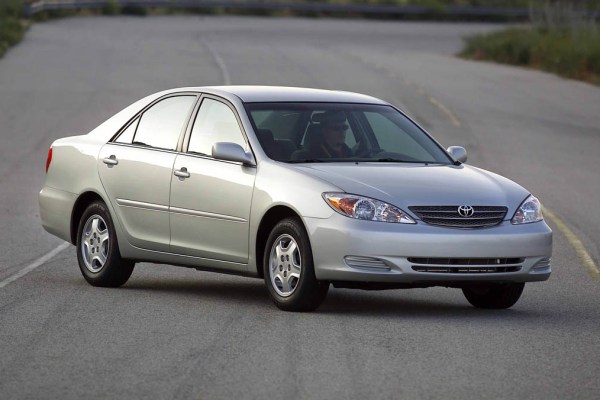 Value
Right now, there are roughly 2,300 different 2003-2007 Honda Accord sedan models currently listed on Autotrader; the average asking price is just under $6,500. Meanwhile, there are 1,600 different 2002-2006 Toyota Camry models currently listed on Autotrader, with an average asking price of around $5,700.
Since part of the reason for this difference can be explained by the fact that the Camry's generation was one model year earlier than the Accord's, a clearer picture emerges when comparing 2003-2006 models — the years the two generations overlapped. In that case, the average asking price for an Accord drops to just under $6,000, while the average asking price for a Camry rises to just over $6,000 — meaning they're virtually identical. Nonetheless, with the Accord's slight advantage in gas mileage and safety equipment, this category tilts slightly in the Accord's favor.
Autotrader's Advice
Both the 2003-2007 Honda Accord and the 2002-2006 Toyota Camry are highly competent used sedans that will likely provide a lot of trouble-free miles without making major sacrifices in terms of reliability or comfort compared to modern cars. We think the Accord is a little bit better, as it included more standard safety equipment and slightly better gas mileage. V6 versions were also more powerful, and all 2003-2007 Accord models are more fun to drive than their 2002-2006 Camry rivals. Nonetheless, a really good deal on a Camry could persuade us to choose the Toyota over the Honda.
Find a Used Honda Accord for sale