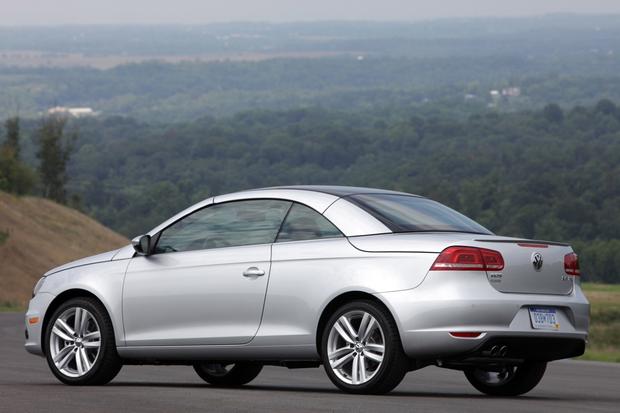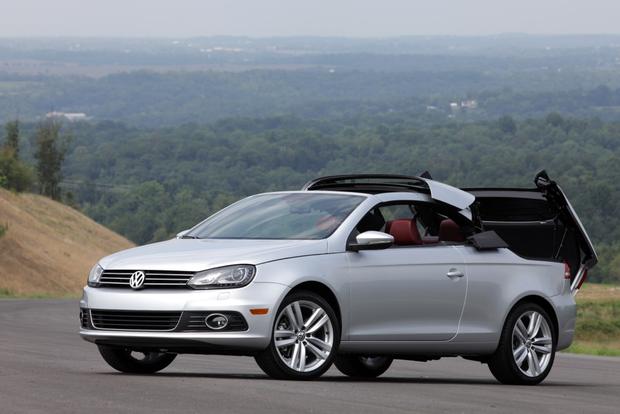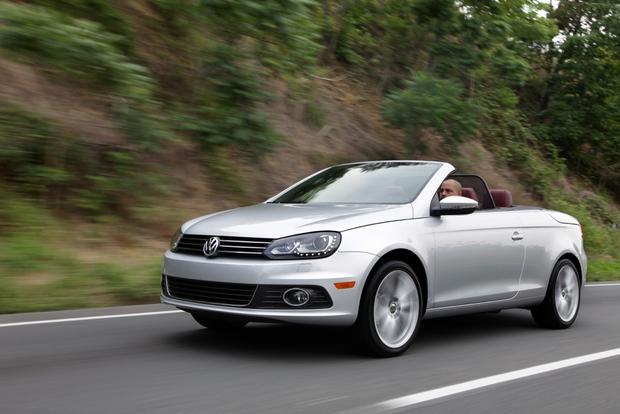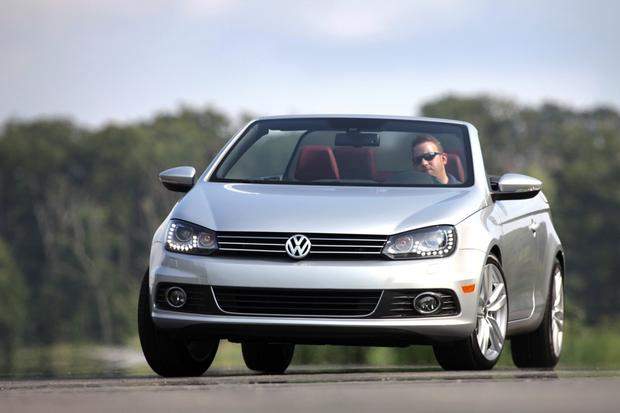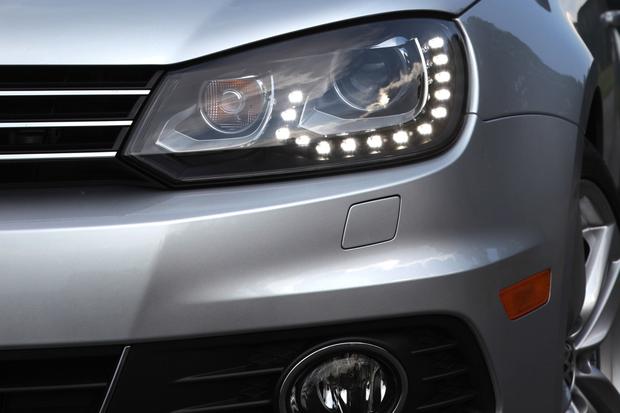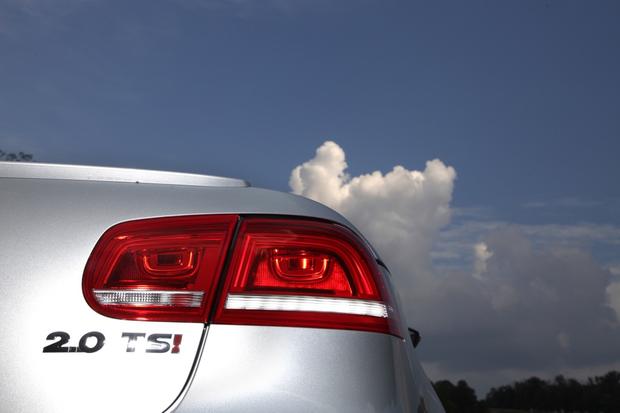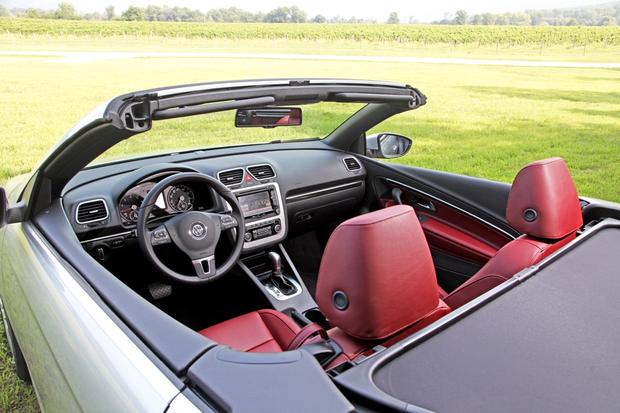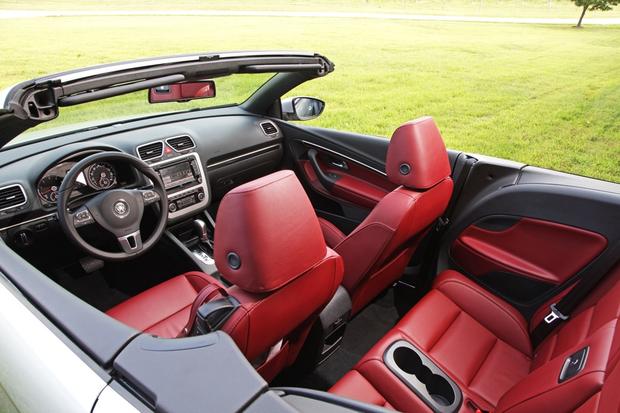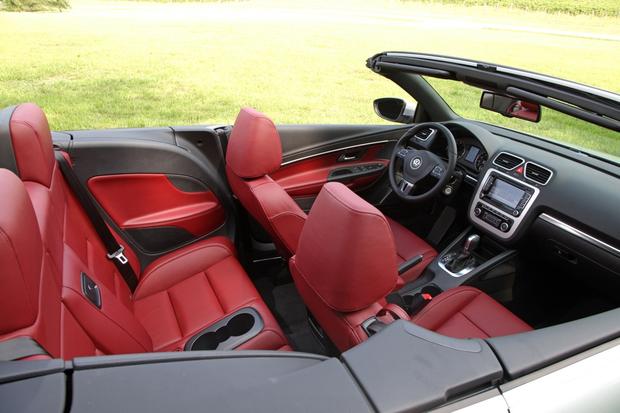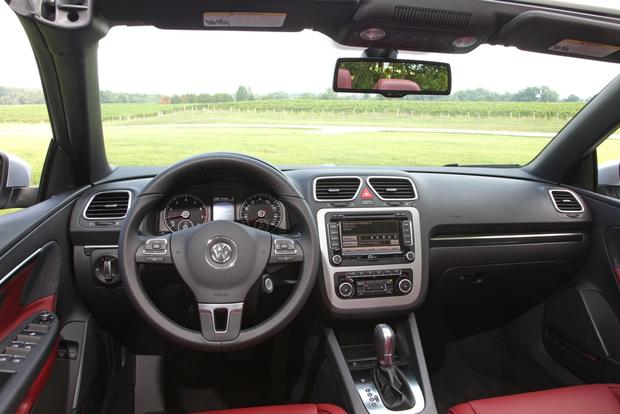 Pros: Unique retractable hardtop with built-in sunroof; peppy and refined engine; high-quality interior.
Cons: Not an athlete; not cheap; anonymous styling.
What's New: A Sport trim level debuts for 2013 with a lowered suspension and other sporty features.
Introduction
Some cars deserve more attention than they get, and the 2013 Volkswagen Eos convertible is high on that list. First and foremost, there's the Eos' fancy power hardtop, which folds itself away in 25 seconds and features a unique sunroof that can power open when the roof is closed. Then there's the car's luxurious interior and confident German feel on the highway. And it's a Volkswagen, so it must be reasonably priced, right?
Well, that's the thing. Although the Eos is a front-wheel-drive convertible with a faint resemblance to the Jetta sedan, the cheapest model starts at nearly $35,000. To put that in perspective, the Ford Mustang convertible starts at under $28,000. Indeed, the Eos is almost as pricey as the rear-drive BMW 128i drop-top.
Then again, not everyone wants to look like a tourist in a rental car, so the Mustang might be off-limits, along with fellow airport mainstays like the Chevrolet Camaro and Chrysler 200. And remember, the Eos' trump card is that retractable hardtop; other than the Chrysler, no convertible with a back seat offers one of those in the Eos' price range.
Overall, we like the Eos. If you've read this far, we think you should give it a try. It's not going to win any awards for value, but still, the Eos is attainable enough that we're surprised more convertible shoppers don't take one for a spin.
Comfort & Utility
The 2013 Volkswagen Eos hardtop convertible is available in four trim levels: Komfort, Sport, Lux and Executive.
The Komfort starts with 17-inch alloy wheels, a trip computer, a power driver's seat, heated front seats with adjustable lumbar, leatherette upholstery, cruise control, dual-zone automatic climate control, and a touchscreen 8-speaker audio system with iPod/Bluetooth connectivity, an auxiliary input and an SD-card reader.
The Sport adds 18-in alloy wheels, bi-Xenon adaptive headlights, a rear spoiler, a lowered sport suspension, stainless steel pedals and a multifunction steering wheel with paddle shifters.
The Lux dials it back to different 17-in alloys but features power folding exterior mirrors, keyless entry with push-button start, woodgrain interior trim, twin power front seats, leather upholstery, an SD-based navigation system and parking sensors.
The Executive trim gets its own 18-in alloys, the Xenon headlights with washers, a sport-tuned suspension, an upgraded trip computer, a hard-drive-based navigation system with digital music storage and a 600-watt Dynaudio sound system.
Some of these high-end features are available on lower trims as options.
The big story with the Eos is, of course, its power-retractable hard top, which lowers in 25 seconds and features an integrated power sunroof that both tilts and slides independent of the rest of the roof. It's a remarkable engineering achievement, especially given that the sunroof is one of the largest sliding panels in the business at 44 inches wide and 22 inches deep. There's even a manual sliding sunshade that lets you block overhead sunlight if you want. We're used to feeling claustrophobic in a convertible when the top's up, but the Eos truly provides the best of both worlds.
Although the Eos' interior can be dressed up in a variety of ways (we're especially partial to the red leather upholstery), the dashboard is still rather conservatively styled for a fun-in-the-sun car. Materials quality is very good, though, and there's a distinct premium vibe in this cabin, from the classy analog gauges to the precision feel of the knobs and levers.
The Eos' front seats provide firm long-distance comfort and surprisingly good lateral support through the corners. The 2-passenger back seat is cramped, however, and while we wouldn't ordinarily harp on this in a convertible, the Eos' Jetta-like styling had us expecting Jetta-like rear accommodations. Trunk capacity measures 10.5 cu-ft with the top up and 6.6 cu-ft al fresco, which is about average for a hardtop convertible, but there's also a lockable pass-through for longer items that's integrated into the rear seats.
Technology
No one will ever accuse Volkswagen of under-equipping the Eos. The base Komfort model has all the technology most people will ever need, including dual-zone climate control, iPod/Bluetooth connectivity, and a touchscreen stereo with an auxiliary audio jack and SD-card compatibility. A USB port isn't offered, though, so if you're used to carrying your mp3s around on a flash drive, you'll have to load them onto an SD card instead.
It's too bad that the 600-watt Dynaudio sound system and the hard-drive-based navigation system are only offered on the $40,000-plus Executive model, as they'd make for a compelling options package on lower trims. A consolation prize for Lux buyers is the entry-level navigation system, which works well enough but uses SD cards for its maps, so there's no digital music storage like on the hard-drive-based unit.
Performance & Fuel Economy
The Eos is powered by a turbocharged 2.0-liter inline-4 rated at 200 horsepower and 207 lb-ft of torque. A 6-speed dual-clutch automated manual is the only available transmission. The 2.0T is featured in seemingly every car VW makes these days, and for good reason--it's a pleasantly refined little engine that packs a consistent punch across the rev range. We think it suits the laid-back nature of the Eos quite well. The dual-clutch automatic delivers prompt and mostly smooth shifts, the main exception being low-speed transitions like those that occur during parallel parking.
Fuel economy for the Eos is EPA rated at 22 mpg city/30 mpg hwy.
Safety
The 2013 Volkswagen Eos comes with standard stability control, 4-wheel antilock disc brakes, four airbags (front and front side), and a rear-passenger rollover protection system that deploys aluminum posts from behind the rear seats if an imminent rollover is detected.
The government has not crash tested the Eos recently, but the independent Insurance Institute for Highway Safety (IIHS) awarded the Eos its highest rating of Good in every tested category.
Driving Impressions
Thanks in part to that huge glass sunroof, the Eos has an airy, relaxed character at speed. Noise suppression from the insulated hardtop is very good, and the cabin remains turbulence free at reasonable velocities with the top down. The Eos' soft underpinnings make it a suboptimal choice for enthusiastic cornering, even with the Executive model's sport-tuned suspension. But if you simply intend to cruise around and soak up the rays, the easy-riding Eos will be a great companion.
Other Cars to Consider
Ford Mustang convertible: You can get the sizzling V8-powered Mustang GT soft-top convertible for the same price as an Eos, but the Mustang V6 also outperforms the VW for thousands less.
BMW 128i convertible: The convertible 1 Series is chunky enough that its slight power advantage over the Eos isn't that noticeable, but we prefer the BMW's rear-wheel-drive dynamics.
MINI Cooper S convertible: The Cooper's back seat is definitely tighter than the Eos' already cramped rear quarters, but if you'd like extra style and attitude, the spunky MINI is a pleasantly affordable Eos alternative.
AutoTrader Recommends
Since we're not entirely sold on the Eos' elevated price point, we'd be inclined to stick with the base Komfort model. As noted, it's quite well equipped, and we find the Eos considerably more appealing at $35,000 than at $40,000.