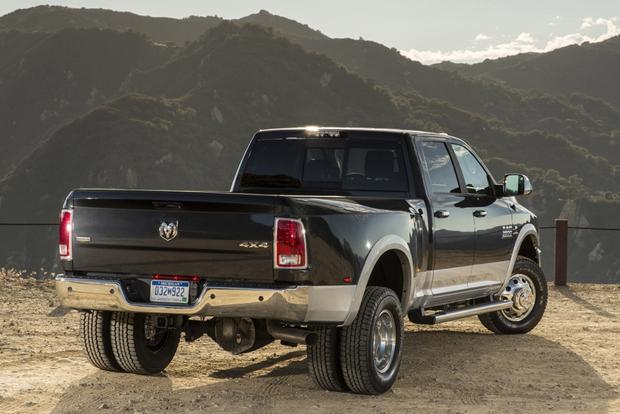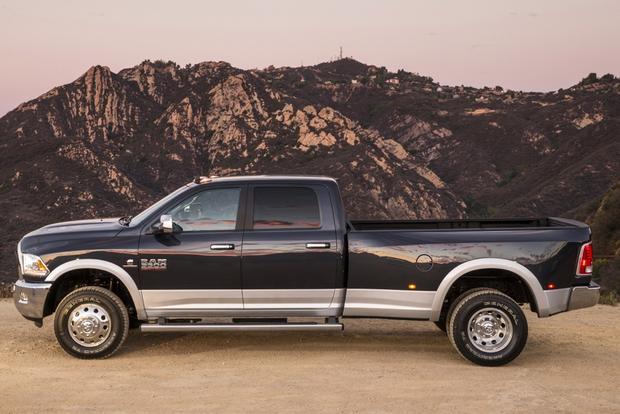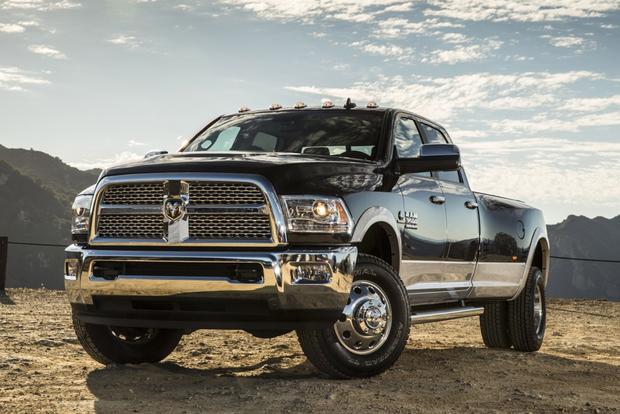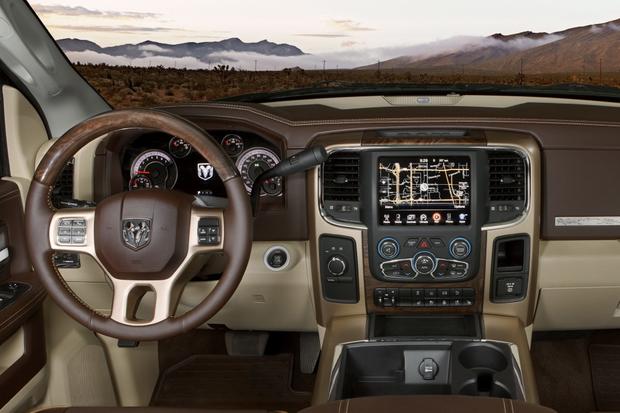 The 2014 Ram 2500 will be the first to tell you: It's hard being a heavy-duty truck these days. Thanks to the full-fledged arms race among Ram, Ford and GM, it seems there's a new "most capable full-size truck" every month. This is especially apparent among turbodiesel trucks, in which bumping up power and torque is as simple as rewriting some software. The madness will have to stop at some point, but now the Ram HD model's 6.7-liter Cummins turbodiesel is at a ridiculous 850 lb-ft of torque, and counting.
Coming up with real demerits for these trucks is like criticizing 18-wheelers. The fact is that they're all exceptionally capable -- and almost certainly up to any task, whether it's towing a huge trailer or hauling a heavy load. We suspect your decision will ultimately come down to brand loyalty and personal preference more than any other factor. Still, Chrysler redesigned the Ram in 2013 and updated it again for 2014 to make it the best truck it can be.
What's New for 2014?
Despite major changes for 2013, the Ram 2500 still receives big updates for 2014. Last year's leaf spring suspension is gone in favor of more comfortable coil springs, while the 2500 also gains the higher-strength frame currently used in the Ram 3500. Rear air suspension is also newly available. And a new 6.4-liter V8 joins the fray above the still-standard 5.7-liter HEMI V8 powertrain.
What We Like
Robust Cummins turbodiesel inline 6-cylinder with available manual transmission; impressive capabilities all around; muscular styling; muscular new V8
What We Don't
Choosing the stick shift drops torque rating; Tradesman models offer little in the way of comfort
How Much?
$30,800-$54,400
Fuel Economy
The Ram 2500 offers three engines. Standard is a 5.7-liter HEMI V8 rated at 383 horsepower and 400 lb-ft of torque. Drivers who want more power can step up to a new 6.4-liter V8, which boasts 410 hp and 429 lb-ft. And for the most taxing jobs, there's a 6.6-liter Cummins turbodiesel inline 6-cylinder, which cranks out up to 370 hp and 800 lb-ft of torque with a 6-speed automatic, or 350 hp and 660 lb-ft with the stick shift.
The Environmental Protection Agency doesn't test heavy-duty trucks for fuel economy, but don't get your hopes up as far as fuel costs go.
Standard Features & Options
The Ram 2500 HD offers four trim levels: a base-level Tradesman, a mid-level SLT, and luxurious Laramie and Laramie Longhorn models.
The Ram2500 Tradesman ($30,800) is a commercially oriented workhorse that doesn't include much. Standard features range from crank windows and manual door locks to vinyl floor coverings and vinyl upholstery. The truck does, however, include air conditioning, cruise control and USB port and auxiliary jacks for music.
Next up is the Ram 2500 SLT ($34,800), which adds cloth upholstery, power accessories, heated mirrors, chrome trim and satellite radio.
From there, drivers can upgrade to the Ram 2500 Laramie ($44,600), which is only offered as a Crew Cab or an even longer Mega Cab. It boasts features such as dual-zone automatic climate control, a rearview camera, a center-mounted 8.4-inch touchscreen, power adjustable pedals, heated and ventilated front seats, leather upholstery and chrome alloy wheels.
Topping the Ram lineup is the Laramie Longhorn ($49,900), which adds park assist, a remote starter, heated rear seats and a navigation system.
If you're curious about the price jump from the SLT to the Laramie, the reason for the gap is simple: option packages. There's an optional Big Horn Package (dubbed the Lone Star Package in Texas), which includes extra chrome trim, steering-wheel audio controls, an auto-dimming mirror and fog lights. There's an off-road-friendly Power Wagon option group, which boasts skid plates, all-terrain tires, a transfer case, rooftop running lights and Bluetooth. And there's an Outdoorsman model, which mixes some features from both packages.
Other options range from different body styles (regular cab, crew cab and an even longer Mega Cab) to engine choices, drivetrain choices and -- if you get the 6.7-liter diesel -- even the choice between a manual or an automatic.
Safety
The 2014 Ram 2500 comes with 4-wheel anti-lock disc brakes and four airbags (front and full-length side curtain). It also boasts optional safety features such as parking assist and a rearview camera.
While heavy-duty trucks aren't crash-tested, you'll be on the safer side of most collisions.
Behind the Wheel
The Ram HD is like the Ram 1500 model's bodybuilding older brother. It's not quite as refined, but, man, it is tough. The coolest thing about the heavy-duty Ram is that you can get a manual transmission with the turbodiesel. Plenty of truck guys still like to shift for themselves, but the Ram HD is the only truck that lets you do it.
The Ram HD model's front seats -- generally a 3-person bench, though the Laramie and Laramie Longhorn also offer two individual buckets -- are about what you'd expect in a big rig, as they provide plenty of space for a wide range of physiques. Front passengers will notice that the Ram HD's dashboard is similar to the Ram 1500's, which means there's genuine style and respectable materials quality. The controls are ergonomically sound, and they're even operable by a gloved hand in most cases. The touchscreen, however, is considerably less straightforward.
In addition to the 2-door Regular Cab, the Ram HD offers two 4-door configurations. The Crew Cab provides plenty of room for adults, while the limo-like Mega Cab has so much legroom it might as well come with rear ottomans.
Other Cars to Consider
Ford F-250 -- Similarly to the Ram 2500, the F-250 boasts diesel and gas engines, as well as a wide array of trim levels, body styles and capabilities. But the F-Series Super Duty doesn't offer coil suspension or a stick shift.
Chevrolet Silverado 2500 HD -- While the light-duty Silverado was redesigned this year, the heavy-duty model stands pat. As a result, the Ram leaps ahead in terms of refinement thanks to its new suspension and last year's updates.
AutoTrader's Advice
The best Ram 2500 for you largely depends on your needs. If you're a fleet manager looking for a truck with no frills and big capability, there's the Tradesman. If you want a full-size truck with a high-end interior and all the latest gadgets, check out the Laramie models. Most shoppers will be happy somewhere in between -- with a Ram 2500 SLT and a few options.