Editor's note: You may want to read more of Autotrader's model vs. model comparison car reviews as well as the 2014 Volvo XC90 review and the 2016 Volvo XC90 review.
If you're thinking about buying a new luxury SUV, the 2016 Volvo XC90 should be on your shopping list due to its modern design, upscale features and futuristic powertrain. Fully redesigned for the latest model year, the 2016 XC90 replaces the 2014 model (the XC90 skipped the 2015 model year), which had lasted — mostly unchanged — since 2003. There are some big differences between the 2016 XC90 and the outgoing model, and if you're interested in buying a new luxury SUV, you'll probably want to know exactly what those updates are. We've rounded up all the key differences below.
Exterior
On the outside, it's easy to tell the all-new XC90 and the outgoing model apart. While the overall look is similar, the new XC90 has an updated design with more modern touches such as revised headlights, a new grille, new wheel styles, new taillights and more. The latest XC90 is still unmistakably Volvo, but while the old design certainly aged well, the new model offers some major (and welcome) differences from its predecessor.
Interior
Changes to the new XC90's interior are far more substantial than the updates to the outside. Of course, there's more room for passengers and cargo — a given in just about any newly redesigned car. But there's also a dramatically improved center control stack with a much larger screen, a new gauge cluster and a lot of new controls. Few car interiors look more modern and futuristic than the new XC90's cabin, which is a good thing if Volvo plans to sell this one for more than a decade like its predecessor.
Mechanicals
Both the 2014 XC90 and the all-new 2016 model offer only one engine, but the powerplants used by the two models are very different. The 2014 XC90 used a 240-horsepower 3.2-liter 6-cylinder, which returned 16 miles per gallon in the city and 25 mpg on the highway with front-wheel drive or 16 mpg city/23 mpg hwy with all-wheel drive. These are mediocre figures, especially with just 240 hp.
The latest XC90, however, offers a very futuristic new engine: a 2.0-liter 4-cylinder that's both turbocharged and supercharged. The result is 316 hp, 295 lb-ft of torque (up from 236 lb-ft) and fuel economy of up to 20 mpg city/25 mpg hwy, which is even more impressive when you consider that the latest XC90 comes standard with all-wheel drive.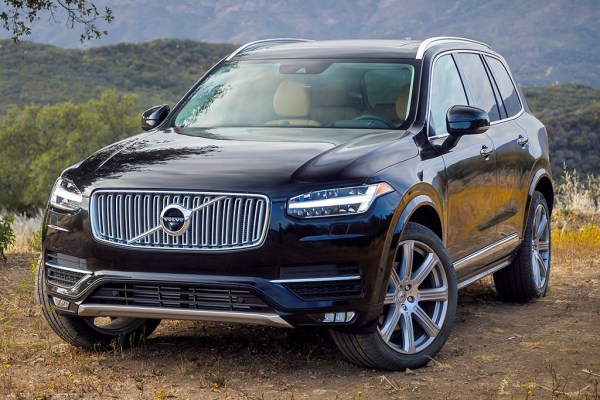 Features & Technology
The latest XC90 represents a massive technological leap forward compared to its predecessor. While the outgoing model had an archaic navigation system, only a few high-tech safety features, a tiny center infotainment screen and a dated interior with few of the latest conveniences, that's all gone for 2016.
The new XC90 offers a huge center touchscreen, an LCD gauge cluster, power-folding rear seats, adaptive air suspension and all of today's latest safety features and gadgets (such as a backup camera, forward-collision alert with automatic braking and a wide range of additional options). Simply put, if it's gadgets you're interested in, don't even bother with a used or certified pre-owned version of the outgoing model. The new one is on a totally different level.
Driving Experience
Although we never really disliked the outgoing XC90, it has started to feel old, outdated and a little less surefooted than it used to — especially when considering the advancements made by competitive models. Steering is too vague, the ride isn't as comfortable as it is in newer rivals, and the interior is no longer as impressive as it was back when the XC90 first went on sale in 2003.
The new model cures all those ills. It's more comfortable, stable and secure than its predecessor. Acceleration is far better, the new engine is smoother and quieter, and the cabin is a luxurious oasis from the road — or, as our tester Ron Sessions described it, a "Scandinavian sanctuary."
Indeed, we don't hate the outgoing XC90, but it's been outclassed by the competition. The new model offers some serious upgrades, and as such, it jumps to the head of the luxury-SUV world.
Safety
Because the latest XC90 is so new, it has not yet been tested by the federal government's National Highway Traffic Safety Administration or the nonprofit Insurance Institute for Highway Safety (IIHS). Despite its age, the outgoing model earned an excellent Top Safety Pick score in IIHS tests.
When it comes to equipment, the new XC90 offers some serious advancements over the outgoing model. Yes, it's true that the old XC90 had everything you might need from a luxury SUV, such as anti-lock brakes, side-curtain airbags and an available blind spot monitoring system. But the new XC90 touts all the latest in safety equipment and technology, offering a standard backup camera, forward-collision warning with automatic braking, side-curtain airbags and anti-whiplash front seats, along with a wide range of options that include a surround-view backup camera, a blind spot monitoring system, lane-keep assist, lane-departure warning and rear cross-traffic alert.
If safety is a priority — if you're considering a Volvo, then we suspect it is — few models offer the level of features and technology you can get from the 2016 XC90.
Conclusions
The outgoing Volvo XC90 is a nice car. It's a good, sturdy vehicle with surprisingly modern capabilities and touches considering its age. But it's no class leader. The 2016 Volvo XC90, on the other hand, is just that: an excellent new luxury SUV that checks all the right boxes, including "comfortable ride," "safety features" and "lots of technology." You can tell that a lot of work went into the new XC90, and we think the result will be a huge success for Volvo.
As a result, we'd avoid the outgoing model and go for a new one unless the deal on last year's XC90 is just too good to pass up. Even then, we suspect that you'll find yourself jealously staring at the 2016 XC90 when you see it in traffic.
Find a 2014 Volvo XC90 for sale