Car Comparison
2015 Cadillac Escalade vs. 2015 Range Rover: Which is Better?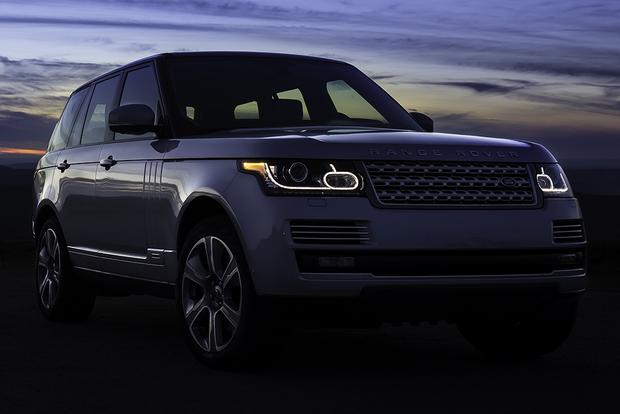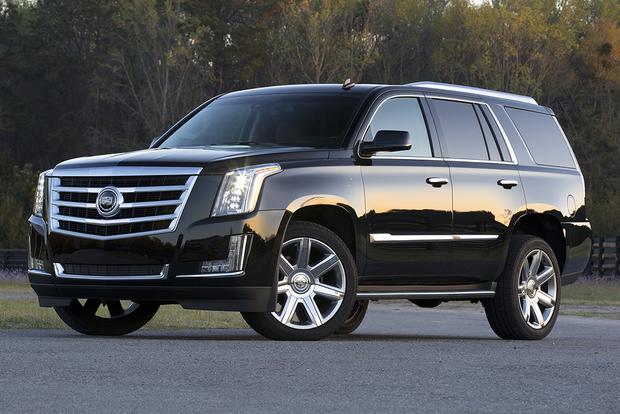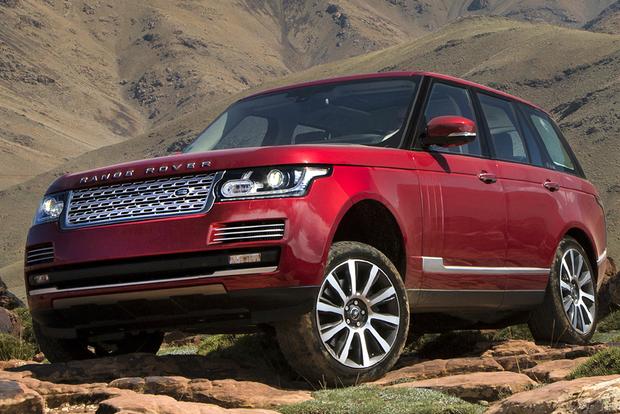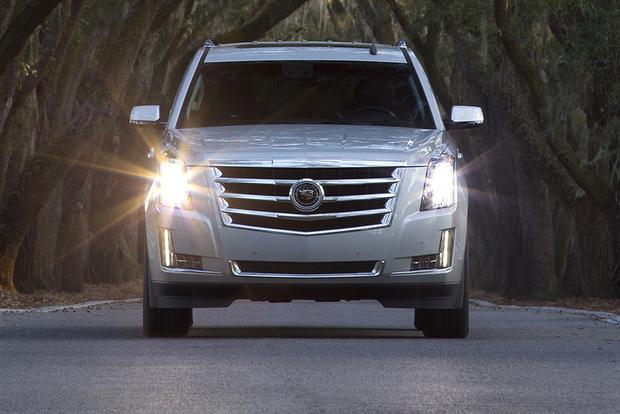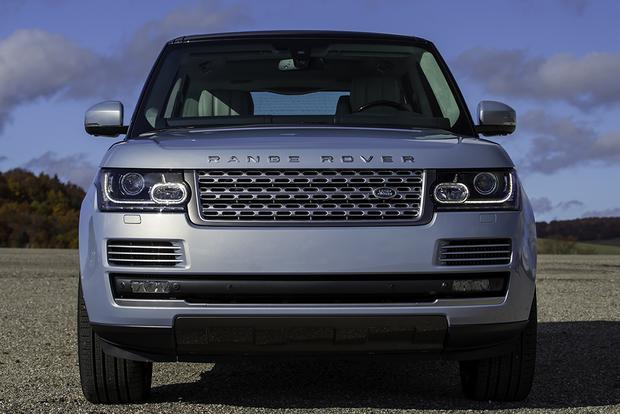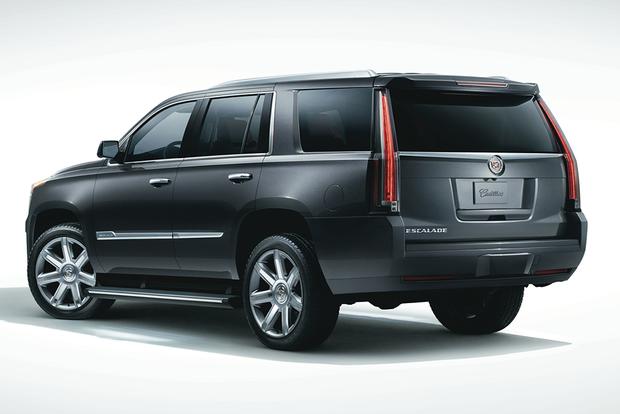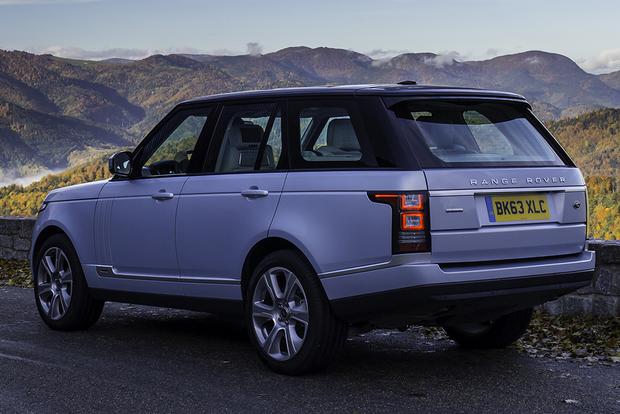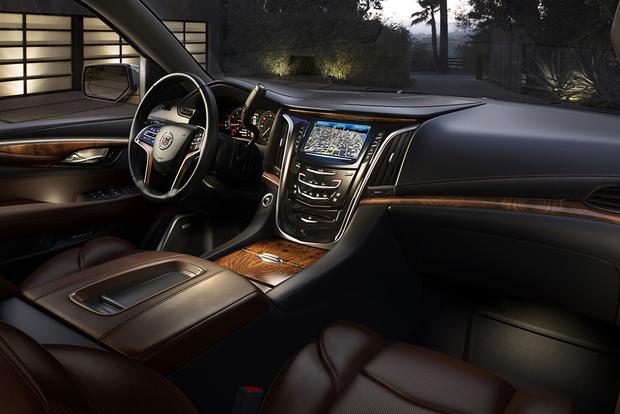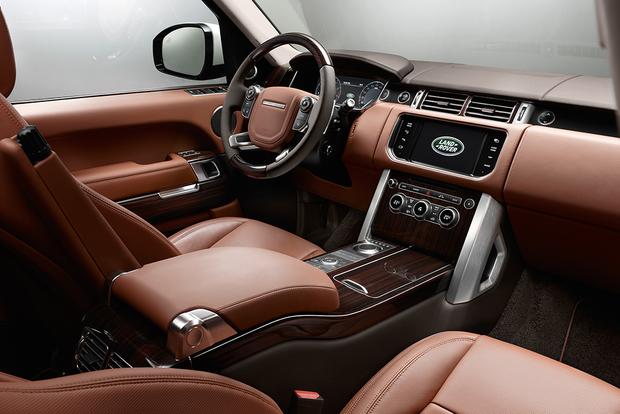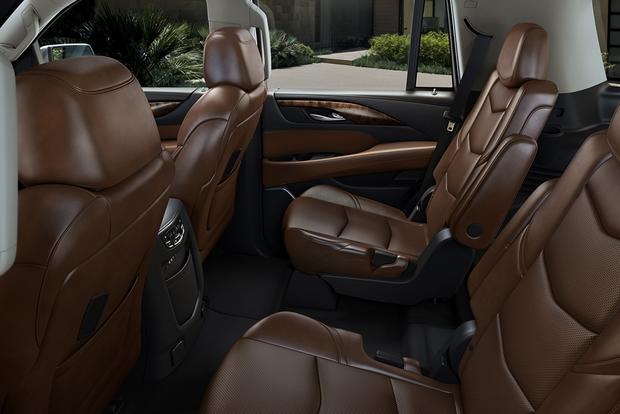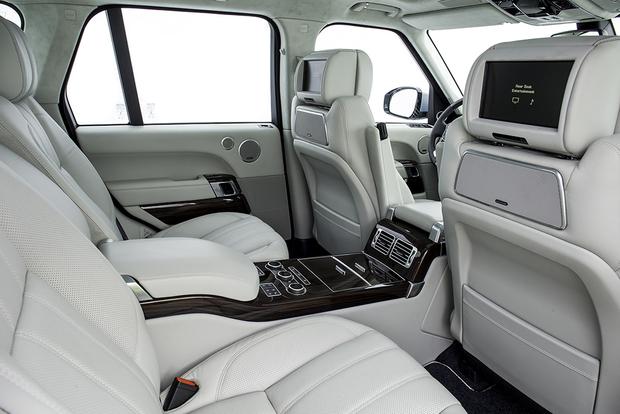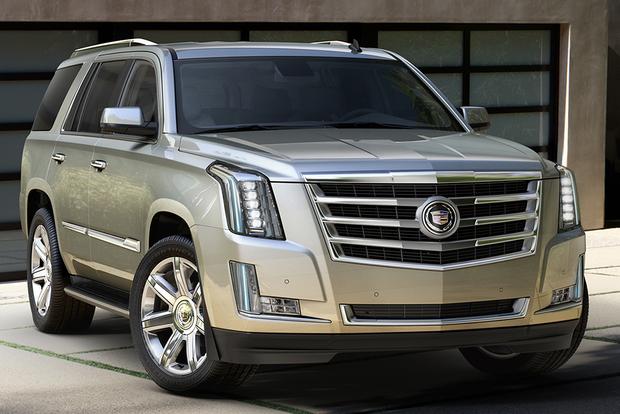 If you're searching for a full-size luxury SUV, we suspect that two models are near the top of your list: the 2015 Cadillac Escalade, which is all new for the latest model year, and the Land Rover Range Rover, which remains one of the most sought-after luxury SUVs on the market. Both seem to offer the last word in high-end SUV luxury, but which one is better? To find out, we've created an in-depth comparison of both models. But first, let's see what's new with the Range Rover and the Escalade for the latest model year.
2015 Cadillac Escalade
The Cadillac Escalade is completely redesigned for the 2015 model year. In addition to new styling and a dramatically improved interior, the latest Escalade offers a new engine, new equipment and, perhaps most importantly, a new price tag, with the SUV's base MSRP climbing nearly $9,000 compared to last year's model.
2015 Land Rover Range Rover
Fully redesigned for the 2013 model year, the Range Rover added a V6 model and a long-wheelbase version last year. For 2015, changes are limited to a new in-car app system with smartphone integration, a Driver Assistance package with 360-degree parking sensors and a new base-level long-wheelbase model with V6 power.
Reliability
Although Land Rover previously earned a reputation for dubious reliability, the brand seems to have corrected its past errors with the latest Range Rover. So says J.D. Power, which gave the Range Rover three circles out of five in its Power Circle ratings, indicating average reliability. Unfortunately, the latest Escalade is too new for J.D. Power to rate, but the outgoing model received a reassuring four circles, indicating better-than-average reliability.
When it comes to warranty length, the Escalade holds a distinctive advantage over the Range Rover. While both SUVs offer 4 years or 50,000 miles of bumper-to-bumper coverage, the Escalade also touts 6 years or 70,000 miles of powertrain protection and 4 years or 50,000 miles of free maintenance, which isn't offered with the Range Rover. As a result, the Escalade is our reliability champion. But if you're worried about Range Rover dependability, rest assured that things seem to be better than the brand's reputation may have led you to believe.
Fuel Economy
The Escalade uses one engine: a 6.2-liter V8 that makes 420 horsepower and 460 lb-ft of torque. It's mated to a 6-speed automatic transmission, and it returns 15 miles per gallon in the city and 21 mpg on the highway with rear-wheel drive, or 14 mpg city/21 mpg hwy with 4-wheel drive.
The Range Rover offers two engines. Base models use a 340-hp 3.0-liter supercharged V6 mated to an 8-speed automatic transmission, which returns 17 mpg city/23 mpg hwy with standard 4-wheel drive. Drivers looking for more power can step up to a 510-hp supercharged V8, which returns 14 mpg city/19 mpg hwy with standard 4-wheel drive.
Because of its surprisingly efficient standard V6, and since its muscular V8 offers similar gas mileage to the Escalade's engine, despite far more power, the Range Rover is our fuel economy champion.
Safety
Combined, the 2015 Cadillac Escalade and the 2015 Range Rover offer an almost unending range of safety features and gadgets, including 360-degree parking sensors (Range Rover), reverse collision mitigation (Escalade), a self-parking system (Range Rover) and GM's excellent OnStar telematics system (Escalade).
That said, the Range Rover seems to boast just a few more desirable items than the Escalade. For example, Cadillac still doesn't offer a 360-degree surround-view camera system, which we think is essential on a vehicle of this size. It's optional on the Range Rover. The Range Rover also includes a standard forward-collision warning and prevention system, while that feature is optional on the Escalade. And while we like the Escalade's reverse-collision mitigation system, we like the Range Rover's self-parking technology even more.
While neither vehicle has been crash-tested by the National Highway Traffic Safety Administration (NHTSA), we think both would offer a high degree of safety in the event of a collision. But with its larger quantity of standard and optional safety features, the Range Rover is our pick for drivers especially interested in safety.
Technology
Few vehicles offer the impressive levels of technology you can get in a new Range Rover or Escalade. The Escalade's equipment levels are generous, with standard technology including a 16-speaker sound system, magnetic-ride-control suspension, automatic LED headlights, a power liftgate, keyless access with remote starting and Cadillac's easy-to-use CUE infotainment system. Options include forward collision alert, a head-up display, a safety-alert seat, a rear-seat Blu-Ray player and adaptive cruise control.
But while the Escalade is luxurious, the Range Rover is downright opulent. You can get a cooler box for items that need cold storage. There are massaging seats and 360-degree parking sensors. There's a self-parking system with perpendicular and parallel capabilities, a surround-view camera system and an optional Meridian audio system with 29 individual speakers. There's even a Rear Executive Class Seating package that includes power-folding tray tables.
Simply put, the Escalade's level of technology is excellent. But with the Range Rover, Land Rover has gone above and beyond to offer one of the most technologically advanced, luxurious vehicles available today.
Value
The Range Rover offers more power than the Escalade and better standard fuel economy. It touts better safety features, more luxury items and more advanced technology. But there's a reason the Range Rover seems to have more of everything: It's far more expensive than the Escalade. With a base price of around $74,000 with shipping, the Escalade comes in around $10,000 cheaper than the base-level Range Rover. Start adding options, and that gap begins to widen, since the Range Rover has such an impressive array of features and add-ons to choose from.
As a result, the Range Rover is the big winner in just about every category, except for value. There, the Escalade scores an easy victory.
AutoTrader's Advice
If you're choosing between the Range Rover and the Escalade, you probably already have an idea about which one you'd prefer. Some drivers prefer the Escalade's bold styling and its in-your-face reputation. Others prefer the subtler, more laid-back luxury of the Range Rover.
For drivers who haven't yet made up their minds, our thinking is this: The Escalade is the right choice for drivers interested in getting the most for their buck, while the Range Rover is the right choice for drivers interested in getting the most, period. As a result, we'd choose the Range Rover if our budget would allow, but we wouldn't exactly be disappointed by the Escalade, either.
Find a Cadillac Escalade for sale