Car Comparison
2015 Honda Civic vs. 2015 Honda Fit: What's the Difference?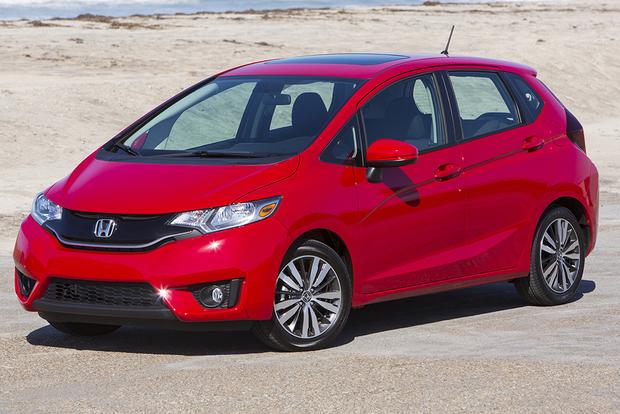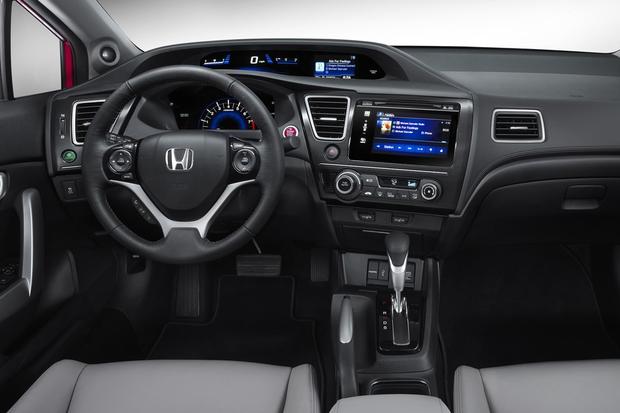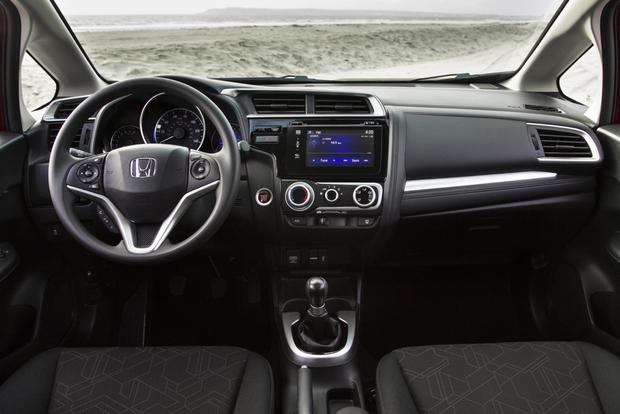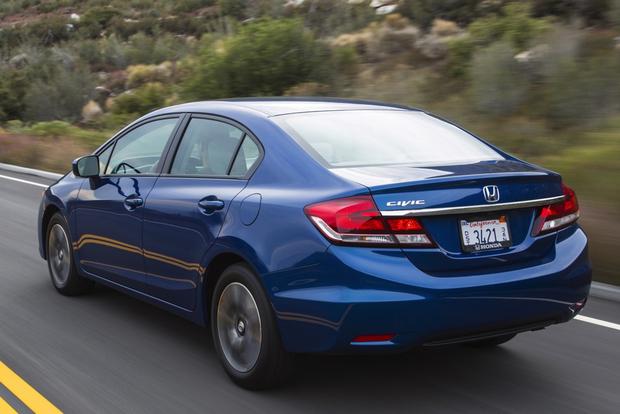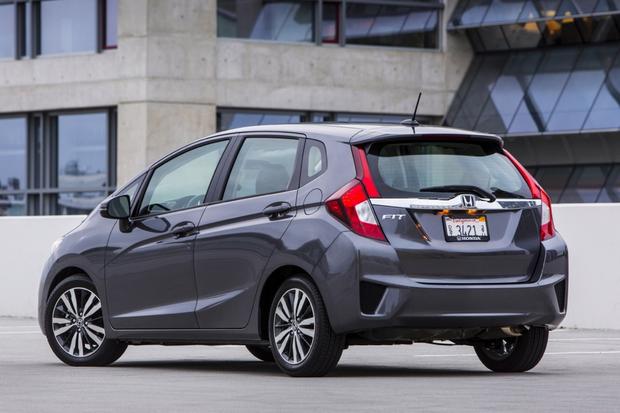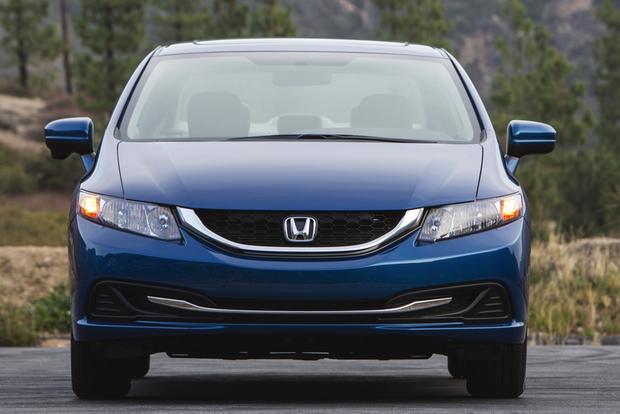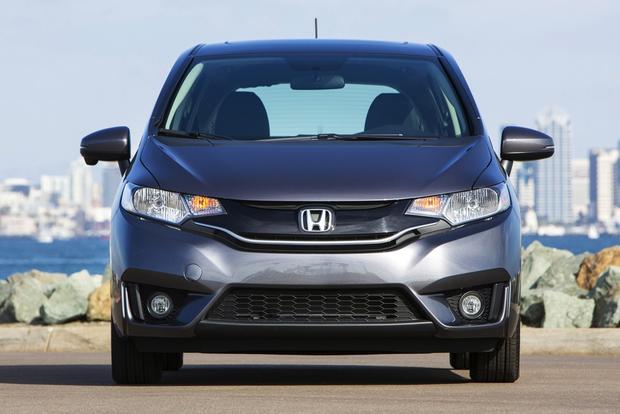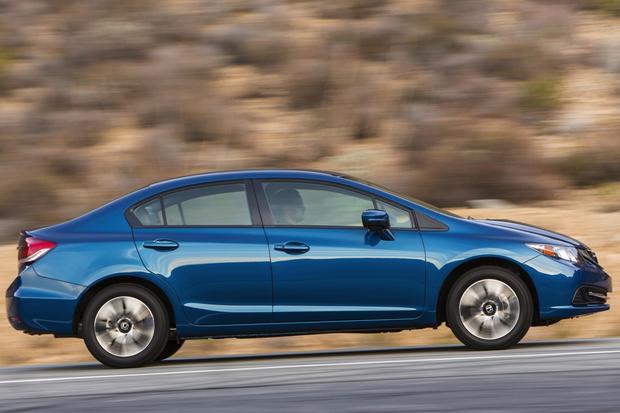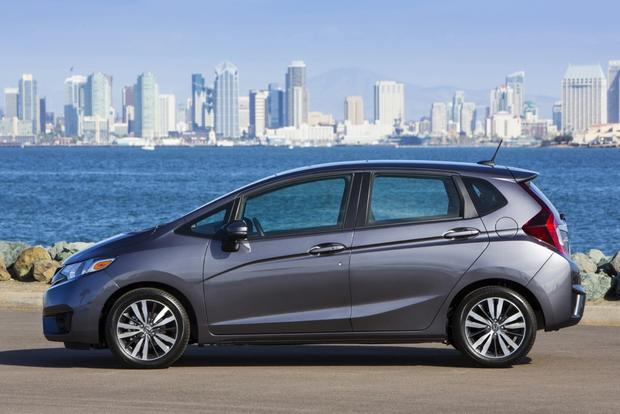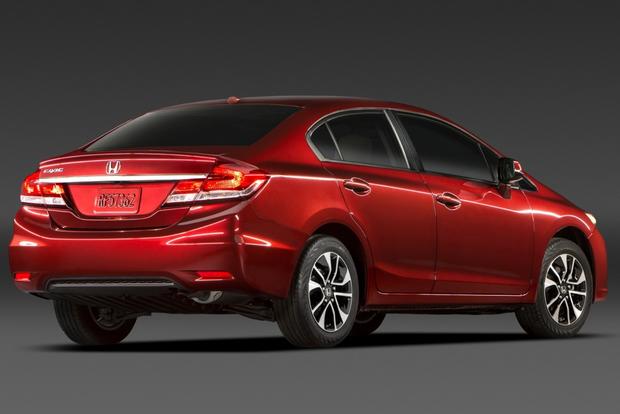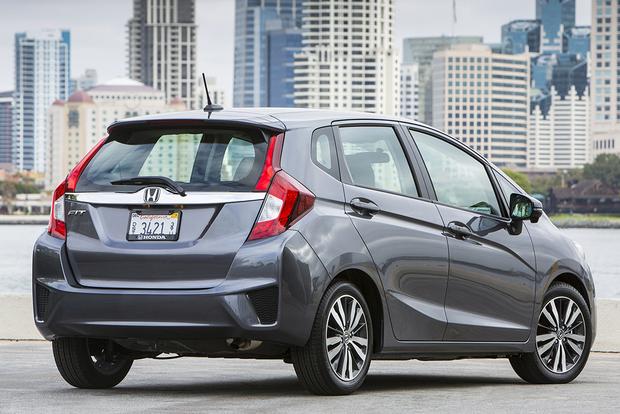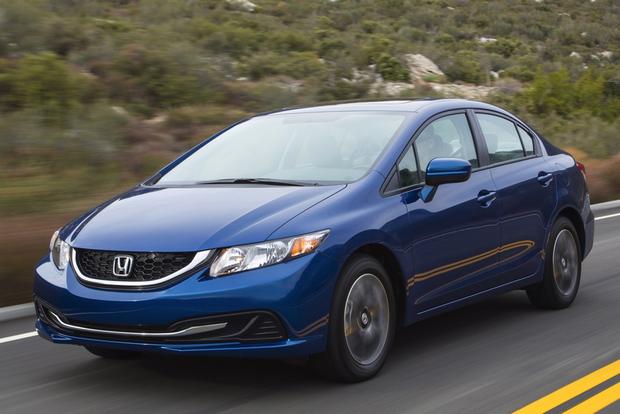 If you're looking for a reliable, economical small car, you undoubtedly have Honda on your shopping list. More specifically, you're probably considering the 2015 Honda Civic and the 2015 Honda Fit, which offer reasonable pricing, excellent fuel economy and Honda's notorious reputation for long-term dependability. But since these two models are both small, affordable Honda cars, what exactly makes them different? And which one should you get? We've created a close comparison to help you answer those questions.
Exterior
On the outside, it's very easy to tell the Fit and the Civic apart due to one major reason: All Fit models are 5-door hatchbacks, while the Civic is only offered as a 4-door sedan or a 2-door coupe. In addition, the Civic is notably larger than the Fit, which makes sense given the Fit's status as a subcompact car compared to the Civic's placement in the compact-car realm. Aside from their obvious body-style differences, the Fit and Civic share a few similarities, such as Honda's wide front grille and a steeply raked windshield, but we suspect few drivers will ever confuse a Civic and a Fit in a parking lot.
Interior
The Civic and Fit share a lot more similarities on the inside than on the outside. Yes, sizing is different -- the Fit offers more headroom, though less passenger room overall -- but the control layouts are virtually identical in both models. The two cars share a steering-wheel design, a gear-lever design, climate-control placement and infotainment-screen placement. The only major differences relate to the Civic's futuristic gauge cluster, part of which is mounted on an upper shelf above the traditional location, and the Fit's smaller dashboard design. We suspect drivers who become familiar with one of these models will have no trouble finding their way around in the other.
Mechanics
The Civic offers three engine options. The vast majority of Civic models are powered by a 143-horsepower 1.8-liter 4-cylinder, which returns up to 30 miles per gallon in the city and 39 mpg on the highway in regular models or 31 mpg city/41 mpg hwy if you opt for the extra-efficient Civic HF. Drivers who want more performance can opt for the sporty Civic Si and its 205-hp 2.4-liter 4-cylinder (22 mpg city/31 mpg hwy), while those who want better gas mileage can get the Civic Hybrid, which boasts 44 mpg city/47 mpg hwy thanks to a 105-hp hybrid 4-cylinder.
The Fit, meanwhile, has just one engine: a 130-hp 1.5-liter 4-cylinder, which returns up to 33 mpg city/41 mpg hwy. Interestingly, this engine boasts about the same performance as the Civic's base-level gasoline engine, both in terms of acceleration and fuel economy.
Features & Technology
Both the Civic and the Fit offer a lot of equipment for small cars. Think automatic headlights, a 7-inch touchscreen, Honda's excellent LaneWatch blind spot camera, a standard backup camera, Bluetooth, a navigation system with voice recognition, leather upholstery and heated front seats, many of which are items you wouldn't normally expect to see on compact or subcompact cars.
With that said, the Civic offers a few additional benefits over its Fit stablemate. Such advantages include a forward-collision warning system, a lane-departure warning system, a power driver's seat and larger alloy wheels. While both cars offer an impressive amount of technology, the Civic touts a little more than the Fit.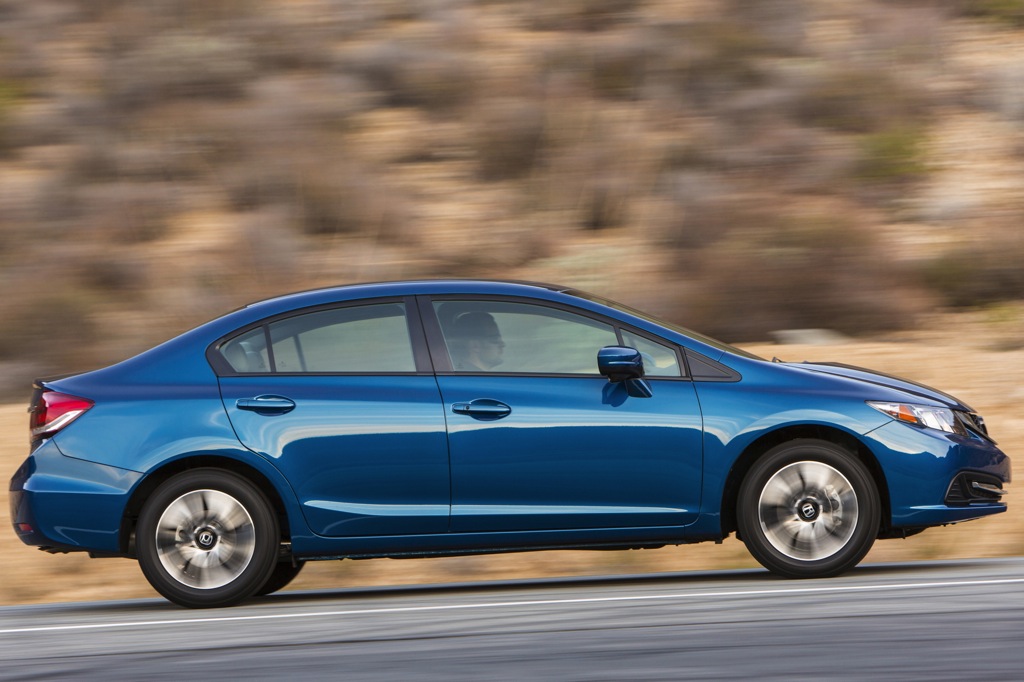 Driving Experience
Behind the wheel, the Fit certainly seems livelier than the Civic -- not in terms of acceleration, as both cars are only average for their respective classes, but certainly when it comes to steering, where the Fit's small size benefits it when you're going around corners or negotiating tight spaces. In fact, while we'd say the Civic is only "normal" to drive, we'd rate the Fit as "fun."
Otherwise, these two cars are largely similar in a lot of areas. Visibility is good in both models (though the Fit boasts the usual advantage you get from a hatchback instead of a sedan), and stopping power is roughly the same. The Civic feels a little bigger, which can be a benefit or a drawback. It's harder to park, of course, but offers more of a substantial feeling when you're on the highway.
Safety
In National Highway Traffic Safety Administration testing, both the 2015 Honda Civic sedan and the 2015 Honda Fit earned a perfect 5-star overall score. The Civic coupe earned a 4-star rating. In tests carried out by the nonprofit Insurance Institute for Highway Safety, both the Civic and the Fit earned an excellent Top Safety Pick score.
As for safety equipment, both the Civic and the Fit offer just about everything you'll need as standard, including a backup camera, anti-lock brakes and side-curtain airbags. When it comes to extra items you'll want, the Civic has an advantage, touting forward-collision warning, lane-departure warning and Honda's LaneWatch blind spot camera, whereas the Fit only offers the camera.
Conclusions
If you're interested in buying a small Honda, both the Fit and the Civic are excellent choices, but they're for slightly different buyers. Drivers who choose the Fit will want a smaller, less expensive car with fewer bells and whistles. Those who go for the Civic will want a larger interior, a more substantial road feel and a few extra features, options and powertrain choices. Either one is an excellent choice for a wide range of car shoppers, from drivers buying their first car to those with a burgeoning family.