Car Comparison
2015 Lincoln MKC vs. 2015 Ford Escape: What's the Difference?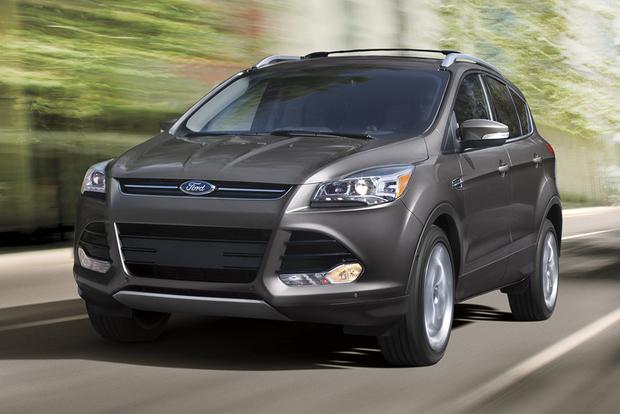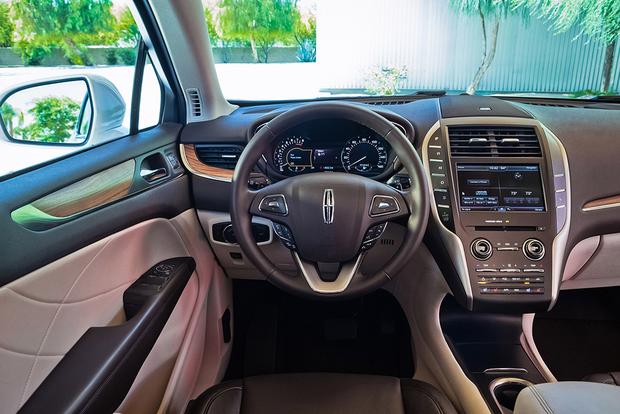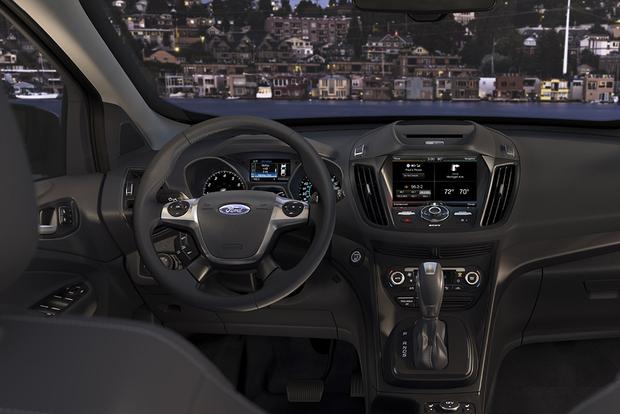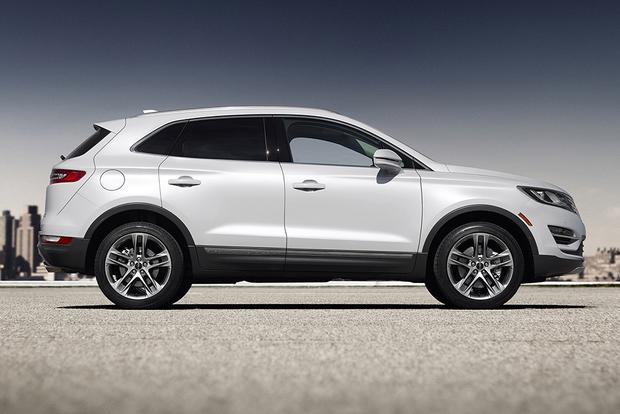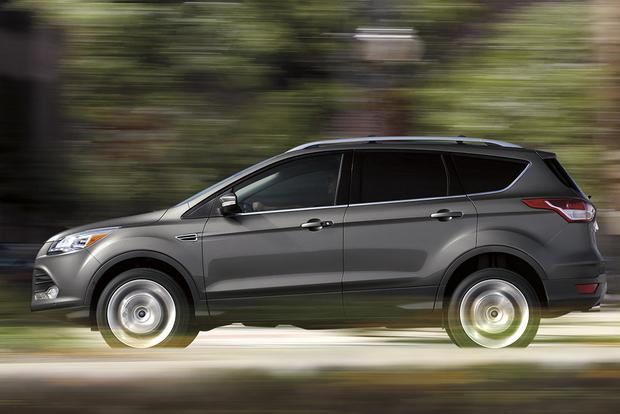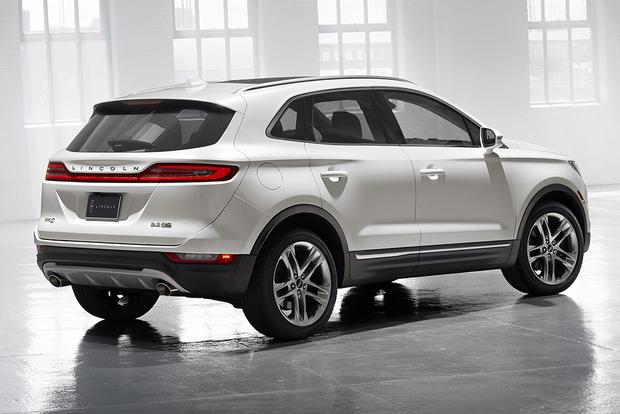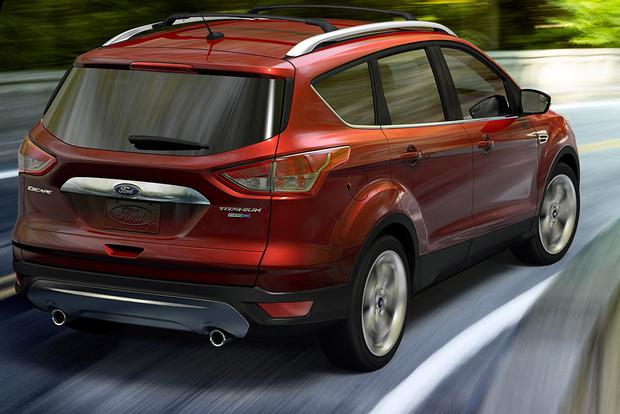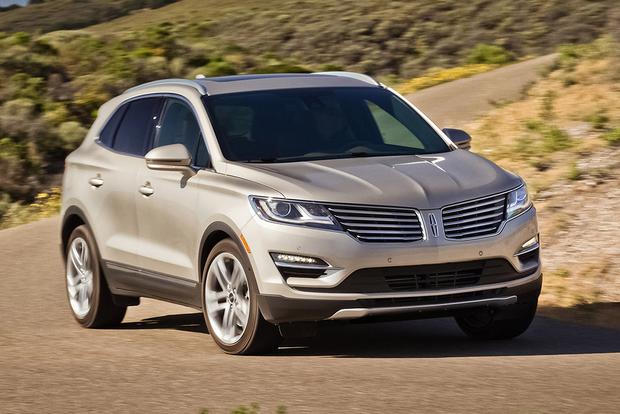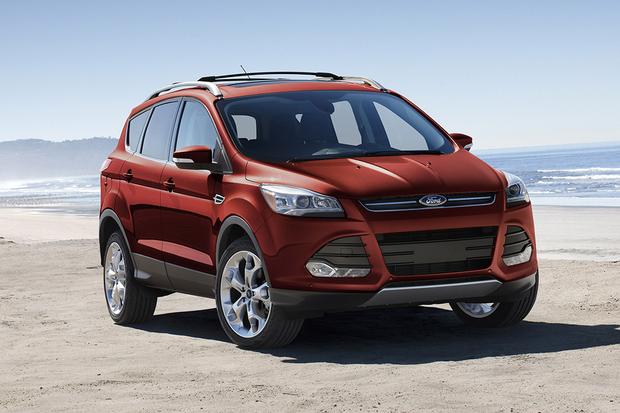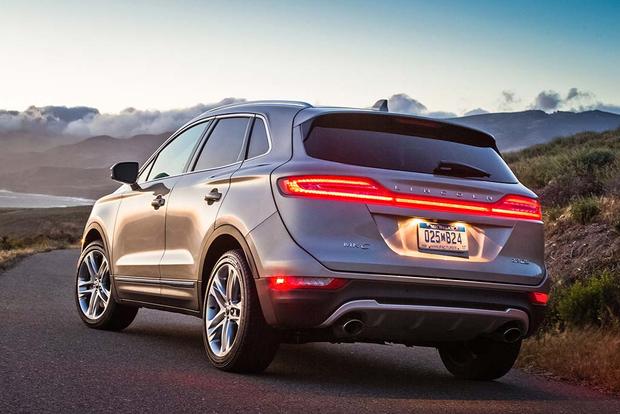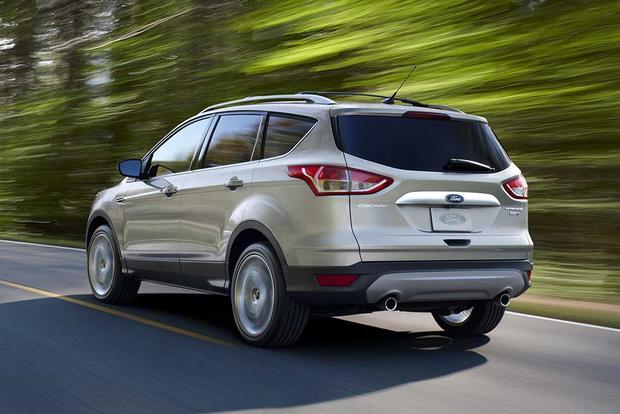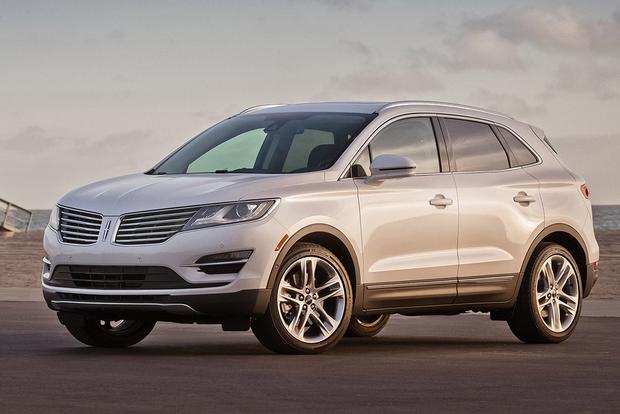 The Ford Motor Company lineup now includes two highly competent small SUVs: the popular 2015 Ford Escape and the luxurious 2015 Lincoln MKC. Given that both models share a platform, the two SUVs offer comparable sizing and a lot of other similarities. And while the Lincoln is more upscale than the Escape, Ford's "Titanium" trim level offers a lot of high-end extras. So what's the difference between these two models, and which one should you get? We've created a close comparison between the Escape and the MKC to help you answer those questions.
Exterior
Despite their similar sizing, there's no mistaking the Escape and the MKC on the outside. That's because the two SUVs offer a completely different look. While the Escape boasts traditional Ford styling, the MKC uses Lincoln touches like a waterfall grille and a taillight that spans the entire width of the tailgate. In other words: If you spend more for the Lincoln, no one will confuse your MKC with a Ford Escape.
Interior
Although the MKC and the Escape are more similar on the inside than the outside, there are still no major similarities between the two SUVs. There's a different steering wheel, different gauge clusters, different air vents, different center control stack designs and different gear selector methods. The MKC also uses more upscale materials than the Escape. The only similarities between the MKC and Escape are some overall interior design elements -- such as the angled glove box and steeply raked windshield -- and interior room, which is largely shared between the two vehicles.
Mechanicals
The Escape offers three engines. Base models use a 170-horsepower 2.5-liter 4-cylinder, which returns up to 22 miles per gallon in the city and 31 mpg on the highway. Mid-level models offer a 176-hp 1.6-liter turbocharged 4-cylinder, which touts up to 23 mpg city/32 mpg hwy. Drivers who want more power can upgrade to the top-level 2.0-liter turbocharged 4-cylinder, which offers 240 hp and returns up to 22 mpg city/30 mpg hwy.
Owing to its status as a more upscale SUV, the MKC eschews the Escape's base-level 1.6- and 2.5-liter engines. Instead, its standard engine is the Escape's optional 2.0-liter turbocharged 4-cylinder, which also makes 240 hp in the MKC. Fuel economy is slightly lower, though, at 20 mpg city/29 mpg hwy. For even more power, drivers can opt for a 285-hp 2.3-liter turbocharged 4-cylinder, which comes only with all-wheel drive and touts 18 mpg city/26 mpg hwy.
Features & Technology
Although high-end versions of the Ford Escape come with a lot of equipment, few compact SUVs offer quite as many luxury features as the Lincoln MKC. As a result, it holds several distinct advantages over the Escape that will appeal to shoppers especially interested in features and equipment.
For example, the MKC offers adaptive suspension dampers that allow you to adjust ride quality. It also offers 20-inch wheels (the Escape tops out at 19 inches), a 14-speaker sound system (the Escape tops out at 10 speakers), heated rear seats, adaptive cruise control, ventilated front seats, a heated steering wheel and a MyLincoln Mobile smartphone app that allows you to start the MKC from your phone. Admittedly, the Escape has a lot of luxury options for a small SUV -- such as a hands-free liftgate, a panoramic sunroof, a remote ignition and an automated parallel parking system. But the MKC has all that and more.
Driving Experience
On the road, there are clear differences between the Escape and the MKC. That's especially true if you opt for a 2.5- or 1.6-liter Escape, which feel a little overmatched compared to the MKC's effortless 2.0- and 2.3-liter turbocharged powertrains. With that said, the 2.0-liter Escape feels downright fast in most circumstances.
The MKC also offers other typical luxury car advantages over the Escape, including improved ride quality and diminished interior noise. In fact, the MKC is a surprisingly smooth luxury crossover with ride quality that could go head-to-head with today's best models -- and its interior noise is impressively muted. Not so in the Escape, which offers a comfortable but relatively average ride and the typical noise you'd expect from a compact crossover.
Safety
In crash testing carried out by the federal government's National Highway Traffic Safety Administration, both the Ford Escape and the Lincoln MKC earned four stars out of a possible five. Although the MKC hasn't yet been submitted to the full battery of tests carried out by the nonprofit Insurance Institute for Highway Safety, the Escape fell short of that firm's Top Safety Pick score after a troubling Poor rating in the challenging front small-overlap crash test.
As for safety equipment, both the MKC and Escape are loaded. Standard features on both SUVs include side-curtain airbags, a backup camera and Ford's MyKey technology, while options include forward-collision alert, rear cross-traffic alert, a blind spot monitoring system and an automated parallel parking system. Admittedly, the MKC offers two safety advantages over the Escape: an optional lane-departure warning system and available adaptive cruise control.
Conclusions
Although some previous platform-sharing Ford and Lincoln SUVs have been little more than blatant rebadges with a few extra features and some new styling (the Ford Explorer and Lincoln Aviator come to mind), that isn't the case with the 2015 Ford Escape and the 2015 Lincoln MKC. The MKC offers serious advantages over the Escape, from ride quality and interior noise improvements to powertrain differences, additional equipment and extra safety features. In fact, we think these two SUVs are almost as distinct from one another as successful mainstream/luxury SUV mechanical twins such as the Toyota Highlander and Lexus RX, or the Honda Pilot and Acura MDX.
And so, our advice is this: If you want a mainstream SUV with mainstream pricing, consider the Escape. If you want a luxury SUV, the MKC is a great choice. But these two models are so different that we don't think the Escape is merely a budget-priced alternative to its more expensive Lincoln stablemate.