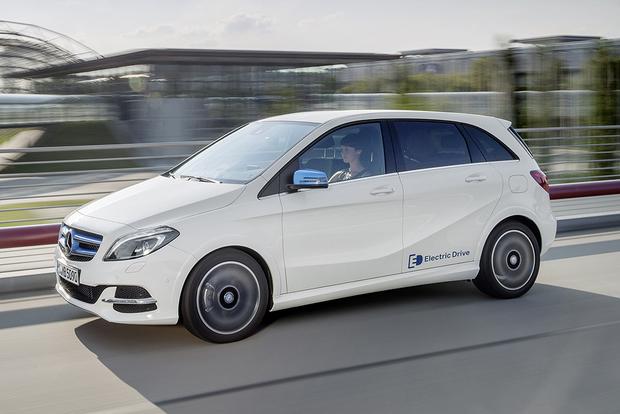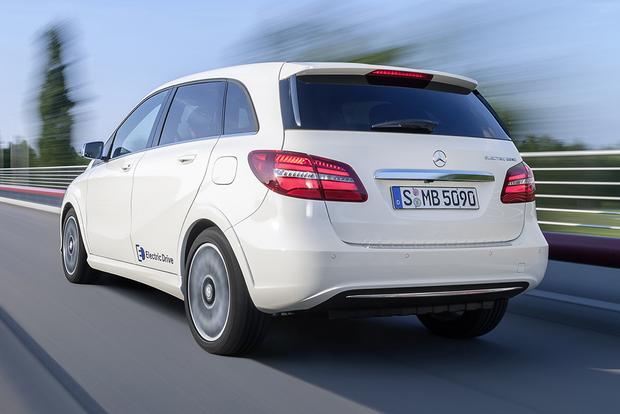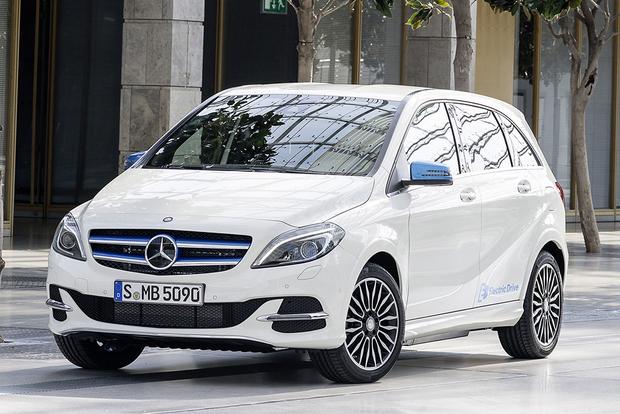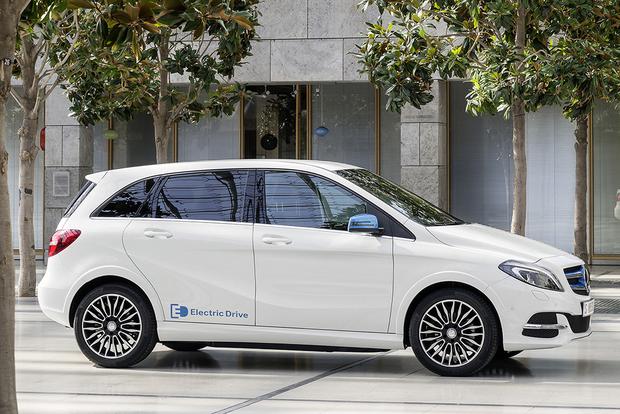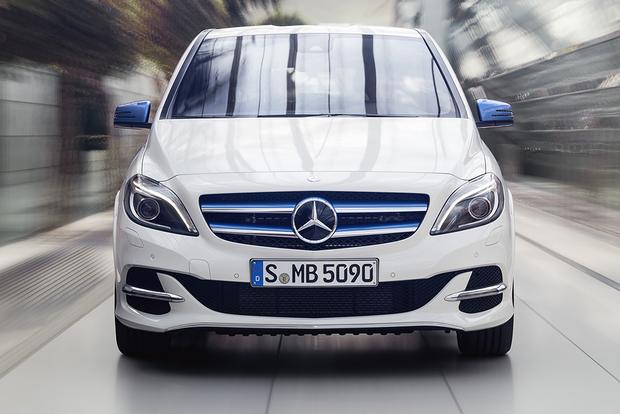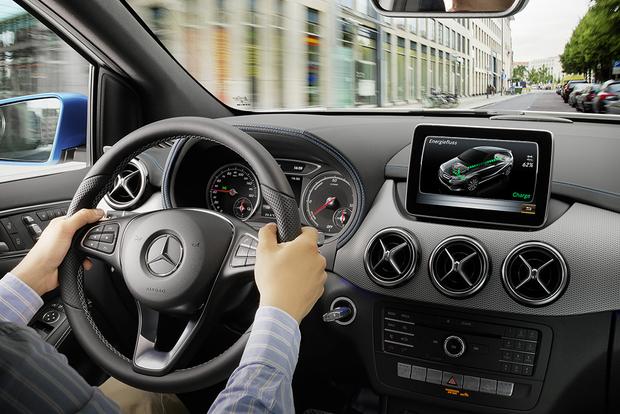 The 2016 Mercedes-Benz B-Class Electric Drive is the only B-Class available in the United States, and it's not on sale throughout the nation. Like a lot of electric vehicles (EVs), this one can be obtained in areas where there are some incentives (financial, ecological and practical), such as California, Oregon and the Northeast. Some states offer tax credits, along with charging stations in public parking spaces. There's also a federal tax credit of $7,500 to offset the purchase price.
The B-Class is essentially a tall-riding compact hatchback. One of the reasons for its height is that it has a thick floor, which houses the lithium-ion battery pack, a great example of the model's ingenious packaging. The battery and electric motor, incidentally, are supplied by Tesla. But don't get too excited: It doesn't offer range or performance better than the competition. This car is really just Mercedes-Benz dipping its corporate toe into the EV waters, using a vehicle with an architecture that is perfectly suited to an electric drivetrain.
What's New for 2016?
Apart from an official change of name to the 2016 Mercedes-Benz B250e, there are no updates for this model year.
What We Like
Quiet cabin; responsive handling; swift acceleration; versatile hatchback body style; upscale character
What We Don't
Anonymous styling; high price
How Much?
$42,375
Fuel Economy
The B250e is propelled by an electric motor rated at 177 horsepower and 251 lb-ft of torque going to the front wheels.
The Environmental Protection Agency (EPA) puts the vehicle's electric-powered range at 87 miles from a full charge. By way of comparison, the Nissan Leaf is rated at 84 miles. However, this is quite a heavy vehicle (nearly 4,000 pounds), and it's somewhat less efficient in its energy use, hence a combined rating of 84 miles per gallon equivalent (mpge) compared with the Nissan's 114 mpge.
To complete the picture, the B250e's energy consumption is estimated at 85 mpge in the city and 82 mpge on the highway. The upshot is that the B250e will cost more than a Leaf to charge; the EPA projects an extra $150 a year with typical use.
Using a 240-volt charging station, the charging process should take about 3.5 hours. On a standard household current, that time is closer to 30 hours. It's therefore advisable to have a fast charger installed at home.
Standard Features & Options
The 2016 Mercedes-Benz B-Class comes in one version: the B250e ($42,375).
Standard equipment includes 17-inch alloy wheels, LED running lights and taillights, a 3-spoke multifunction steering wheel, an EV-specific smartphone app with remote functions (including the automaker's My Mercedes Electric services), keyless entry/starting, a 4.5-in color driver information display, MB-Tex synthetic leather upholstery, 14-way power front seats with driver's-side memory settings, split folding rear seats, dual-zone automatic climate control, an infotainment system with a 7-in central display and a console-mounted control knob, a voice-controlled navigation system, Bluetooth and an 8-speaker audio system with a USB port and HD Radio.
Options include bi-xenon headlights, auto-dimming mirrors, parking sensors, a self-parking system, an upgraded regenerative braking system, a button-activated range-extender feature (which claims to provide an extra 15 miles of range if used sparingly), extended MB-Tex trim with exposed stitching, leather upholstery, an automatic garage-door opener, wood trim, a Harman Kardon audio system, smartphone-app integration, music storage and an upgraded navigation system.
Rear-seat space is adequate, although this is a compact hatchback, so it's not exactly roomy. Cargo capacity measures 17.7 cu ft. behind the rear seats, which isn't all that impressive, but it expands to a healthy 51.4 cu ft. with those seats folded flat.
Safety
The B250e's standard safety kit includes adaptive anti-lock disc brakes (including radar-based collision monitoring and mitigation), traction and stability control, a driver-drowsiness monitor and seven airbags (front, front-side, driver's-knee and full-length side-curtain). Options include a blind spot monitoring system and a rearview camera.
Behind the Wheel
The B-Class has humble roots. This is one of the company's entry-level vehicles in Europe, and it shows in the relatively modest quality of the plastics and other surfaces when compared with other Mercedes-Benz vehicles. Put it up against the Nissan Leaf, however, and the B250e looks more impressive. Long-time Mercedes-Benz drivers might be somewhat disappointed, but the B-Class delivers a more premium ambience than most rivals.
The ride is firm, but it feels familiar; German vehicles tend to be a little tauter than rivals from other parts of the world. The cabin remains remarkably quiet at all speeds. Acceleration from the electric motor is immediate and enthusiastic, and the car can hit 60 miles per hour from a standstill in 7.9 seconds. The steering wheel feels light in the driver's hands and responds quickly to inputs, lending a sporty feel to common maneuvers. Handling limits are ultimately quite low (with the front end going safely and predictably wide if pushed), but there's enough athleticism to provide some entertainingly brisk driving. The B250e might even be called fun.
Other Cars to Consider
2016 BMW i3 -- The i3 is the aesthetic opposite of the conservative B-Class, with radical construction and materials and even more entertaining driving manners.
2016 Ford Focus Electric -- Another compact EV hatchback, the Focus Electric is more mainstream than premium.
2016 Kia Soul EV -- The Soul EV enjoys a relatively high-quality interior with a dashboard inspired by Apple devices, and it's as versatile as the B250e, although not as quick.
2016 Volkswagen e-Golf -- For affordable German engineering with understated style, the practical and classy e-Golf hatchback is not to be missed.
Used Toyota RAV4 EV -- Don't underestimate the electrified RAV4. It has serious acceleration and a cavernous cargo hold.
Autotrader's Advice
Because of its height, the 2016 Mercedes-Benz B250e has a raised driving position, something most other electric compacts can't offer. There's plenty of headroom in the rear, as well. For those who can afford it, this is an exceptionally pleasant EV, but it's still better suited to be a second (or third) car rather than a primary vehicle.