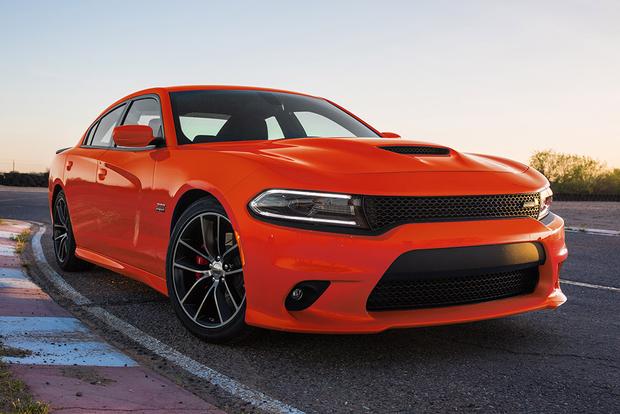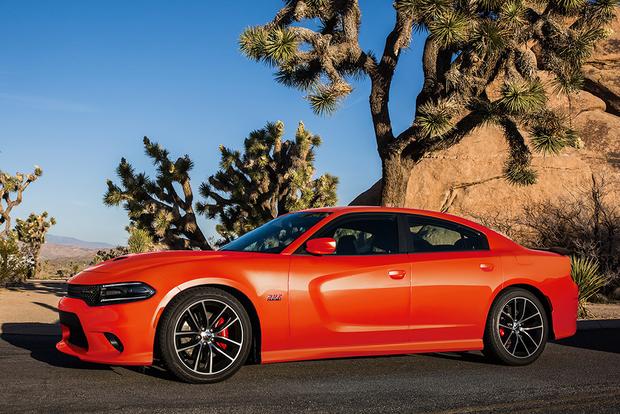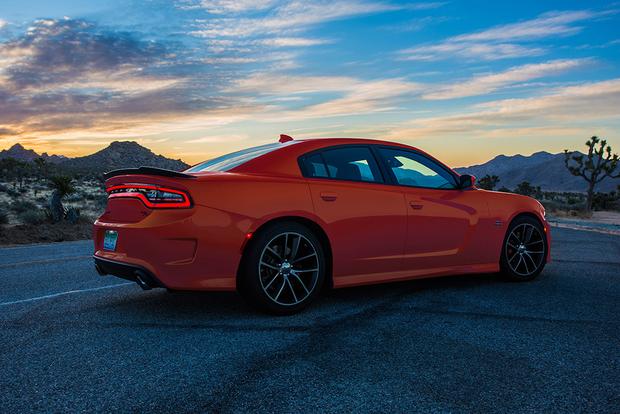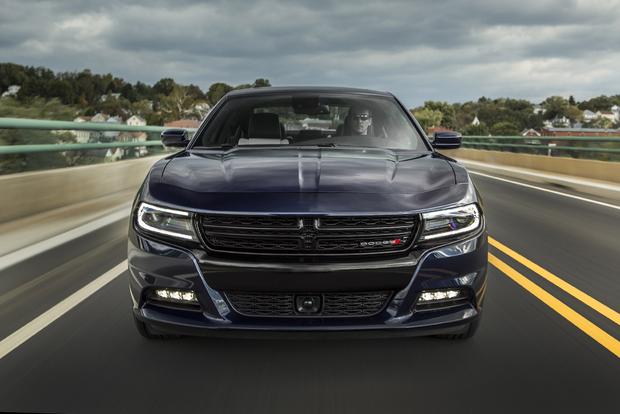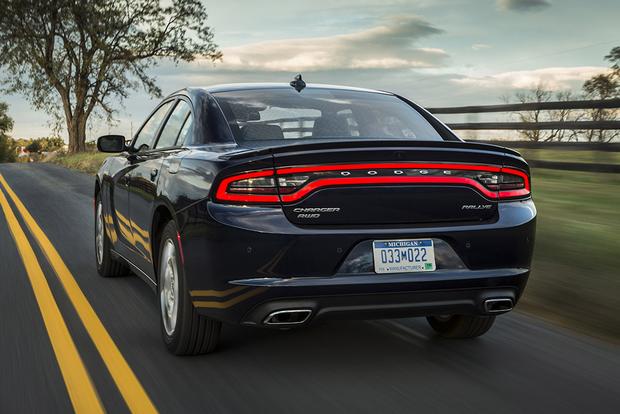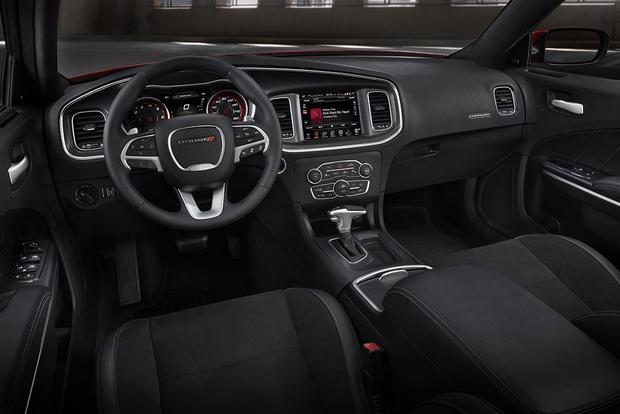 The 2017 Dodge Charger is a full-size sedan that offers a totally different take on the typical full-size sedan. For one thing, it isn't designed solely for comfort, and it doesn't have innocuous, widely appealing styling like many of its rivals. Instead, the Charger boasts a bold look with a lot of muscle -- a design that only gets more aggressive as you move up the model lineup. Its rear-wheel-drive chassis is designed more for performance than for wafting over bumps. Love it or hate it, these features give the Charger a personality that rivals can't match.
And then there are the sedan's powertrains: While the Charger offers a V6 as most rivals do, it also offers several V8 options, including a nuclear-performance Hellcat model that boasts 707 horsepower. You'll also find that the Charger offers many of today's latest gadgets and high-tech features, which makes it a great choice for any shopper looking to break the usual midsize sedan mold.
What's New for 2017?
The already excellent 8.4-in Uconnect touchscreen interface gets even better for 2017 with improved screen resolution, faster processing speeds, pinching and zooming functionality, and the inclusion of Apple CarPlay and Android Auto. Other updates include a new active exhaust system for the 5.7-liter V8 and the return of the Daytona trim level.
What We Like
Distinctive styling and overall character; glorious V8 engines; huge interior space for a car of its performance potential; user-friendly and feature-rich infotainment system
What We Don't
You can't get all-wheel drive with a V8; less spacious, luxurious, comfortable and refined than other non-performance full-size sedans
How Much?
$28,000-$66,000
Fuel Economy
Unlike the cars it competes with, the 2017 Dodge Charger is available with multiple engine options. All come standard with an 8-speed automatic transmission and rear-wheel drive, but V6-powered Chargers can be equipped with all-wheel drive.
The base 3.6-liter V6 offers 292 hp and 260 pound-feet of torque, though an optional Rallye Group bumps those numbers slightly to 300 hp and 264 lb-ft. Either way, fuel economy is 19 miles per gallon city, 30 mpg highway and 23 mpg combined. All-wheel drive lowers those figures to 18 mpg city, 27 mpg highway and 21 mpg combined.
The Charger R/T's 5.7-liter V8 provides 370 hp and 395 lb-ft of torque. It returns 16 mpg city, 25 mpg highway and 19 mpg combined.
Next up, the R/T Scat Pack and SRT 392 feature a 6.4-liter V8 that touts 485 hp and 475 lb-ft of torque. Fuel economy is 15 mpg city, 25 mpg highway and 18 mpg combined.
Finally, the Charger Hellcat has a 6.2-liter supercharged V8 good for an absurd 707 hp and 650 lb-ft of torque. It gets just 13 mpg city, 22 mpg highway and 16 mpg combined.
Standard Features & Options
For 2017, the Charger is offered in eight trim levels: SE, SXT, R/T, Daytona, R/T Scat Pack, Daytona 392, SRT 392 and SRT Hellcat.
The base-level Charger SE ($28,000) comes standard with the 3.6-liter engine, along with 17-inch wheels, keyless start, automatic headlights, dual-zone manual climate control, a 6-way power driver's seat, a 5-icnh Uconnect infotainment touchscreen, Bluetooth and two USB ports.
Step up to the midlevel SXT ($30,000) and you'll retain the V6 -- but you'll also get 18-inch wheels, dual-zone automatic climate control, an 8-way power driver seat, better cloth upholstery, an upgraded sound system, an additional USB port and the 8.4-inch Uconnect touchscreen that includes Apple CarPlay and Android Auto. To the SXT you can add the Super Track Pack, which includes sport-tuned steering and suspension, performance brakes and 20-inch wheels. There's also the Rallye Group that adds more power to the V6, the sport-tuned suspension, 20-inch wheels, special styling elements and a Beats Audio system.
The R/T ($34,800) is equipped similar to the SXT, but has the 5.7-liter V8, the sport-tuned suspension and upgraded brakes, 20-inch wheels and a rear spoiler.
Both the SXT and R/T can be equipped with the Plus Group that includes a variety of desirable features: rear parking sensors, a rearview camera, xenon headlights, heated and ventilated front seats, driver memory settings, heated rear seats, leather seating and a heated steering wheel. The Premium Group further adds automatic wipers, a power-adjustable steering wheel, adaptive cruise control, blind-spot and rear cross-traffic warning systems, a navigation system and the Beat Audio system.
The Daytona ($39,900) adds to the R/T the grille and other styling flourishes from the higher performance trims, an even sportier-tuned suspension, upgraded wheels, a mix of leather and faux suede upholstery and most of the Premium Group content apart from the navigation and Beats Audio system, which can be had together in a separate package.
Next up, drivers can choose between three models with the Charger's 6.4-liter V8. The R/T Scat Pack ($40,000) builds on the base-level R/T, adding a limited-slip differential, a backup camera, improved brakes, yet another sportier-tuned suspension and similar styling flourishes as the Daytona. The Daytona 392 ($45,000) pretty much combines the regular Daytona with the R/T Scat Pack plus further upgraded brakes. The SRT 392 ($51,145) adds to the Daytona 392 its own styling flourishes, plus adaptive suspension dampers, upgraded wheels, a sport steering wheel and most of the extra features found in the above-described Plus Group.
For drivers who want the last word in sedan performance, there's the Charger Hellcat ($67,600). To the SRT 392 content it adds its 707-hp supercharged V8 plus its own suspension, steering and brake upgrades. A 19-speaker Harman/Kardon sound system is available on the SRT 392 and the Hellcat.
Note that many of the non-performance extras included on upper trims are available within option packages on lower trims.
Safety
The 2017 Charger comes standard with all the safety features you'd expect, including side-curtain airbags, anti-lock brakes, traction control and stability control. Options include a backup camera, blind-spot and rear cross-traffic warning systems, lane-departure warning and prevention, forward-collision and mitigation with automatic braking.
The federal government's National Highway Traffic Safety Administration gave the 2017 Charger a top 5-star overall crash rating, along with 4-star frontal and 5-star side ratings. The Charger received Good marks in crash testing carried out by the nonprofit Insurance Institute for Highway Safety, but it fell short of the firm's Top Safety Pick designation due to a Marginal rating on the challenging new small-overlap front crash test.
Behind the Wheel
Whereas most full-size sedans drive pretty similarly regardless of which trim level you select, that most definitely isn't the case with the Charger. Besides its four available engines, most of the trim levels come with their own suspension tuning that all together dramatically alter how the various Chargers drive. We recommend test driving multiple ones to see which you prefer, especially the various V8 models.
In general, the V6-powered Chargers skew toward a more comfort-oriented set up that nevertheless does fall short of other, more luxurious and refined full-size sedans. Its handling is also pretty ponderous. This definitely improves as you move up each rung on the suspension tuning ladder, but know two things: first, no amount of suspension tuning can make the big-and-heavy Charger feel agile, and second, that ride comfort does degrade.
Inside, your perceptions of the Charger will depend on what you compare it to. Relative other full-size sedans, the back seat isn't as spacious and interior quality disappoints (the 8.4-in Uconnect touchscreen is always appreciated, however). But, for a car with its immense performance potential, it's actually relatively enormous inside and its comparatively rock-bottom pricing makes its otherwise unremarkable cabin far more palatable.
Other Cars to Consider
2017 Dodge Challenger -- If you like the Charger's attitude and don't need the doors, consider the Challenger coupe. It offers the same exuberant powertrains and an even bolder look.
2017 Chrysler 300 -- The mechanically identical Chrysler 300 is the Charger's uptown sibling. That means you'll pay more, but you'll arguably get more, as the 300 is more in keeping with other, more refined full-size sedans.
2017 Chevrolet SS -- If you like the idea of a high-powered, rear-wheel-drive big sedan that won't cost you $100,000, the SS is probably your best alternative. It can't match the Charger's style or engine variety, but its arguably the sharper car to drive.
Used Mercedes-Benz E63 -- Admittedly, this suggestion is relevant to the SRT 392 and Hellcat and even then, you'll be considering used models given the higher price. However, a used E63 is also a tremendous performance machine in a big car body.
Autotrader's Advice
The unique thing about the Dodge Charger is the unparalleled number of possible variations, but that does mean it can be tough to determine which is best for you. As such, we would at least make sure to try as many of them as possible, especially since you might find that you're perfectly happy with one of the less powerful engines. Even the base V6 is plenty powerful and with its Super Track Pak, still allows you to have a bit of fun.