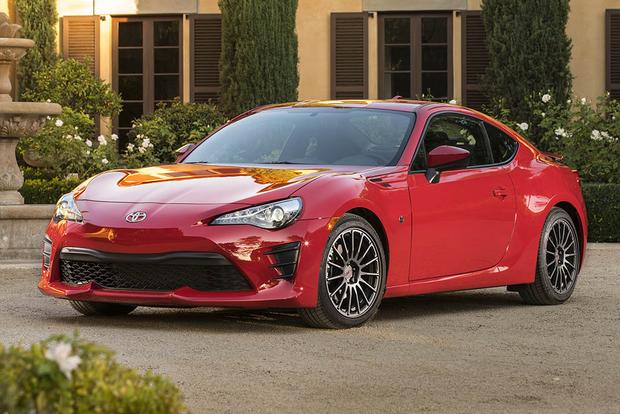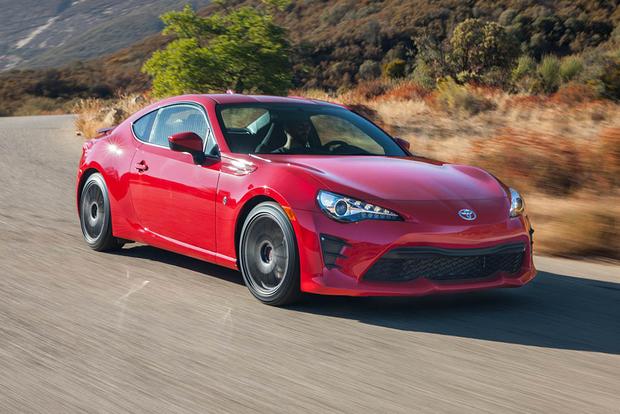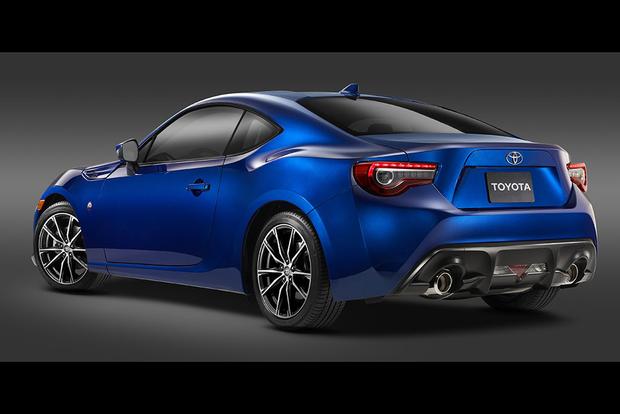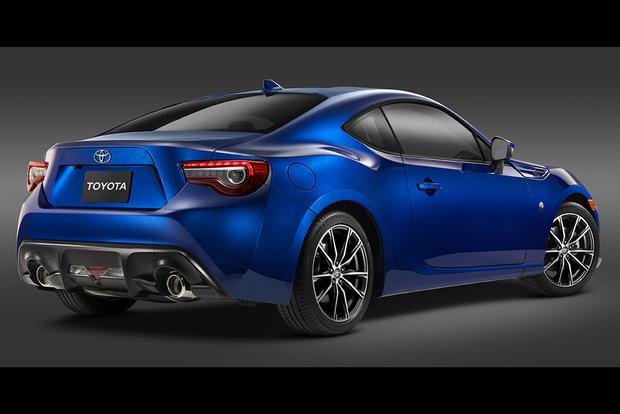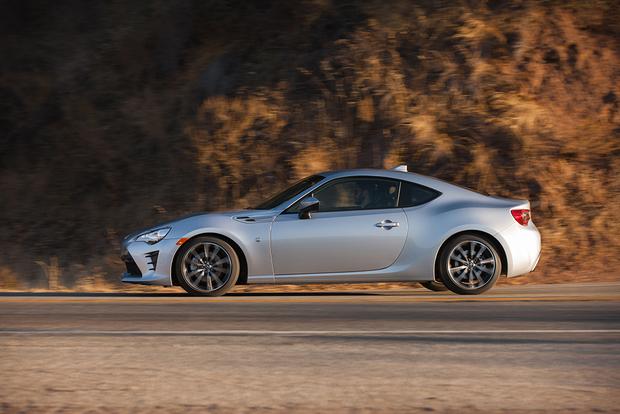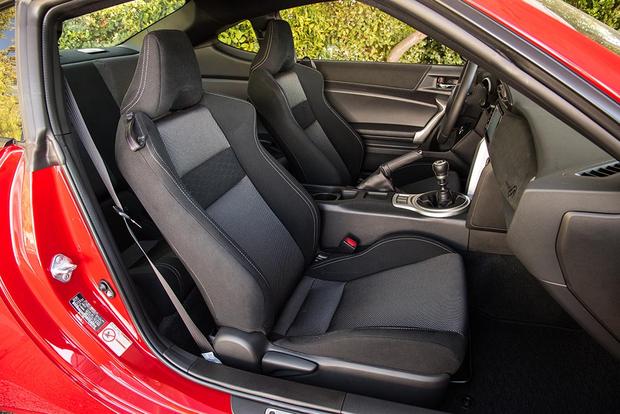 If you're looking to have a lot of fun behind the wheel for not a lot of money, you have to consider the 2017 Toyota 86. This lightweight, rear-wheel-drive sport coupe is guaranteed to put a smile on your face, while also being pleasantly easy and forgiving to drive. It's a great choice for driving pros and novices alike.
Now, the name Toyota 86 might be a new one, but the car is not. This is the car formerly known as Scion FR-S, and with the name change comes some slight nips here and tucks there, but for the most part, it is the same car that has been delighting driving enthusiasts for a few years now. It also remains a twin of the Subaru BRZ, which offers a few features and performance upgrades not available on the 86, so make sure to cross shop. We would also make sure to drive the 86 on the highway, since its abundance of interior noise can grow tiresome on longer journeys.
On the whole though, the 86 is one of our favorite performance cars. It proves that you don't have to spend a lot of money or possess a massive engine to have fun behind the wheel.
What's New for 2017?
Officially, the Toyota 86 is a new model. However, it is actually an updated and renamed version of the Scion FR-S, a result of that car's brand being discontinued. Apart from the name change, there are slight styling changes, some interior improvements, a bit more power and some suspension updates.
Read 2016 Scion FR-S vs. 2017 Toyota 86: What's the Difference?
What We Like
Easy and uproariously fun to drive; affordable price; simple model structure; good fuel economy for a sports car; Toyota reliability
What We Don't
No engine upgrade available; intrusive road noise; cheap interior materials; barely useable back seat
How Much?
$26,300-$27,000
Fuel Economy
Every Toyota 86 is powered by a 2.0-liter horizontally opposed "Boxer" 4-cylinder engine that produces 205 horsepower and 156 lb-ft of torque with the standard 6-speed manual transmission. It produces 200 hp and 151 lb-ft with the optional 6-speed automatic transmission.
Fuel economy is 21 miles per gallon in the city, 28 mpg on the highway and 24 mpg combined with the manual. It is 24 mpg city/ 32 mpg hwy/ 27 mpg combined with the automatic.
Standard Features & Options
There aren't too many cars on the road with a simpler trim level and feature content structure than the Toyota 86. You really only choose your transmission and color.
Every 2017 86 comes standard with 17-in wheels, summer tires, keyless entry, power mirrors, automatic LED headlights, a height-adjustable driver seat, cloth upholstery, a leather-wrapped steering wheel, a one-piece folding back seat, a 7-in touchscreen, Bluetooth, a USB port, HD radio and an 8-speaker sound system.
There is no other equipment available apart from dealer-installed items, including a navigation system integrated into the standard touchscreen, LED foglights and a variety of performance-enhancing parts.
Safety
The 86 comes standard with antilock brakes, traction and stability control, a backup camera, front side airbags and full-length side-curtain airbags. There are no accident avoidance technologies available.
The government has only tested the 86 for frontal crash worthiness -- it got four out of five stars. The nonprofit Insurance Institute for Highway Safety gave the 86 the best-possible score of Good in all tests but the newer, more stringent small-overlap front test where it received the second-best Acceptable score.
Behind the Wheel
Call it an FR-S, or an 86 or even Subaru BRZ, this is an uproariously fun car to drive. It's lightweight and rear-wheel drive, which has always been a recipe for fun, while its wonderfully responsive steering allows you to feel the road that you're being adhered to by its ably tuned suspension. At the same time, its relatively skinny summer tires let you slide around a bit without grave fear of sending yourself butt-first into a ditch. As the old saying goes, sometimes it can be more fun to drive a slow car fast.
And yes, we're calling the 86 slow -- by modern sports car standards, at least. Its 205 or 200 hp, depending on transmission, is just merely sufficient and its lack of midrange power could sure use a turbocharger to help even things out. Also, that power delivery greatly depends on the transmission you choose. We think the 6-speed manual remains the best choice. The 6-speed automatic gets better fuel economy and includes paddle shifters, but with it, the 86 is robbed of much of its driver involvement and just feels like a small, loud, underpowered, cramped coupe rather than a budget sports car. If you're worried about driving a manual, don't worry -- the 86 makes it easy, with a forgiving clutch and a direct, pleasingly mechanical gearbox.
Regardless of transmission, though, expect the 86 to deliver an abundance of road, wind and engine noise. It can get tiresome and since the interior is also dominated by hard plastic, the 86 isn't exactly the most pleasant car to spend long highway journeys. Restrict it to the daily commute and weekend back road adventures and you should love it. The front seats are supremely comfortable and offer plenty of adjustment, while the controls are easy to reach and to figure out. We'd like a center armrest and a better place to store our phone (plus the back seat is all but useless), but in general, the 86's cabin is functionally quite good.
Other Cars to Consider
2017 Subaru BRZ -- For all intents and purposes, the BRZ and 86 are the same car. However, the BRZ can be had with features not available on the 86, including a suspension and brake performance upgrade package. That could make it a better bet.
2017 Mazda MX-5 Miata -- It's even smaller than the 86 and a convertible, but there is no other car that comes close to matching its combination of rear-wheel drive, lightweight and low price.
Read 2017 Toyota 86 vs. 2017 Mazda MX-5 Miata: Which is Better?
Used Porsche Cayman -- You'll need to go back a few years to find a used Cayman in the 86's price range, but they're out there and Porsche's certified pre-owned program allows for older cars than any other brand. Importantly, if you're looking for rear-drive sports car excellence, it doesn't get better than the Cayman.
Autotrader's Advice
Get the manual transmission. The automatic robs the 86 of so much driver involvement that there's not much reason to get the car at all. We would also consider the mechanically identical Subaru BRZ, since it can be had with features not offered on the 86.