The all-new 2021 Ford Bronco looks to be very, very good, at least on paper. While it was clearly designed to compete directly with the Jeep Wrangler, Ford's new off-roader will likely steal some sales from the venerable Toyota 4Runner as well. Here's how these two midsize off-roaders compare to one another in terms of specs, packaging, and pricing.
Quick Facts
The 2021 Ford Bronco is all-new and features a removable roof and doors to go along with excellent off-road capability

The 4Runner has been on sale in its current form for over a decade now and appeals to those wanting an off-roader with a reputation for bulletproof reliability
2021 Ford Bronco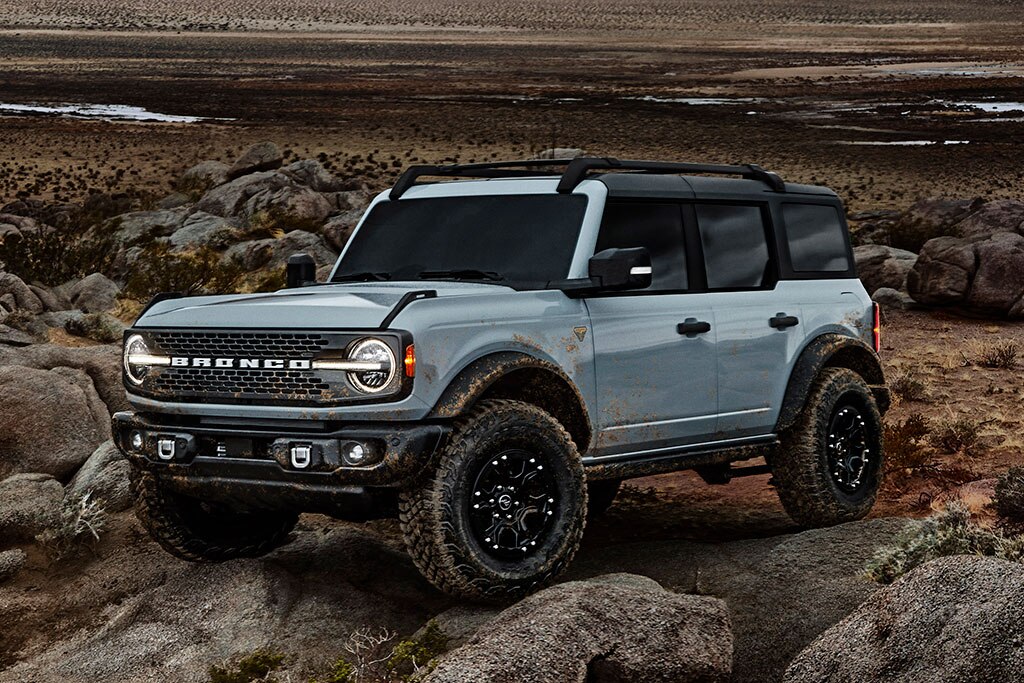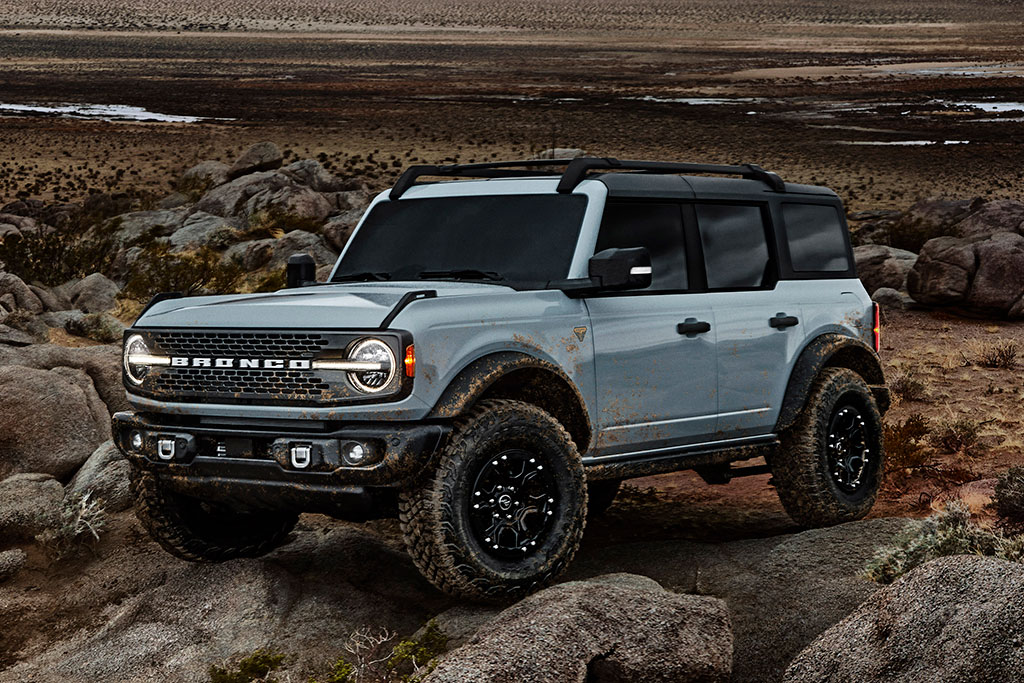 Base Price: $29,995 / Read our 2021 Ford Bronco Review
What We Like: Looks like a Bronco, lots of industry-first tech, doors and roof come off, you can get a base model with 35-in tires
What We Would Change: Likely won't be available in significant numbers until mid 2021, dealers will try to charge huge markups.
Overview: The 2021 Ford Bronco is arguably the most anticipated vehicle of the year. Designed to be a purpose built off-roader, the new Bronco comes in both two- and four-door body styles, and has a removable roof and doors. It differs from its main competitor, the Jeep Wrangler, in that it uses an independent front suspension, which puts it in the same conversation as the Toyota 4Runner, which uses the same basic setup. Beyond its obvious capabilities and retro flair, the new Bronco debuts a lot of new features and technology from Ford, like the fourth generation of the company's infotainment system, and a full catalog of accessories, which will be revealed at a later date. Altogether, Ford looks to be launching 'Bronco' as a sub-brand within the company's greater lineup, and will launch a lighter-duty Escape-based 'Bronco Sport' in the coming months as well.
What's new for 2021: The Bronco is all new. It rides on an updated version of Ford's midsize truck platform that will also underpin the next-generation Ranger, due in a few years. Its base powertrain is shared with the Ranger, while its optional engine can also be found in the F-150. Both engines use a ten-speed automatic, also found elsewhere throughout Ford's lineup, but a new six-speed manual is optional on the base engine, and features a special low crawler gear below first, for use in the most technical of off-road situations.
Features and technology: The Bronco comes in six different trim levels, the most off-road-oriented of which are the Black Diamond, Badlands and Wildtrak trims. The Black Diamond starts things off with a locking rear differential, low-range off-road gearing, and considerable underbody protection, while the Badlands and Wildtrak trims come with additional drive modes and other tech for those wanting to go all-out when the pavement ends. The Bronco also comes standard with removable doors which can be stowed in the cargo area, and a removable roof. A soft top, and a basic hard top are available, as is a higher end hard top with more configurability. The new Bronco also debuts with lots of active safety tech and the latest version of Ford's Sync infotainment system, which in this application will work with a few different popular off-road mapping services, which should help Bronco drivers to get far off the grid, and find their way back. Another highlight of the Bronco is the available 'Sasquatch Pack'. Standard on the Wildtrak and optional on the vehicle's other five trims, the Sasquatch Pack adds 35-in tires, locking front and rear differentials, an off-road tuned Bilstein suspension, and more.
What's the future hold?: As it likely won't be widely available until about a year from now, the Bronco as we know it today can more or less be thought of as a 'future' vehicle. That said, expect a top-spec Raptor variant to join within a couple of years with an upgraded powertrain and enhanced off-road hardware. Additionally, Ford is supposedly working on a Jeep Gladiator-esque pickup version of the new Bronco as well. This begs the question – will there be a Bronco Raptor pickup? It wouldn't surprise us, but don't count on it happening anytime soon. meant to compete with the Jeep Gladiator is supposedly in the works as well. See the 2021 Ford Bronco models for sale near you

2021 Toyota 4Runner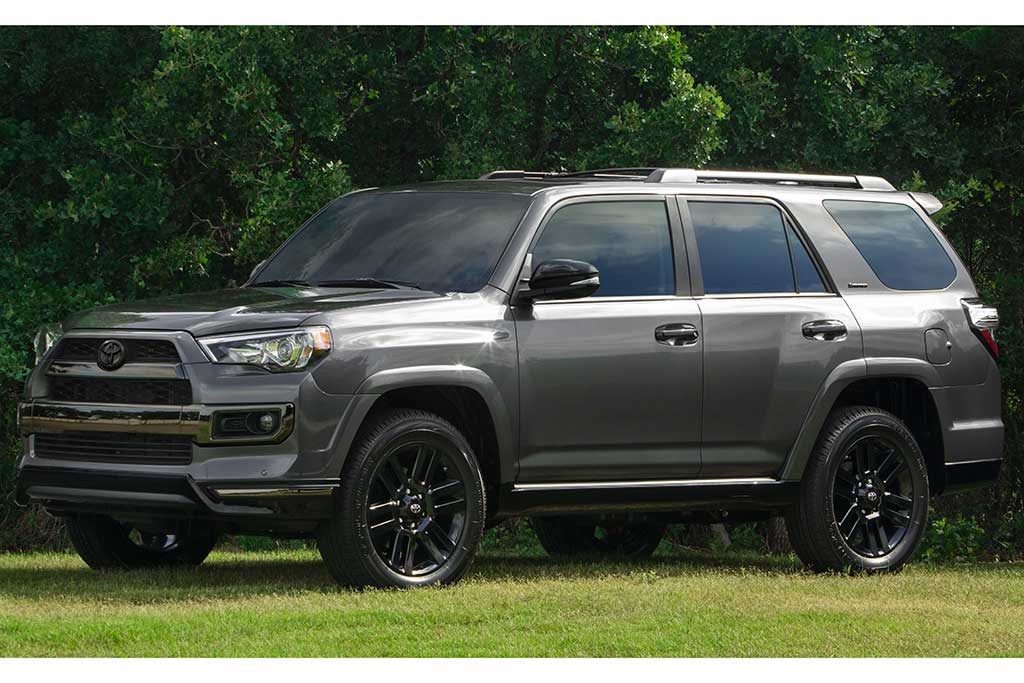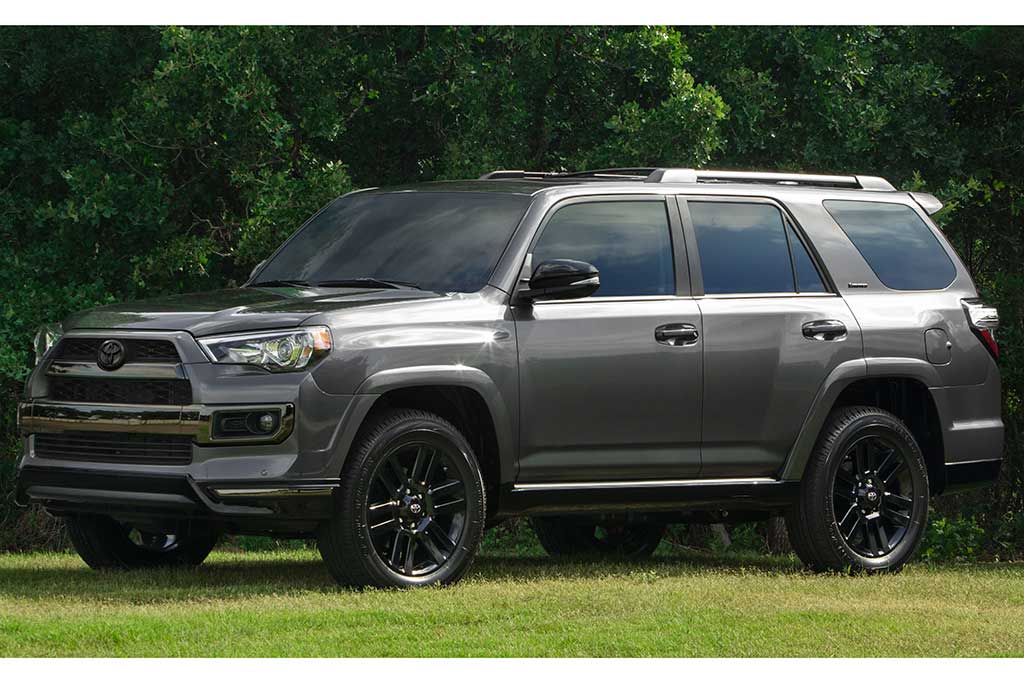 Base Price: $37,460 / Read our 2021 Toyota 4Runner Review
What We Like: It won't surprise you, comes with Toyota reliability, holds its value extremely well, proven capability, finally offers key safety and infotainment features
What We Would Change: It won't surprise you, ancient powertrain borders on obsolete, feels as old as it is, due for a full redesign.
Overview: The 4Runner has been one of the most trusted off-road SUVs on the market for a number of years now. Prior to the introduction of the Bronco, the 4Runner's only real competition in the market was the Jeep Wrangler, which may be a little more capable off-road, but is also smaller, less reliable, and much more difficult to live with day to day. The 4Runner uses an independent front suspension and a solid rear axle, a setup it shares with the Bronco. It packs a proven but thirsty 4.0-liter V6 engine paired to an ancient five-speed automatic; giving it one of the oldest powertrains available in a new vehicle today. Either way though, the 4Runner has long been trusted by active individuals wanting a vehicle that can handle itself both on-road and off while offering industry-leading reliability. While it's certainly a conservative choice when it comes to off-roaders, there's a reason it's been around for so long.
What's new for 2021: Things seldom change with the 4Runner. For 2021, TRD Pro models gain a new color – a pale gray-green known as Lunar Rock, first seen on the 2019 RAV4 Adventure – along with re-tuned shocks and new wheels. The entire lineup gets new LED lighting up front and a couple of new trim levels that don't as much introduce new features as they do reshuffle packages and options; a sign that an all-new generation of 4Runner is on the horizon.
Features and technology: The 4Runner received a new infotainment system for the 2020 model year and now comes standard with Android Auto and Apple CarPlay, not to mention a handful of active safety features, though blind spot monitoring is still notably absent. Additionally, some decent off-road tech is available, provided you choose a TRD Off-Road, Venture, or TRD Pro model. All three come with Toyota's Crawl Control and Multi-Terrain select systems, controlled via dials on the overhead console, a locking rear differential, and Toyota's Active Traction Control, or 'A-TRAC' system. Additionally, TRD Off-Road and Venture models are available with Toyota's clever automatically disconnecting sway bar system known as KDSS, while the TRD Pro forgoes this, oddly, but adds Fox and TRD co-branded internal bypass shock absorbers. Other highlights include a power rear window that retracts fully into the rear hatch, an available slide-out cargo tray, and more. Suffice to say, while it gets all of the off-road stuff right, the 4Runner is pretty low-tech, but it makes up for this through reliability and consistency.
What's the future hold?: All signs are pointing toward an all-new 4Runner debuting for the 2023 model year, with a formal reveal likely taking place some time in early or mid 2022. While we think a 4Runner with a removable roof and doors would be successful (and true to the original, at least with regard to the removable roof) Toyota's generally conservative nature leads us to believe they'll stick to the script and release a next-gen 4Runner that is more of an evolutionary take on the current one, rather than revolutionary. meant to compete with the Jeep Gladiator is supposedly in the works as well. See the 2020 Toyota 4Runner models for sale near you

Bronco vs. 4Runner: Strengths comparison
In 98% of off-road situations, i.e. tackling tight trails, bombing desert double track, and crawling the occasional rock shelf, the Bronco and 4Runner will perform similarly. It's when you get into the really technical stuff that the Bronco's more favorable geometry and off-road hardware will give it a leg up. Both vehicles will make an excellent adventure companion and should offer loads of customizability; Ford is set to launch over 200 accessories alongside the Bronco, while the 4Runner's age means plenty of aftermarket companies now sell accessories for it. Either way, when it comes to suspension, wheels, lights, roof racks, bumpers, and more, there's plenty of fun to be had in customizing either a Bronco or a 4Runner. Additionally, unlike the Jeep Wrangler, which uses a solid front axle, the Bronco and 4Runner both come with independent front suspension, which performs better on-road and is therefore easier to live with over long distances, like the three hour drive to your campsite.
Ford Bronco Benefits: While the 4Runner is at the end of its lifecycle, having been on sale now for 12 model years since its last full redesign, the Bronco is at the beginning of its life. Given its newness, it should offer better powertrains, more sophisticated off-road tech, better software, better safety tech, and more modern features, and the Bronco does in fact best the 4Runner in all of these categories. Additionally, it's not hard to argue that the Bronco is more fun than the 4Runner – it has removable doors and a removable roof after all.
Toyota 4Runner Benefits: While we don't have any reason to believe that the Bronco will come with below-average reliability, Toyota products are generally at the top of their class when it comes to quality, and the 4Runner is no exception. While it's been sold in its current generation now since George W. Bush was still in office, 4Runner buyers know they're getting an SUV that can take a beating, and there's plenty of data to back this up. Additionally, while the Bronco's configurability is cool, the 4Runner's fixed roof and doors mean riders should experience less noise, vibration, and harshness inside the cabin, although we have yet to drive a Bronco to verify this. Finally, the Bronco may very well be the more exciting of these two vehicles, but Ford's off-roader likely won't be arriving on dealer lots for about a year. A new 4Runner, on the other hand, could be in your driveway tomorrow.
Bronco vs. 4Runner: Which is better?
The all-new Bronco is certainly the more exciting than the tired old 4Runner. The revival of a legend, the Bronco can be had with tons of off-road technology, 35-in tires, and a degree of configurability uncommon in the automotive world today. But while the Bronco appeals more to emotion, the 4Runner appeals to sensibility. It's a little bit less expensive than the Bronco, and likely will come with better resale value and a quieter cabin, though both of these vehicle's body-on-frame constructions mean neither will perform with the same poise as a crossover on pavement. All that said, if you're looking for a new toy that can also serve as your day-to-day transportation, the Bronco is certainly more likely to scratch the itch than a current generation 4Runner, just know that the next-generation 4Runner may very well have broken cover before you can actually get your hands on a Bronco. Find a Ford Bronco for sale or Find a Toyota 4Runner for sale

2021 Ford Bronco 4-Door

2020 Toyota 4Runner

Base Powertrain

2.3-liter Turbo I-4

4.0-liter V6

Horsepower

270

270

Torque

310

278

Transmission

10-Speed Auto or

7-Speed Manual

5- Speed Manual

Fuel Economy

Not yet rated

17/20/18

Optional Powertrain 1

2.3-liter Turbo V6

Horsepower

310

Torque

400

Transmission

10-Speed Automatic

Fuel Economy

Not yet rated

Platform

Body-on-Frame

Body-on-Frame

Axles

Independent Front, Solid Rear

Independent Front, Solid Rear

Wheelbase (in.)

116.1

109.8

Length (in.)

189.4-190.5

190.7-191.3

Width (in.)

75.9-79.3

75.8

Height (in.)

72.9-75.3

71.5-72.0

Seating Capacity

5

5-7

Second Row Leg Room

38.3

32.9

Cargo Volume (cu. ft.) (Rear/Rear+2nd Row)

36/78

47/88

Payload

1370

1700

Towing Capacity

3500

5000

Ground Clearance (in.)

11.6

9.6

Best Approach/

Breakover/

Departure Angles

43.2/26.3/37.0

31.0/19.8/26.0

Warranty

3 Years/36,000 Miles

3 Years/36,000 Miles