Modern crossovers are notoriously derided as "mall crawlers" with no real off-road ability. However, most are available with all-wheel drive and sport a higher ground clearance when compared to their sedan and wagon cousins. So are they really that inept off-road? Recently, I was one of the first journalists asked to join the Trail Trek Tour, which is an off-road challenge that tested seven all- and 4-wheel drive crossovers on a grueling off-road course. So which will be the best: the Toyota RAV4, Kia Sportage, Mazda CX-5, Volkswagen Tiguan, Honda CR-V, Jeep Cherokee or Hyundai Kona? Let's find out!
2018 Kia Sportage SX AWD
Up first is the Sportage, which is probably not pronounced "Spor-Tajjj," like I did (repeatedly) in the video, but I don't really care. Kia's mid-pack crossover slots directly in the middle of the lineup between the cheaper Soul and Niro and the more expensive Sorento and Sedona. The front end was a source of discussion among the journalists on-hand. "Polarizing" is probably a bit cliche, but accurate. Generally, I felt that it's a bit busy, but it's also different and stands out in a pack of fairly similar-looking crossovers. At $36,420 as tested, it was also competitive on MSRP as well.
Kia's 2.0-liter 4-cylinder is turbocharged with 237 horsepower and 260 lb-ft of torque on hand, so it's got some real guts under the hood. Unfortunately for this test, it also had 19-inch low-profile rubber under the wheel wells. Of all the vehicles, this was the one I constantly worried about slicing a tire while out on the trail. And its 6.8 inches of ground clearance only added to the issues off-road.
2018 Hyundai Kona SEL AWD
"Scrappy" doesn't even begin to describe the little Hyundai that could. Sort of like "Rudy," it wasn't even supposed to be on the team. Hyundai wasn't able to provide a Tucson for this event, so they sent the "subcompact" — but still all-wheel drive — Kona, along with a request to continually remind the viewers and readers that this diminutive crossover is not technically in the same class as the others.
That didn't stop the little Kona that could. The Smurf Blue — wait, Surf Blue — Kona blitzed through the course like a champ. With only 147 hp and 137 lb-ft of torque from its 2.0-liter non-turbo 4-cylinder and a rather small 6.7 inches of ground clearance, it scampered up rocky terrain like it was trying out for the Notre Dame Fighting Irish. At $23,705 for its as-tested price, it was the cheapest here by a very wide margin, and I found myself smiling every time I saw it drive by.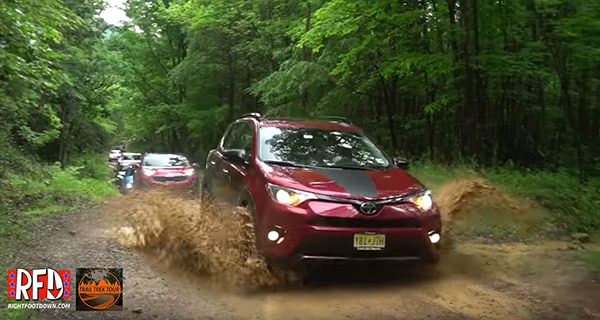 2018 Toyota RAV4 Adventure AWD
As I recently wrote here on my Oversteer column, "the Toyota RAV4 has been in production for 24 years! Next year, it'll be old enough to rent itself." Sorry, I just really liked that line and wanted to use it again. The RAV4 popularized the compact crossover segment — but we're a long way from the initial model, which came with a manual transmission and offered a convertible variant. Today, the RAV4 (which again stands for "Recreational Activity Vehicle: 4-Wheel Drive") is marching into its fifth generation. But 2018 saw a new RAV model, the Adventure, which is the very vehicle we got to test on this course.
Despite blowing a tire (the only one of the day), the $33,970 Adventure was quite good on the trail. Its 6.5 inches of ground clearance was the lowest figure here — and while I did hear a scrape and/or thunk several times, the RAV just kept plowing on while giving its occupants a more comfortable ride than most. The 2.5-liter naturally aspirated 4-cylinder never hesitated, and its 176 hp and 172 lb-ft felt more than adequate to pull the Toyota up some incredibly steep hills. Personally, I like the slightly more butch look of the Adventure model, and I look forward to seeing what Toyota cooks up for the 2019 model, due this winter.
2018 Honda CR-V Touring AWD
Next to the RAV4, the CR-V has been in this category longer than most, as the first iteration debuted back in 1997 — and that means it should have had plenty of time to evolve over the years. The fifth generation CR-V has grown in size and price since then, and the Dark Olive Metallic option we tested here comes with a $35,025 price tag. That sum would get you a Honda Pilot EX if you wanted to step up to the next size class.
The 1.5-liter 4-cylinder turbo Honda never really felt underpowered — and if anything, it felt more stout than even the rating of 190 hp and 175 lb-ft. With 8.2 inches of ground clearance, it had enough room to keep from dragging bottom over some of the heftier rocks on the trail. Unfortunately, the CR-V felt the most "beige" of the group, and that isn't a reference to its paint color. Between the exterior and interior, it was just fairly uninspiring to drive on or off the course.
2018 Mazda CX-5 Grand Touring AWD
We dubbed the CX-5 the pretty boy of the group. It was easily the most attractive of the seven crossovers. In ubiquitous Mazda Soul Red Crystal paint, the CX-5 looked great with the picturesque backdrop of George Washington National Forest.
At $34,685, it brings a lot of value to this competition — and its 2.5-liter 4-cylinder with 187 hp and 186 lb-ft propelled the Mazda through the trails with relative ease. At 7.6 inches of ground clearance, it also had one of the highest ground clearances of the bunch — and despite its 19-in tires, it did very well on the trail.
2018 Volkswagen Tiguan SEL Premium 4MOTION
If the Kona was the runt of the litter, the Tiguan was the big dog from an overall size perspective. Perhaps I'm not the only one who remembers the Tiguan as a fairly compact SUV — but that's not the case anymore. The only 3-row vehicle here, the $41,245 VW was also one of the most expensive — and it was certainly well-equipped.
Volkswagen's well-used 2.0-liter turbo-4 comes with 184 hp and 221 lb-ft of torque, which is fun in a small hatchback, but a bit sluggish in what has become a fairly large SUV. With a generous 7.9 inches of room underneath, the Tiguan did pretty well on the course — and we really liked the well-appointed interior.
Find a Volkswagen Tiguan for sale
2019 Jeep Cherokee Trailhawk Elite 4X4
Ahh, the ringer. Even on paper, it was pretty clear that the Jeep brought a howitzer to a knife fight. Two of the most important factors on this course in my mind were ground clearance and tires, and the Cherokee Trailhawk Elite brought both — along with a real 4×4 system. In the end, vehicles with low ground clearance were still impressive over the rocks in this course, but their tires struggled to maintain traction at times to keep up. The Jeep came with a monstrous 8.7 inches of clearance and legitimate Firestone Destination All-Terrain tires that never struggled on any section of the course.
Add in that aforementioned 4×4 system with multiple terrain settings, and this was the clear winner of this competition. Its 2.0-liter turbo 4-cylinder was also the most powerful, with 271 hp and 239 lb-ft of torque. Of course, at $41,245, it was also the most expensive — and even though we were a little disappointed with the interior, you can't argue that you get a lot of vehicle for that price.
Results
Now it's time to see who won. Actually, just read backwards through the article — that was the finishing order! Surprise! If you watched the video, you'll see that the Trail Trek Tour scoring system shook out slightly differently for me, with the CX-5 somehow edging out the Cherokee. There would be no way I could possibly say that the Mazda was better on this course, as this was really a contest for second place. In the end, all of these crossovers won because they made it through a muddy, rocky, hilly course with no use of tow straps and only one blown tire. Pretty amazing.
MORE FROM OVERSTEER:
Video | The Volvo XC40 Is the Quirkiest Volvo in Decades
Lexus Once Had a "Pebble Beach Edition" Trim Level
Video | A $25 Part Fixed My Broken Rolls-Royce Phantom